We researched the right USB Thermal Camera that you can buy and our list came down to 4 devices which make the best use of their port for data transfer and video streaming

Everything is taken into consideration from the image resolution to the ease of use and the software features that each infrared camera offers.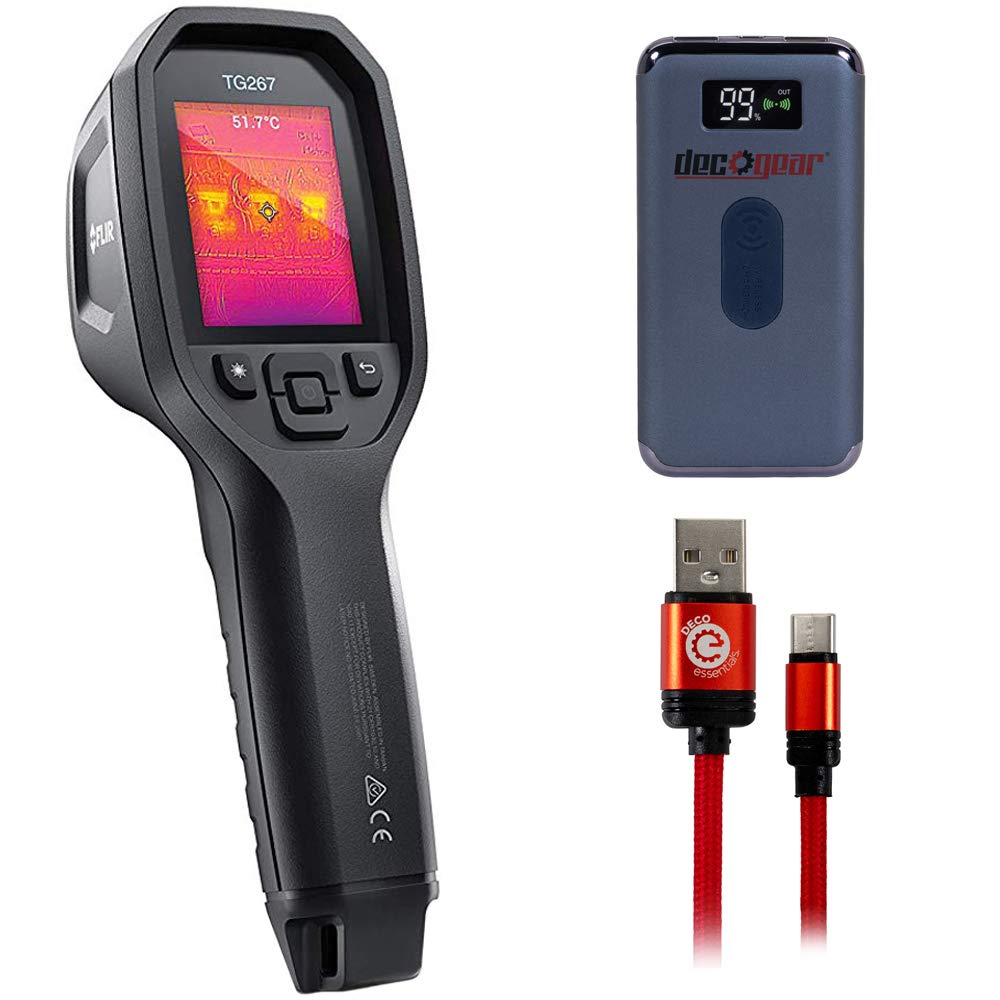 Let's have a look at each product in particular.
Flir TG165-X
The first USB thermal camera we'll be looking at is the Flir TG165-X. It features a new and faster USB-C port which you can use to transfer the thermal images from the 4GB internal memory to your PC and ultimately the Flir Tools reporting software. Now you need to know that it isn't a USB 3.0 or 3.1, it is actually a 2.0 but it just uses the Type-C connector. Another important aspect of the USB port is the fact that unlike more professional Flir cameras, this particular one is not capable of video streaming via its USB-C port.
The TG165-X has a thermal sensor that provides a very high thermal accuracy of +/- 1.5 ° C which is higher than what more than 90% of the infrared cameras on the market offer. It is also very sensitive to temperature differences because it has a thermal sensitivity of 0.07 C. The thermal scope is wide too because this camera can measure any temperature from -13°F to 572°F (-25°C to 300°C).
One thing that was improved in comparison to the older TG165 is the exterior enclosure because the camera is now fully waterproof and dustproof with an IP54 rating. This has been a trend with Flir's newer handheld thermal cameras and it is something that is going to greatly benefit HVAC inspectors, plumbers or engineers who need to use them in harsh conditions.
With a 2.4″ LCD, a 80 x 60 infrared resolution and a 9Hz refresh rate (Limited by EAR export restrictions, not the technology itself), you should be able to spot any air leaks, moisture patterns, overheating fuses or faulty engine parts.
FLIR TG267
The Flir TG267 is also a handheld USB thermal camera and this specific model was built with HVAC inspections in mind, because they fitted it with a type-K thermocouple so that you can measure temperatures in tight spots where you can't access them using the infrared camera. Of course, along with this, a moisture meter is a great tool to have as an HVAC inspector.
First, let's have a look at its USB port: It uses exactly the same kind of USB-C 2.0 port that the TG165-X uses for data transfer but as an extra, it also has Bluetooth connectivity so that you can stream your high-resolution thermal images directly to your smartphone via the Flir Tools app.
It is equipped with a higher quality camera core that outputs a 160 x 120 thermal resolution, totalling 19,200 pixels. Plus, it makes use of the MSX image enhancement feature to overlap the thermal and visible light image. The visual resolution of the digital camera is 1600 x 1200 pixels and the screen has the same 9Hz frame rate.
The battery life is great too, with 5 hours of running time and the 2.4″ LCD Display is bright and visible even in the outdoors.
FLIR ONE Pro
| Product | Type | Resolution | Battery capacity | Waterproof | LCD screen | Price |
| --- | --- | --- | --- | --- | --- | --- |
| FLIR ONE Pro | Smartphone (2 different versions – Android & iOS) | 160 x 120 | 45 minutes | No | Uses Smartphone screen | Click for more info |
This is actually a USB thermal imaging camera for smartphones. The Flir One Pro can be purchased in 3 different versions: USB Type-C, micro USB and Lightning port for iPhones. The way it works is you plug it into your phone, just like any other USB OTG device, install the Flir One app and you're good to go. It costs less than handheld infrared thermal imaging cameras and you get more IR thermal resolution for your money.
It has a 160 x 120 thermal vision sensor that can output 19,200 thermal pixels in radiometric format, so all the temperature data gets stored in the JPEG file, so you can analyze it later in the Flir Tools app. This thermal camera for smartphones has solid temperature screening abilities because it can measure anything in a temperature range from -4 -> 752°F( -20 to 400 C) with a 0.07 sensitivity.
It is equipped with a battery, a thermal sensor and a visual camera and the battery only lasts 45 minutes, that's probably its weakest point. It only uses its own battery, it doesn't use the phone for power supply. Now unlike the handheld models we wrote about earlier, this one is vulnerable to water damage because it doesn't have an IP rating.
The Flir One Pro is not the only USB thermal imager that Flir makes. There is also the Flir One Gen 3 which costs half the price but comes with a lower resolution sensor and less features in the smartphone app and the Flir One Pro LT which has the same features as the Pro, but with the lower resolution sensor.
Seek Thermal Compact PRO
The Seek Thermal Compact Pro is the last USB thermal camera we'll be looking at. Now this one is similar to the flir one pro thermal camera, with some key differences: It has a much higher 320 x 240 pixel resolution (76,800 pixels in total), it doesn't have anything mounted on it except for the thermal sensor because it makes use of your phone's digital camera for the visible image and it can spot heat up to 1800 feet away.
In terms of its temperature monitoring abilities, you'll be glad to know it has a thermal scope from -40F° to 626°F (-40°C to 330°C), with a 0.07C sensitivity. Like the Flir, it comes with either an Android USB-C, microUSB or a Lightning port.
Its strongest points are the distance at which it can measure and the high resolution, plus the fact that it can achieve a 15Hz framerate. The biggest drawback that we've noticed is the constant need to realign the thermal and visual image because in reality they are much further apart than they would be on a regular USB infrared camera. This is where the Flir's MSX technology does a much better job.
There is also the standard Seek Compact which probably offers the best value of all thermal imagers for Android with a 206 x 156 resolution.
Which one of these USB thermal cameras is right for me?
If you are a hobbyist or just looking to buy your first thermal camera, it makes sense for you to buy the Flir One Pro or the Seek Thermal CompactPro or their low-budget counterparts because of the lower cost. But if you are an inspector or you use it professionally on a daily or weekly basis, it makes sense to buy a separate handheld USB thermal camera, so you don't depend on your phone to provide the battery life and risk damaging it because the enclosures are not well protected on those.
How much does the USB port speed actually matter?
In reality, not much. The thermal images do not have a large file size, even if they contain all the radiometric thermal data. So in the end, even a USB 1.1 will not slow you down very much. But the fact that now we have Type-C connectors helps for faster charging and an easier to use USB port.
For USB thermal cameras that plug into a phone, can I use an adapter?
Yes and no. You can use an adapter but the thing is, unlike a phone charger where all the adapters are going to work, in this case there is just a small list of compatible adapters that you will find on eBay or Amazon. Now in both cases, Flir and Seek thermal provide a list of these compatible adapters. Our recommendation is that you choose the USB port of the thermal camera according to the phone you will be using in the next 2-3 years and it is more and more evident that USB-C is going to be the standard for all phones and thermal cameras to come.
I need an OEM camera that I want to use with Arduino / Raspberry project
The
Adafruit 3538 AMG8833
is an 8×8 thermal camera sensor which you can integrate in your DIY thermal camera project. The resolution is low, because these OEM cameras are much cheaper, but in the coming years we should expect USB thermal cameras for under 200$ with decent camera cores that you can just plug in to any device or connect to a PCB board.