The PFCTART portable EV Charger consists of a line-up of 3 different EV chargers (16-Amp fixed, 32-Amp fixed, 32-Amp Adjustable), each with their own unique strengths and weaknesses.

PROS: For the fixed versions it is the long cable, for the adjustable 32-Amp version it's the high IP67 rating, LCD display and adjustable charging speed.

CONS: For the adjustable version it is the shorter cable and for the others it is the lack of an LCD display and inferior IP rating.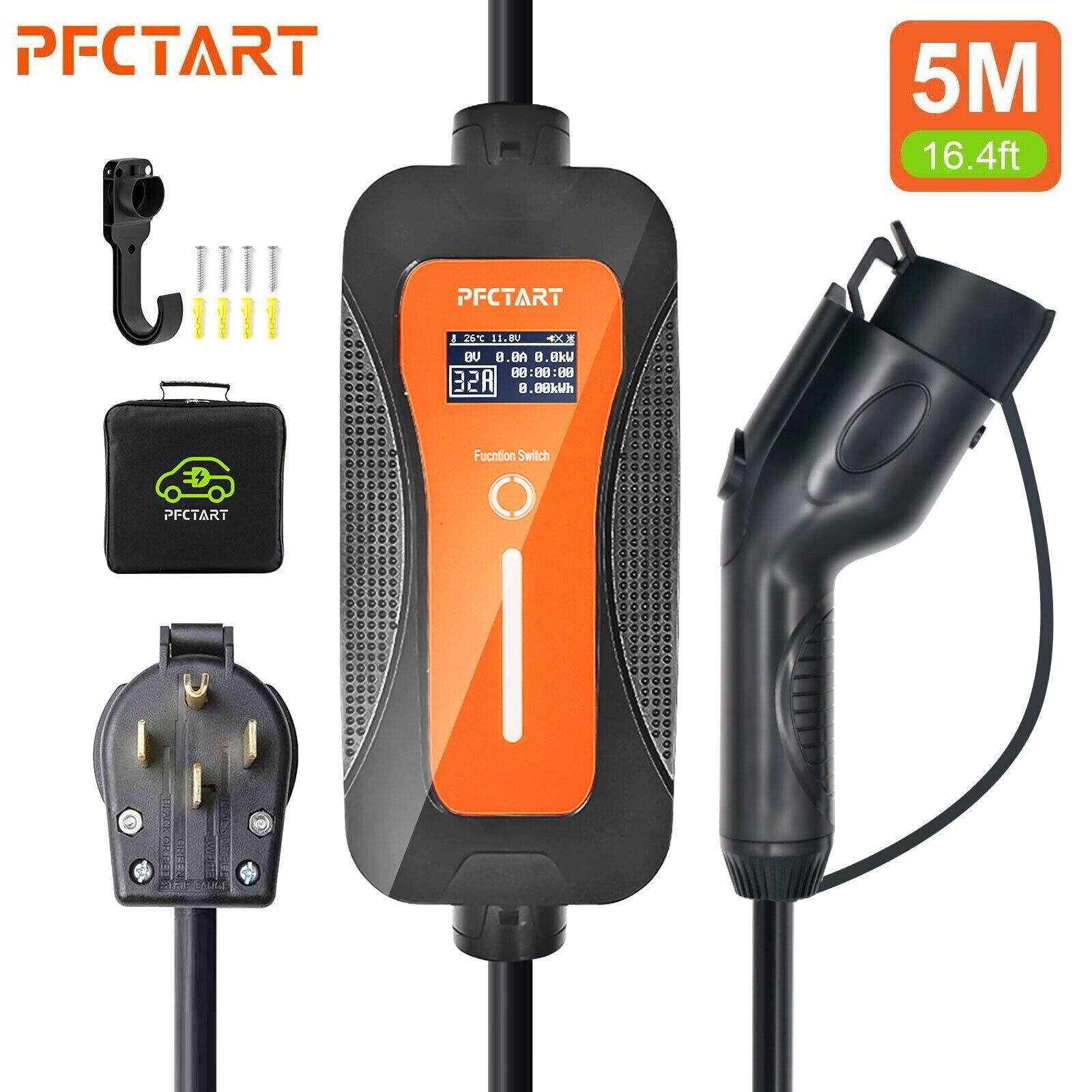 PFCTART – Portable EV Charger (32 Amp) Specifications
| | |
| --- | --- |
| Amp rating | 16-Amp, 32-Amp, 32-Amp (Adjustable) |
| Level | Level 2 |
| Type | Portable EV Charger |
| Cable Length | 23 feet (16-Amp & 32-Amp Version), 16.5 feet (32-Amp Adjustable Version) |
| Nema | NEMA 6-20 & 5-15 (16-Amp version), NEMA 14-50 (32-Amp versions) |
| Power | 3.5 kW (16-Amp version), 7 kW (32-Amp versions) |
| Voltage | 100V – 240V (16-Amp & 32-Amp versions), 240V (32-Amp adjustable version) |
| Connector | Type 1 (J1772) |
| Connectivity | No |
| IP Rating | IP55 (16-Amp & 32-Amp versions), IP67 (32-Amp Adjustable version) |
| Display | LED Indicating lights (16-Amp & 32-Amp versions), LCD Display (32-Amp Adjustable version) |
| Warranty | N/A |
| Features | |
| What's in the box | |
| Weight | 7.65 lbs |
PFCTART – Portable EV Charger (32 Amp) Charging specifications
The PFCTART is a portable EV charger, meaning you don't have to have it fixed on the wall, you can just plug it into your home outlet, charge and then just put it in the trunk. The main advantage of a portable ev charging cable is that it can you can use it as a home charger but also as a workplace charger.
Now it comes in three versions, 16-Amp charger that delivers 3.5 kW of power and a 32-Amp version which delivers 7kW together with another version of the 32-Amp that has adjustable current. Now it is important to note something, these are 3 different devices somehow. The fixed 16-Amp and 32-Amp versions share the same old style control box while the 32-Amp adjustable charger has a completely new one which is more advanced and which features an LCD display.
For simplicity's sake, we'll look at charging times for both the 16 and 32-Amp versions. The PFCTART 32A electric vehicle charger can charge a 40 kWh battery like you would find on some versions of the Nissan LEAF from 20% to 100% in about 5 hours. The 16A electric vehicle charger however will take double, almost 10 hours.
The 16-Amp PFCTART can work with outlets from 100V to 240V, something which applies to the 32-Amp fixed version as well but not to the adjustable current one and we'll explain the slight confusion behind that.
PFCTART – Portable EV Charger (32 Amp) Cable types and connectors
Now because the control boxes are different, it just so happens that the cable lengths are wildly different. The electric vehicle charging cable with indicator lights (16-Amp and 32-Amp fixed) measures 23 feet while the one from the new adjustable 32-Amp version measures only 16.5 feet. A 23-foot cable is always better than a 16.5 one.
Now let's talk about the outlets into which you can plug these: So the 16-Amp can be plugged into a NEMA 6-20 outlet which will max out its power but it also comes with a 5-15 plug so that you can plug it into any regular household outlet. But you need to remember that using the 5-15 it will function as a regular Level 1 EV charger so it won't deliver probably more than 1.74 kW. Still, the adapter is a great thing to have because not all places are equipped with proper 240V outlets. In the case of the 32-Amp versions, both plug into a 240V NEMA 14-50 outlet.
The confusion was with the 32-Amp fixed version which they say, works with any outlet from 100V to 240V but then again in that one they don't provide a 5-15 adapter in the package as far as we know.
Luckily, the end that plugs into the electric cars is simple, they all use the same SAE J1772 plug, allowing you to connect to any electric car in North America, including Tesla models which now come with an EV charger adapter. All of these versions are tethered, so if you want to extend the size of the electric car charging cable, you can't simply disconnect it and replace it, you have to buy an extension cable.
PFCTART – Portable EV Charger (32 Amp) Features
In terms of connectivity, it is no surprise given the price and the fact that this is a portable charging device that this is not a smart electric vehicle ev charger by any means. There's no wifi or smartphone app. What there is though is an LCD screen (Just on the 32-Amp adjustable current version) which is going to display some key info on the charging process like: Actual amperage and power delivered, a charging timer together with the voltage and unit temperature. The 16-Amp and 32-Amp fixed version do not have this, they only use the basic 3 indicating LED lights.
It doesn't even have charge scheduling either, but here you can rely on your EV for that since most models will pack in a feature like that.
Now, regardless of which PFCTART charger you buy, they're all coming with indoor-outdoor cables however it is good to note that the 16-Amp and 32-Amp fixed versions are IP55 rated while the 32-Amp adjustable one is IP67. That can be a huge difference because while both can theoretically charge in the rain, if the latter one stays in a puddle for hours it will fare much better than the first two, so that's something to keep in mind.