The TOPDON PulseQ AC Home is a fast home charging station with wifi connectivity, NEMA 4 waterproof rating, all at a lower price than you'd find on the market.

PROS: Fast charging speeds, Wifi + Smartphone App, Waterproof.

CONS: Short cable.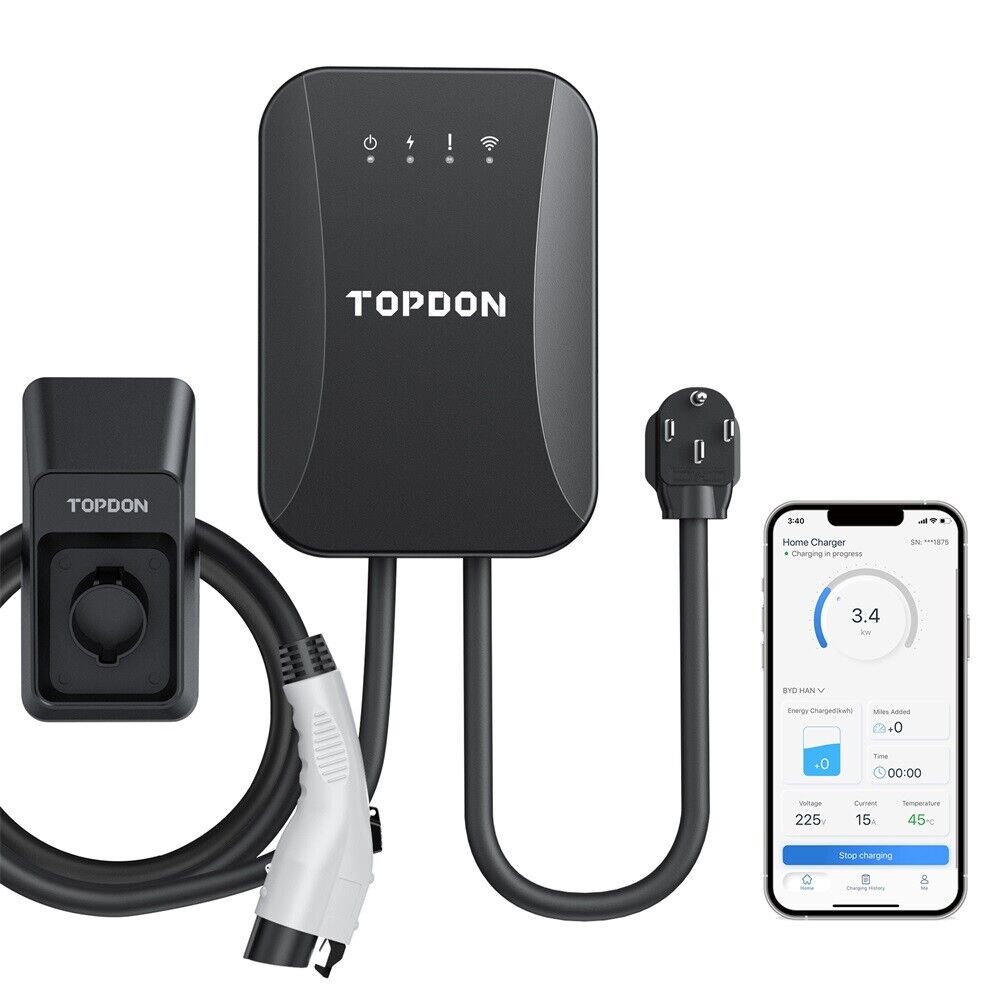 TOPDON PulseQ AC Home – EV Charging Station (40 Amp) Specifications
| | |
| --- | --- |
| Amp rating | 40 Amp |
| Level | Level 2 |
| Type | EV Charging Station |
| Cable Length | 16.5 feet (5 meters) |
| Nema | NEMA 14-50 |
| Power | 9.6 kW |
| Voltage | 240V |
| Connector | Type 1 (J1772) |
| Connectivity | Wifi |
| IP Rating | NEMA 4 (IP65) |
| Display | 4 LED Lights |
| Warranty | 3-Year |
| Features | |
| What's in the box | |
| Weight | 18 lbs |
TOPDON PulseQ AC Home – EV Charging Station (40 Amp) Charging specifications
Who is this company which produces an EV Charger and amongst others, a thermal camera? Well it is Topdon, a very new manufacturer from Shenzen which started their business in 2017. They make things like car battery chargers, battery testers, jump starters, diagnostics tools and for some reason thermal cameras. This is useful to know that they have experience before Topdon enter the electric vehicle charging.
So now they came out with an EV charger and it's a really good one. This is a 40-Amp EVS Charging Station and it is officially called the TOPDON Pulseq AC home EV charger. Because this is a 40-Amp home electric vehicle charger, it can deliver up to 9.6 kW to your electric car. But what do these numbers mean in reality when you just want to know how long will the charging process take and basically how long you have to wait to fully charge your vehicle? Now we need to take into consideration that not all EVs can take more than 7.4 kW of AC power through their on-board charger, so for this reason we chose a Tesla Model 3 with an 82 kWh battery pack as an example. Now, it should take the PulseQ EV charger about 8 hours to charge it from 20% to 100%. This is fast charging by all means since we need to remember that this is quite a large battery pack since we're talking about the Long Range Tesla Model 3.
This is a TOPDON Level 2 charger meaning that it will only work when plugged into 240V outlets.
TOPDON PulseQ AC Home – EV Charging Station (40 Amp) Cable types and connectors
Now let's look at cables and connectors of this TOPDON EV Charger. So the charging cable measures 16.5 feet (About 5 meters) which is certainly shorter than what you would get from a typical EV charger in this price range or any for that matter because most of them come with a 25-foot cable. The charger is tethered, so if you need the cable to be longer, you can just buy an extension cable.
You can plug it into a 14-50 NEMA outlet which should max out its power since it fits into the 20% rule but you can also hardwire it directly. The connector that plugs into the electric vehicle is a standard SAE J1772 plug, compatible with any car in North America.
TOPDON PulseQ AC Home – EV Charging Station (40 Amp) Features
Now the good news is that this is an electric car charger with wifi so you can connect your smartphone to it through the PulseQ app. There are 2 charging modes: Wifi ready (App control takes over the charging process) and Wifi Offline (Automatic plug-and-play mode where you don't need the app). Now if you're in Wifi mode and the app loses the connection for some reason, it automatically goes into plug-and-play mode.
So what does the app offer? The app allows you to get real-time data on the charging status like the amperage, voltage, power delivered, miles of range added and keeps a timer. Not only does it monitor your car's charge but it keeps track of your past charging sessions telling you how much energy you've used and how much you have spent on charging your EV. The app supports multiple vehicles and multiple users.
There are several safety features installed on the Topdon charger which include protection from the following: UnderVoltage, Overvoltage, Overload, Overtemperature, Short Circuit, Ground Protection, Earth Leakage and Lightning. It is worth noting that this device is UL certified and Energy Star Certified.
The device itself is NEMA 4 rated which would be the equivalent of the IP65 rating meaning that it is waterproof and dustproof so you it can be a perfect indoor-outdoor car charging station. Even if it rains, even if it snows and the charger is outside, it will still function. On the device itself you won't find any LCD display, just 4 LED lights indicating its status. Every TOPDON charger comes with a 3-Year warranty from the manufacturer.