We researched the 4 best programmable robot lawn mowers that you can buy in the US and in UK, Ireland and the rest of Europe

These can be controlled and fully programmed using your smartphone. We compare them on their grass cutting abilities and also software, safety and security features.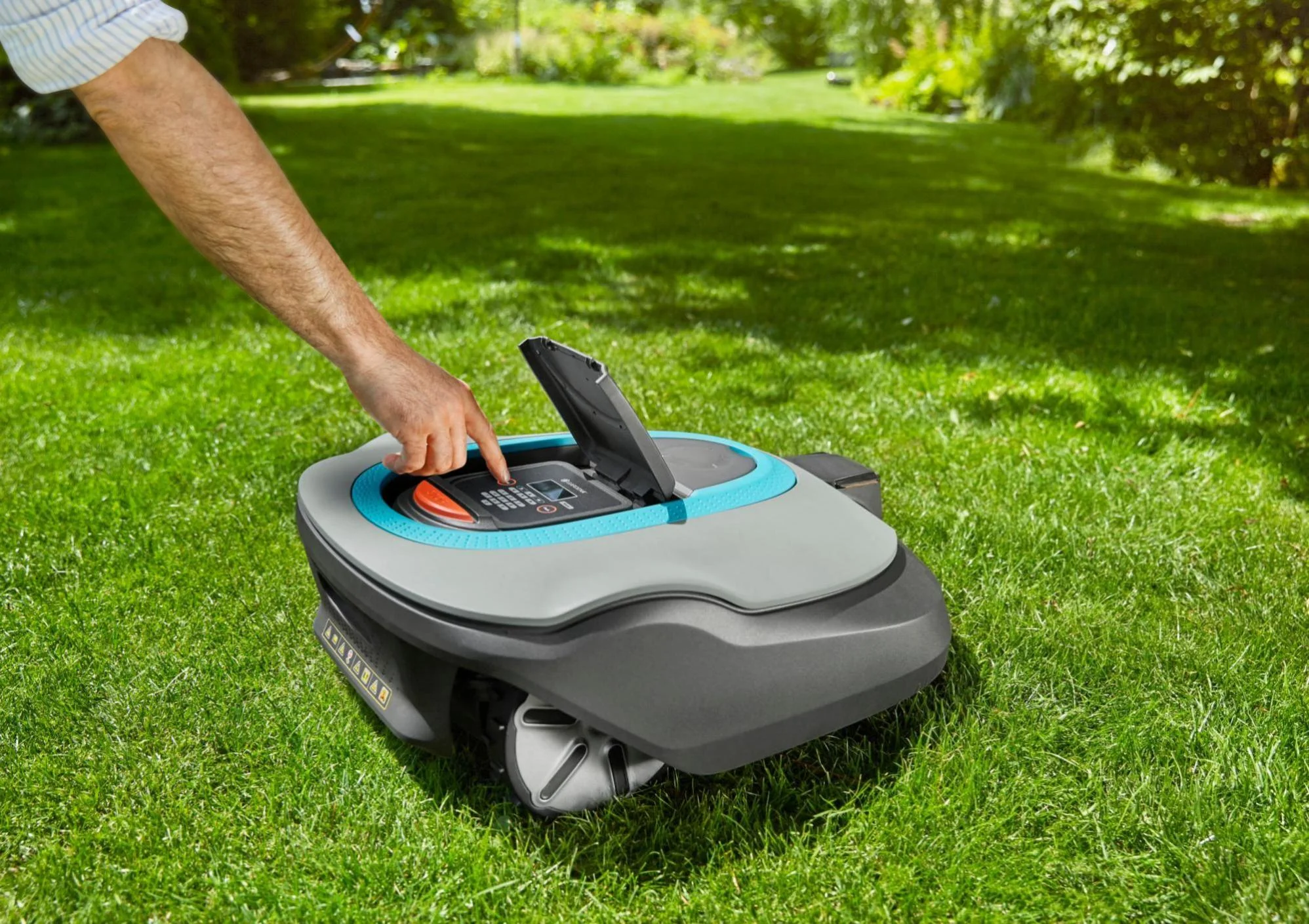 Let's have a look at each product in particular.
Worx WR150 Landroid L
One of the best programmable robot lawn mowers that you can buy is the Worx Landroid L WR150.
It can cover an area of up to 1/2 Acres (2000 sq. m2) and you get 820 feet of perimeter wire included in the package which helps it with navigation. You can set it up to cut your grass at a cut height from 1.9″ to 3.5″ (4.8 to 8.9 cm). The standard patch of grass that it cuts has a width of 9″ (22 cm). It can easily climb hills and handle uneven terrain at an angle of up to 20 (35 %). For cutting it uses a spinning disc with three rotating cutting blades.
This smart robot mower takes about 90 minutes to charge and provides you with an autonomy of 90 minutes. The device is equipped with a rain sensor, so that it doesn't mow your lawn when it is raining and for additional safety there is a lift and tilt sensor along with the fact that the blades have low inertia. Even if you don't order the additional GPS module, it still has some security anti-theft features like the use of a programmable PIN code, a lock system and an alarm. All of these can be configured and programmed.
You can operate all aspects of this smart lawn mower through the Worx Landroid smartphone app that is available on the Play Store and App Store, no need for a remote control.
First of all, you can schedule this automatic lawn mower to cut the grass every day and there is a nice option to have it working only at daylight so that it doesn't interact with hedgehogs. It can be programmed to work in multiple zones, so you can set up different areas with perimeter wires, you can control it with your voice and it can be programmed to integrate with Amazon Echo's Alexa and Google Home. There is also an optional Find My Landroid GPS system, so that you know exactly where your mower is at all times.
Husqvarna Automower 310
The Husqvarna Automower 310 is also a fully programmable robot lawn mower which you can control with your smartphone through the Automower Connect app.
The app allows you to program it through movement paths, geofence and mowing schedules. You can program multiple mowers from one app. Other aspects like cutting height can be automatically set from the app. One mower can be set to cover multiple areas that you define and you can set it to use GPS assisted navigation.
This robotic mower integrates perfectly with smart home devices like Amazon Echo, so that you can start it remotely using voice control.
The Automower 310 can be programmed for a cut height from 0.8″ to 2.4″ (2 to 6 cm) with its 3 pivoting razor blades having a standard cutting width of 8.7″ (22 cm) and a 60 Db noise level. It is a great hill climber with the power to go up a 22 degree (40 %) slope.
With a battery life of 70 minutes and a charging time of 60 minutes, this programmable lawn mower will provide plenty of autonomy to cover a lawn size of 0.25 Acres (1000 sq. m2). This translates to a small garden in the US or a very large yard in Europe.
It doesn't have a rain sensor, but the device can work in the rain without any problems, however any lawn care specialist will tell you not to cut your lawn in the rain as you can damage it.
Flymo Easilife 500
The Flymo Easilife 500 is a great programmable robot lawn mower to buy if you live in the UK or Europe. It is perfectly capable of mowing a 500 m2 lawn. It can also climb hills with slopes that have a 20 degree incline (35%).
The app is simple and its interface is great, however there is not much to program there, just a simple scheduling tool with adjustable coverage area. On the home page, it displays the status of your mower and what it is doing. There is no Alexa or Google home integration, so you can't program it using your voice.
Let's have a look at its grass cutting abilities: The adjustable cutting height varies from 0.7″ to 2″ (2 to 5 cm) with a fixed cut width of 6″ (16 cm) from its 3 Pivoting Razor Blades.
It takes 60 minutes for it to fully charge and that will give you a run time of 65 minutes. The device is equipped with a collision sensor so that it doesn't run into objects and a rain sensor so that it doesn't cut your lawn when its raining, preventing damage to it. There are some basic security anti-theft features like a PIN Code which you have to enter every 30 days and an alarm which triggers if it leaves the area determined by the boundary wire.
It is a very quiet autonomous lawn mower with just a 58 Db noise level and it uses a perimeter wire for navigation and in the package you get 150 meter of wire for installation.
Worx WR130E Landroid S300
The Worx WR130E is also a programmable robotic lawn mower for the UK and European market. It has a slightly lower coverage of 300 m2.
In terms of programming the device, it has the same level of functionality as the WR150 because they use the same app.
You can program it to cut your grass at a height between 0.7″ and 2″ (2 and 5 cm) and its 3-pivoting razor blades cut a patch of grass that is 7″ (18 cm) wide. It takes a long time for it to charge, almost 240 minutes and that gives it an autonomy of just 60 minutes.
Just like the Flymo, this programmable mower has a rain sensor and similar security features like a PIN Code and alarm that sets off if it leaves its designated area. As for safety measures, it is equipped with lift and tilt sensors but also quick stop blades which are supposed to stop faster when you lift it.
It is noisier than the Waymo, because its blades produce a 62 Db noise level.
Which programmable lawn mower to buy?

If you live in the US, then based purely on the app and how many programmable features you get, the Worx WR150 has the upper edge, however the Husqvarna 310's app is more reliable with less functionality but which works. Then there is the clear difference in the lawn size. If you have a smaller lawn, the 310 is a great choice, but for a bigger than 1000 m2 lawn, you should look at the Worx.

If you live in the UK or Europe, the Worx WR130E is the clear winner in terms of how programmable it is.