Whether you live in Vancouver, Montreal, Toronto or the great plains of British Columbia, you can find and buy a robot lawn mower that will automatically cut your grass without you having to do anything

We selected 3 great robot lawn mowers that are available to order in Canada from Amazon and compared them on their grass cutting abilities, navigation, software features and coverage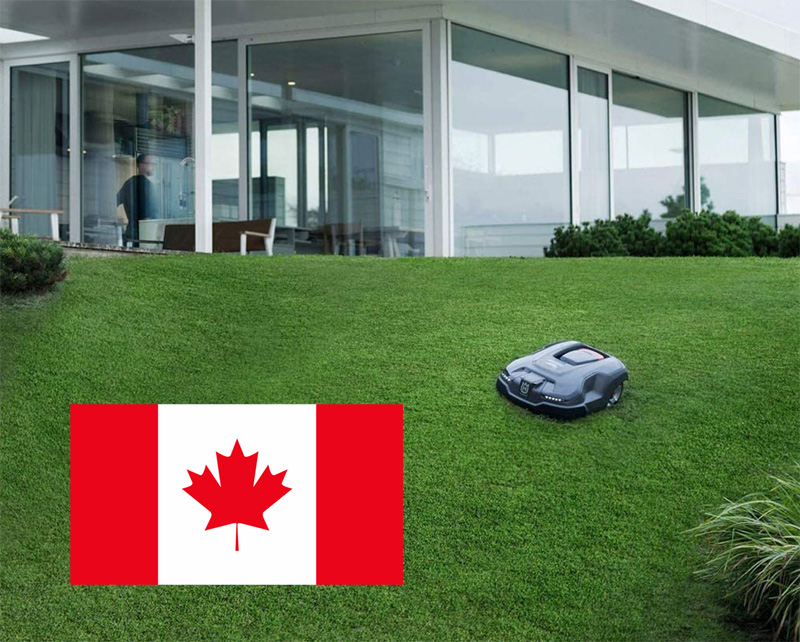 Let's have a look at each product in particular.
Worx WR150 Landroid L
The first robotic lawn mower available in Canada and one of our favorite models is the Worx WR150 Landroid L. The price in Canada for this automatic mower is actually a bit smaller than the one in the US for the same device.
It can cover an area of up to 1/2 Acres (2000 sq. m2), so you can use it even if you have a large garden or yard. One of the best things about this mower is that it has the cutting disc mounted on the side so that it can trim the edges too as the rest of its competitors have it mounted on the center, leaving you to trim the edges manually. The tyres also have cleats which don't hurt the grass as much.
It spends 90 minutes in the charging station then it is fully charged and ready to mow with a battery life of 90 minutes. When it runs out, it follows the perimeter wire back to the charging station. Like all autonomous mowers, when you install it you will need to put up a perimeter wire around your lawn so it knows not to mow outside of it. In the package you'll find 820 feet of boundary wire. The setup takes a few hours but after that you'll never worry about it again.
You can adjust it for a cutting height between 1.9″ and 3.5″ (4.8 to 8.9 cm) and its spinning disc with three rotating cutting blades has a fixed cut width of 9″ (22 cm). Even if you live on a hillside, you don't need to worry because it can climb up slopes too, provided it that the incline is up to 20 degrees (35 %).
Then you can use the Worx smartphone app to program it: You can set mowing schedules, tell it the type of grass that you have, keep it from mowing between certain hours and track it via GPS if you also bought the optional "Find My Landroid" option. It is a fairly silent mower with a noise level of 63 Db.
As for safety features, it has blades with low inertia that quickly stop when you lift it together with a tilt sensor and lift sensor. There is also a rain sensor mounted on it to stop it from mowing when it is raining, so it doesn't damage your lawn. Now there might not be as much rainfall in Canada as in other countries, but it is still a good feature to have. There are some anti-theft features too, like a PIN Code, a Lock system and an alarm. As we mentioned before, the GPS tracking feature is optional with this model.
Each Landroid regardless of model, comes with 3 years of warranty.
In the package you'll find the following: (1) – Landroid L Robotic Lawn Mower (1) Landroid L Charging Base and Charging Cable (1) – Hex Key (9) – Cutting Blades (9) – Screws (2) – Landroid Plugs (1) – Power Adapter (1) – Boundary Wire Distance Gauge (1) – 820ft Perimeter Wire Bundle (8) – Base Ground Screws (270) – Wire Ground Pins (2) – Measuring Tools (1) – 20V MaxLithium 4.0Ah Battery.
Husqvarna Automower 310
One of the main competitors in Canada to the Worx WR150 is the Husqvarna Automower 310.
It can cover an area of up to 0.25 Acres (1000 sq. m2) with a 70 minute autonomy and a 60 minute charging time. Now this being from a different manufacturer, things are a little bit different: It is more silent with just a 60 Db noise level.
You can adjust the cut height from the smartphone app, unlike on the Worx where you turn the knob on the top from 0.8″ to 2.4″ (2 to 6 cm), so this can cut your grass very short. The cutting disc has 3 pivoting razor blades with an 8.7″ (22 cm) cutting width and is mounted in the center, so you will need to trim the edges more than you would have to with the previous model.
Its climbing capabilities are a bit better with ability to climb a 22 (40 %) slope. You can program it from the Automower app where you can track it using GPS (optional), start or stop the mower remotely, set up a mowing schedule and update its firmware. It doesn't have a rain sensor, instead it uses an online weather service to get the info. You can start it using your voice because it integrates with your smart home devices like Amazon Echo or Google Home.
In terms of installation, a cool feature of this robot mower is that you can create "islands" in your yard which are zones that are inside the boundary area but in which the mower is not allowed to enter. In terms of security features, it also has a neat feature in which if somebody tries to connect the mower to a different charging station, Husqvarna gets notified of the location.
The warranty period is longer too at 5 years.
Husqvarna Automower 450XH
The Husqvarna Automower 450XH is probably the most powerful and most advanced robot lawn mower you can buy in Canada.
You only have to look at the specs and datasheet to realize how powerful it is: With this particular robotic mower you can cover a lawn size of up to 1.25 Acres (5000 sq. m2). Not only that but it can also tackle hills and slopes easily with the power to climb a slope of up to 24 degrees (45 %).
And the run time of the Automower 450XH? 270 minutes once it is fully charged and it takes just 60 minutes to charge it. There is an integrated GPS module which you can use for tracking but which also helps it navigate. This is one of the few devices that use GPS for navigation along with the boundary wire.
In terms of the smartphone app, it uses the same app as the 310, so you get all the features and programmability. Plus there is a host of sensors for safety like an ultrasonic collision sensor together with lift and tilt sensors. Even though it has all this power, it is also very silent too because it is rated at a 60 Db sound level.
In the package you'll find: The mower, the base Station, a power Supply, 9 Extra Blades and a User Manual.
Which is the best robot lawn mower in Canada?
All 3 of these devices are available to order on Amazon Canada, whether you are from Ontario, Otawwa, Calgary or Quebec and they will not disappoint you.

It is just a question of how big your lawn is:

Small? The Automower 310 can cover up to 1000 m2.

Medium? The Worx Landroid L can cover up to 2000 m2.

Large? The Husqvarna Automower 450XH will cover up to 5000 m2.