Battery life is one of the key factors in purchasing a robotic lawn mower, that is why we have researched and reviewed 5 robot lawn mowers with long battery life to help you find the right model for you

We compare them on their cutting performance, endurance, smartphone app and security features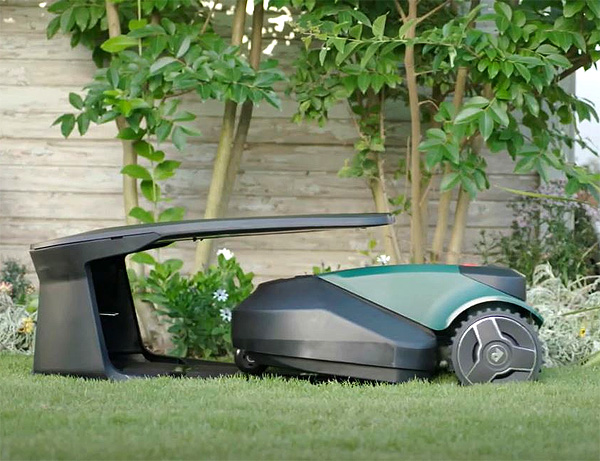 Let's have a look at each product in particular.
Worx WR150 Landroid L
The Worx WR150 Landroid L is a robotic mower with a high autonomy of 90 minutes per charge. It takes the battery charger no more than 90 minutes to get it up to full power. This autonomous lawn mower has a surface coverage of up to 1/2 Acres (2000 sq. m2), one of the largest on the market.
Now, once it completes the charging process, it heads out on its own and starts mowing your lawn. Although it is a tedious process, when it is low on battery, it goes back to its charging station to recharge and all of this happens without you having to do anything.
The Landroid L uses a spinning disc with three rotating cutting blades and here is its unique feature, the "Cut to edge" which because of the way the disc is placed on the side, allows to cut right up to the edge of your lawn.
It has a 9″ (22 cm) cut width and the cut height can be adjusted between 1.9″ and 3.5″ (4.8 to 8.9 cm). It has no problems with hills either because this robot mower can climb a slope of up to 20 degrees (35 %). The cutting disc is also moderately silent with a noise level of 63 Db.
You use a smartphone app to control it and interact with it that also shows the battery status, but also allows you to control it by using your voice because it integrates with your smart home devices like Amazon Echo and Google now.
This Worx model comes with 3 years of warranty and 820 feet of boundary wire included in the package. GPS and Collision Sensor are an optional extra.
Husqvarna Automower 450XH
The Husqvarna Automower 450XH is the robot lawn mower with the longest battery life on the market.
It only takes 60 minutes to charge and the battery lasts for a full 270 minute long run time. No other automatic lawn mower can match that at the moment. That is why with its long battery life it can cover an area 1.25 Acres (5000 sq. m2).
And just like the Worx model, when the battery is low, it automatically goes back to its docking station and charges all by itself, without you having to intervene or tell it to.
It also uses a cutting disc which is even wider with a cutting width of 9.45″ (24 cm). It can even climb steeper hills and slopes which have an angle of up to 24 (45 %). It uses the built-in GPS not only for navigation but also as a security anti-theft measure.
You can program it to do everything from the Husqvarna smartphone app. When we compared the apps, we found the Husqvarna had just as many features as the Worx and then some. For people who are new to this, there might be a slight learning curve. Of course, it is fully integrated with the Alexa and Google Home devices and it is a much more silent smart lawn mower because its blades only emit a noise rated at 60 Db.
Worx WR140 Landroid M
The Worx WR140 is almost identical to the first Worx model we reviewed with a few key differences: It can only cover a yard with a lawn size of up to 1/4 Acres (1000 sq. m2).
In the package you also get less perimeter wire, only 590 feet of it. It still has the same battery high range battery as the previous model with a high range of 90 minutes and a 90 minute charging time. When its low battery signal triggers, it automatically goes back to its charging station to charge and head out once it is fully charged.
One of the interesting things about these Worx models is that their battery is the same that Worx puts in their tools, so if you need a quick replacement battery, you can just fit one from your other Worx tools.
Worx WR153E Landroid L1500
If you live in the UK, Ireland or in Europe, then you may have noticed that the lawn mower market is different from the US. Worx distributes different models under different names, but they do share a lot of common features.
This is the top-of-the line model with the longest battery life you can find. It lasts for 90 minutes on a charge and only takes 70 minutes to fully charge it. It can cover an area of 1500 m2 (0.4 acres) and its cut height is adjustable from 1.2″ to 2.4″ (3 to 6 cm). Somebody at Worx decided that british and irish lawns have shorter grass than their american counterparts.
It is also noisier than the US models at 67 Db, but the rest is identical: same touchpad controls on the top, same smartphone app and features. It doesn't come with GPS or a collision sensor as standard, so you need to buy one.
Worx WR147E Landroid L1000
The Worx Landroid L1000 is another UK and Europe model made for smaller gardens up to 1000 m2 (1/4 acres). The battery lasts for a full 90 minutes once charged and it only takes 90 minutes to charge it. It is fully autonomous mower and it will handle the charging part on its own.
This model is less noisy with a 64 Db sound level. It features a rain sensor so that it knows to get back to the charging station when it starts to rain and also some safety features like a tilt sensor and lift sensor.
Which robot lawn mower with long battery life should I buy?


If you absolutely have to have the mower with the longest battery life, it has to be the Husqvarna Automower 450XH which is available both in Europe and North America. But it is a much more expensive model.

If you live in the US, your next two best options are the Worx Landroid L and Landroid M depending on your lawn size.

If however you live in Europe, your best options apart from the Husqvarna, are the Landroid L1500 and L1000.