All robot mowers on the market require a perimeter wire to be set up, no matter what. However some of them also bundle a GPS guidance system to provide some additional location data

We selected 4 GPS lawn mower robot that use their GPS tracking system either for navigation or for tracking the device's whereabouts or both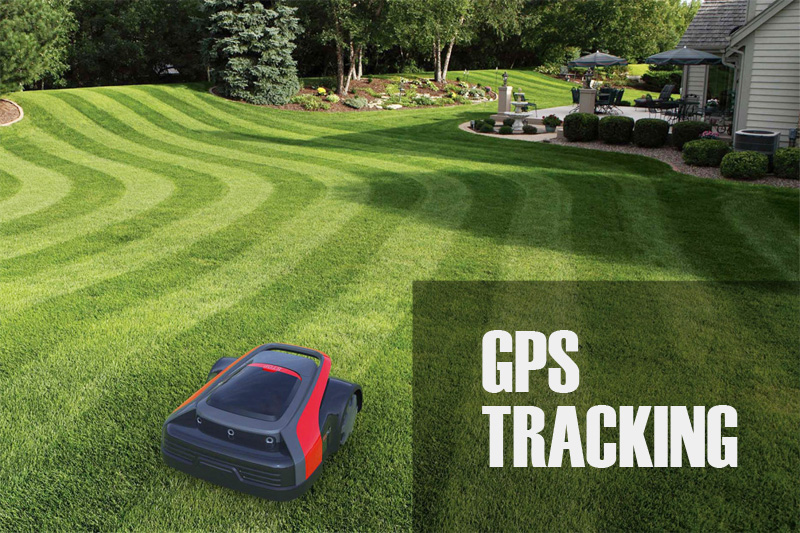 Let's have a look at each product in particular.
Worx WR153 Landroid L GPS
The Worx WR153 is the first GPS Robot Lawn Mower that we'll be reviewing. Now from the start, we need to mention that the GPS mounted it on it is used exclusively for the "Find my Landroid" function, which is an anti-theft feature. At the moment, we do not believe that it provides GPS guided navigation in any way.
It is the top of the line model from Worx and it can cover an area of up to 1/2 Acres (2000 sq. m2). Let's look at this smart lawn mower's grass cutting abilities: You can adjust the cut height by using the knob on the top from 1.9″ to 3.5″ (4.8 to 8.9 cm). It uses a spinning disc with three rotating cutting blades and here is the important part, the disc is mounted on the side so any Worx robotic mower will do a better job cutting close to the edge and this is something that we will probably see with other manufacturers in the future.
The device takes 90 minutes to charge and that also provides it with a 90 minute battery life. When it senses that it is low on battery, it just goes back to the included charging station, recharges and heads back out to finish mowing the lawn. It is very independent and fully programmable, you can control it with the smartphone app which also includes smart home integration, so you can start it using Google Home and Amazon Echo voice controls.
When it is running, this autonomous lawn mower is not very loud with a noise level of 63 Db which is more silent than a vacuum cleaner, so it will not disturb your neighbors while doing lawn care on your yard. Even if your garden is uneven or maybe your entire house is built on a slope, it can climb it even if it has an incline angle up to 20 (35 %).
Worx WR143 Landroid M GPS
The Worx WR143 Landroid M GPS is also the smaller version of the Landroid L which also includes a GPS positioning module. Like we mentioned before with the other model, it is not using GPS for navigating, it is there just for anti-theft protection.
The grass cutting functions and performance are the same with this device as with the WR153, same cutting height, same cut width and the same uphill capabilities because it has the same spinning disc with three rotating cutting blades.
The main difference is in how much area this device can cover on its running time and this particular GPS automatic lawn mower can handle a lawn size of up to 1/4 Acres (1000 sq. m2). That is why in the package you'll only get 590 feet of boundary wire as opposed to 850 feet with the previous one.
It has a rain sensor, so when it starts to pour outside, it automatically goes back to its charging station and waits for the conditions to improve, so as not to damage your lawn, however users have reported this sensor to be too sensitive, sometimes if it passes by a sprinkler it thinks it is raining.
Husqvarna Automower 450XH
The Husqvarna Automower 450XH is probably the ultimate GPS lawn mower robot.
In terms of the way it uses GPS positioning, this mower is different from the Worx models. It uses the GPS for tracking and for navigation.
It was made to be a heavy-duty automatic mower as it can navigate and mow an entire 1.25 Acres (5000 sq. m2) lawn, 2.5x times more than the best Worx mower.
It was designed for lawns with a taller grass because its cut height varies from 2″ to 3.5″ (5 to 9 cm) with a very wide cutting width of 9.45″ (24 cm).
The charging time for this GPS robotic lawn mower is about an hour, but that will give it a very long run time of approximately 270 minutes. And you won't even be aware it is running because its noise level is just 60 Db.
As for its features, like the Worx models it is fully programmable via the smartphone app (Which has really good ratings). The app may seem a bit complex at first but it is very powerful because you can customize every aspect of the cutting process.
One of the best things about it is that Husqvarna will provide 5 years of warranty for it.
Husqvarna Automower 310
The Husqvarna Automower 310 is a GPS Robot Lawn Mower is a lighter and much cheaper model.
Here the situation with GPS tracking is different because it doesn't include it by standard, but instead has it as an optional extra when you buy it.
It uses the same Husqvarna app with similar features, but it can only cover an area up to 0.25 Acres (1000 sq. m2). You can set its cut height to be between 0.8″ to 2.4″ (2 to 6 cm) and the disc has a standard cutting width of 8.7″ (22 cm).
If you have a garden that is built on a slope, then it should be able to handle it. The maximum angle that it can climb using its engine is 22 degrees (40 %).
It takes about the same to fully charge it, 60 minutes but that charge will only provide you with 60 minutes of autonomy. Given that it has full autonomy, it won't be an issue because it does all the recharging by itself. This is also a very silent robot lawn mower with a 60 Db noise level.
In terms of safety features it includes a Lift Sensor and a Tilt Sensor. But then in terms of security and anti-theft functions, it has an alarm, a PIN code and the GPS to help.
Which GPS Robot lawn mower to buy?
If you want to buy a robot mower that uses GPS to improve its navigation, then the Husqvarna 450XH is the device for you.

If you just want the anti-theft tracking feature, then the Worx WR153 and WR143 will provide it as well.