Given that your robotic lawn mower will probably be running during the day when you are not home or maybe at night when you are sleeping, you can't always keep a close eye on it

That is why we selected 3 robotic lawn mowers with the best anti-theft features built in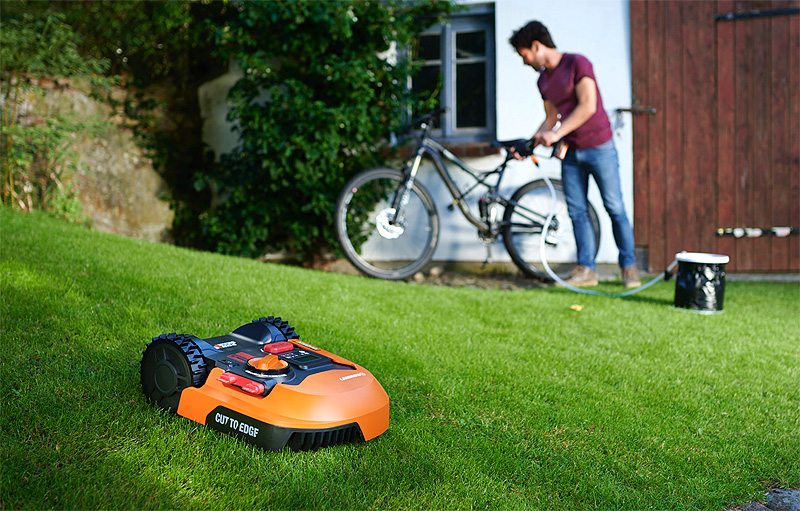 Let's have a look at each product in particular.
Worx WR153 Landroid L GPS
The Worx WR153 Landroid L is the first robotic lawn mower with security features against theft.
It features a PIN code which you need to enter if you pick up the robotic mower from the ground, otherwise the alarm will trigger. There is also an alarm system which will trigger once it goes outside the bounds of the perimeter wire which you've set up.
But on top of that, you also have another great security measure which is the "Find my Landroid" option, basically a GPS tracking device together with SIM Card support, so that you can track it anywhere and also set up a Geofence perimeter.
Along with the protective anti-burglary features it also implements key safety measures: A tilt sensor and a lift sensor which can immediately detect if the device is being picked up and completely deactivate the cutting system and on top of that it uses low inertia blades which are extremely fast at stopping.
The Worx Landroid L robot mower can be adjusted to a cut height from 1.9″ to 3.5″ (4.8 to 8.9 cm), depending on how tall you'd like your lawn to be. It uses a spinning disc with three rotating cutting blades, conveniently mounted on the side for edge to edge cutting that can cut a patch of grass with a cut width of 9″ (22 cm) in a single pass. If your lawn happens to have slopes or if you live on a hill, you'll be happy to know that it can climb a slope of up to 20 degrees (35 %).
It can cover a yard or garden of up to 1/2 Acres (2000 sq. m2) and has a battery life of 90 minutes with the charging time being the same. No need to worry about charging it, because it does this by itself once the battery runs out.
You can program it from the Smartphone app and it also has a convenient touch pad and display mounted on the top. You can even use your voice to control it through smart home integrations with Alexa and Google Home.
Worx WR143 Landroid M GPS
Another robotic lawn mower that implements the same anti-theft measures is the Worx WR143 Landroid M. This is basically the same device as the Landroid L, but designed for a smaller lawn size of up to 1/4 Acres (1000 sq. m2).
All the great protection measures are there, so that nobody is even incentivized to steal your automatic lawn mower. It has the PIN Code for when you pick the device up, the alarm that sounds if you don't get the PIN code right and the GPS tracking device so that you know where your autonomous mower is at all times, plus you get the alerts if it has left the Geofence perimeter.
In terms of its grass cutting features, it still requires a boundary wire to be set up in order for it to navigate your yard, but this time in the package you only get 590 feet of guiding wire as opposed to 850 feet on the other model.
This autonomous lawn mower runs at a noise level of 63 Db. It is not the quietest on the market but neither the loudest. For comparison, a vacuum cleaner usually runs at 70 Db. Like the rest of the Worx models, it comes with a 3 year warranty.
Husqvarna Automower 450XH
The Husqvarna Automower 450XH is the last robotic lawn mower with anti-theft safeguard features that we'll be looking at.
First of all it cannot start cutting grass until the PIN code has been correctly entered to unlock it and of course there is an alarm system too. You can set different levels of security for this device from low to high and a custom mode. And of course, along with all of the features of this security system, there is the GPS tracking module which you can use to track your mower at all times. The GPS isn't just used for tracking it, but also for improved navigation.
There is also an interesting additional feature: If the mower gets stolen and for some reason you can't track it or find it. The moment it is connected to a different charging station, Husqvarna gets notified and the device can be reported as stolen to the police. As for safety measures, you get the standard tilt and lift sensors but also an ultrasonic sensor for avoiding collisions.
The 450XH is the ultimate robot lawn mower because it can do lawn care over a 1.25 Acres (5000 sq. m2) yard. No other smart lawn mower on the market can get close to that. You can set it to a cutting height from 2″ to 3.5″ (5 to 9 cm) and its cutting width is fixed at a wide 9.45″ (24 cm). Not only that, but it can climb a slope of 24 (45 %) degrees.
Another impressive feature is its long running time, because this battery powered mower takes 60 minutes to charge and once it is ready, it has an autonomy of over 270 minutes. It is also much more silent than the Worx models with a noise level of just 60 Db. The 450XH comes with a 5 year warranty, 2 years longer than the one on the Worx models.
Which robot lawn mower has the best anti-theft features?
All of these robot mowers have more than enough security features so that thieves don't have any reason to steal them, but at the end of the day it will mostly depend on your lawn size.

If you have a smaller lawn of up to 1/4 acres, the Worx Landroid M can cover that, if you need something up to 1/2 acres then the Worx Landroid L is the one you need and if your lawn exceeds that, then the Husqvarna 450XH will not let you down.