The Rolec Wallpod EV Charger is a versatile device which comes in 16-Amp and 32-Amp versions with a Type 1 or a Type 2 cable. It is completely weatherproof and will charge your EV in the rain.

PROS: Decent charging speeds, IP65 rated, Multiple connector options.

CONS: No smart features on the base model.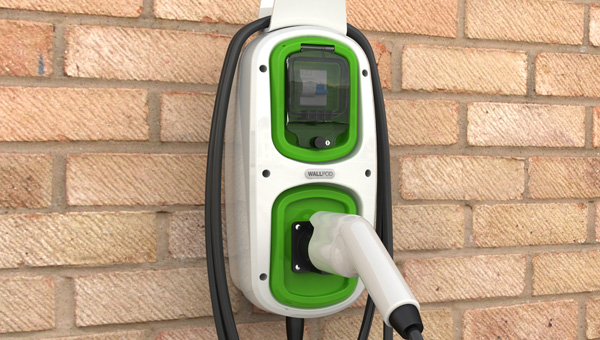 Rolec WallPod – Type 1/2 EV Charging Station (16 / 32 Amp) Specifications
| | |
| --- | --- |
| Amp rating | 16 Amp or 32 Amp |
| Level | Level 2 |
| Type | EV Charging Station |
| Cable Length | 5 meters |
| Nema | Hardwired |
| Power | 3.6 kW or 7.2 kW |
| Voltage | 240V |
| Connector | Type 1 (J1772) or Type 2 (Mennekes) |
| Connectivity | No |
| IP Rating | IP65 |
| Display | None |
| Warranty | 1-Year |
| Features | The units are made from a hard wearing polycarbonate, Built-in 20 Amp RCBO to give you overload and fault current protection. |
| What's in the box | |
| Weight | 5.06 kg |
| Features | Tethered, Alexa & Google Home, Charge Scheduling |
Rolec WallPod – Type 1/2 EV Charging Station (16 / 32 Amp) Charging specifications
The Rolec Tethered EV charger comes in 2 different versions: There's the 16-Amp charger which can charge an electric car with a charging rate of 3.6 kW and the 32-Amp charger version which will deliver 7.2 kW of power.
Now let's put those numbers into perspective with a Tesla Model Y which has a 75 kWh battery pack as our reference. If you plug in the 16-Amp charger, it will probably take about 18 hours to charge it if you start from 20%. Now if you plug the 32-Amp that time will drastically decrease down to about 9 hours, a big difference indeed.
When faced with the choice, we would pay extra for the 32-Amp because the price difference is just 20 pounds and it is worth every penny. Sure, you'll need to upgrade the fuse on your electric panel to a higher amperage but in the end it is going to be worth it to get the fast charging speed.
Rolec WallPod – Type 1/2 EV Charging Station (16 / 32 Amp) Cable types and connectors
This home charger comes with a 5 meter cable which is tethered to it, meaning that you can't simply disconnect it and switch it for another. You can opt for 2 versions, either with a Type 1 or a Type 2 connector. Both connectors are available for the 16-Amp and for the 32-Amp versions.
If the 5 meter long cable is not long enough for your situation, you can always buy an extension cable on Amazon, however you should first decide what kind of connector you're going to use then buy the extension cable. If you're in Europe then the Type 2 connector is going to be a much smarter choice since most chargers use that and that's what EVs in Europe use as well.
In terms of the way you connect it to your home circuit, you'll want to know that it needs to be hardwired, it doesn't come with a UK or EU plug.
The control panel for the charger has an additional locking system so that only you can charge your EV, something that you don't usually find on home chargers.
Rolec WallPod – Type 1/2 EV Charging Station (16 / 32 Amp) Features
This particular Rolec EV charger doesn't come with smart charging features, for that you'll have to have a look at the Rolec Wallpod EV HomeSmart charger which comes with smart features and is an untethered version. The features that you would get with that smart charger are scheduled charging, peak usage avoidance, reports on each charging session and a tracker to tell you much you are spending each month on charging your EV. Whether you need them or not, it is down to your choice.
There is no LCD display on the unit, just an indicator LED light which tells you if it is charging.
This charger is IP65 rated which means it is completely waterproof and dustproof allowing you to easily charge in the rain, snow or extreme heat. It does this by using a rubber seal which manages to seal the edges and not allow any water or dirt to get inside. The entire housing is made out of polycarbonate. The charging station is covered by a 1-Year warranty from the manufacturer. It also comes with either a 20-Amp or a 40-Amp RCBO (Depending on which version you purchase) which provides overload and fault current protection.
The device isn't only available in white, there's also a grey, black & white and black version.