These are the 4 best Smart EV Chargers that you can install in your home today

We review each of them and rank them based on their charging performance, features and durability.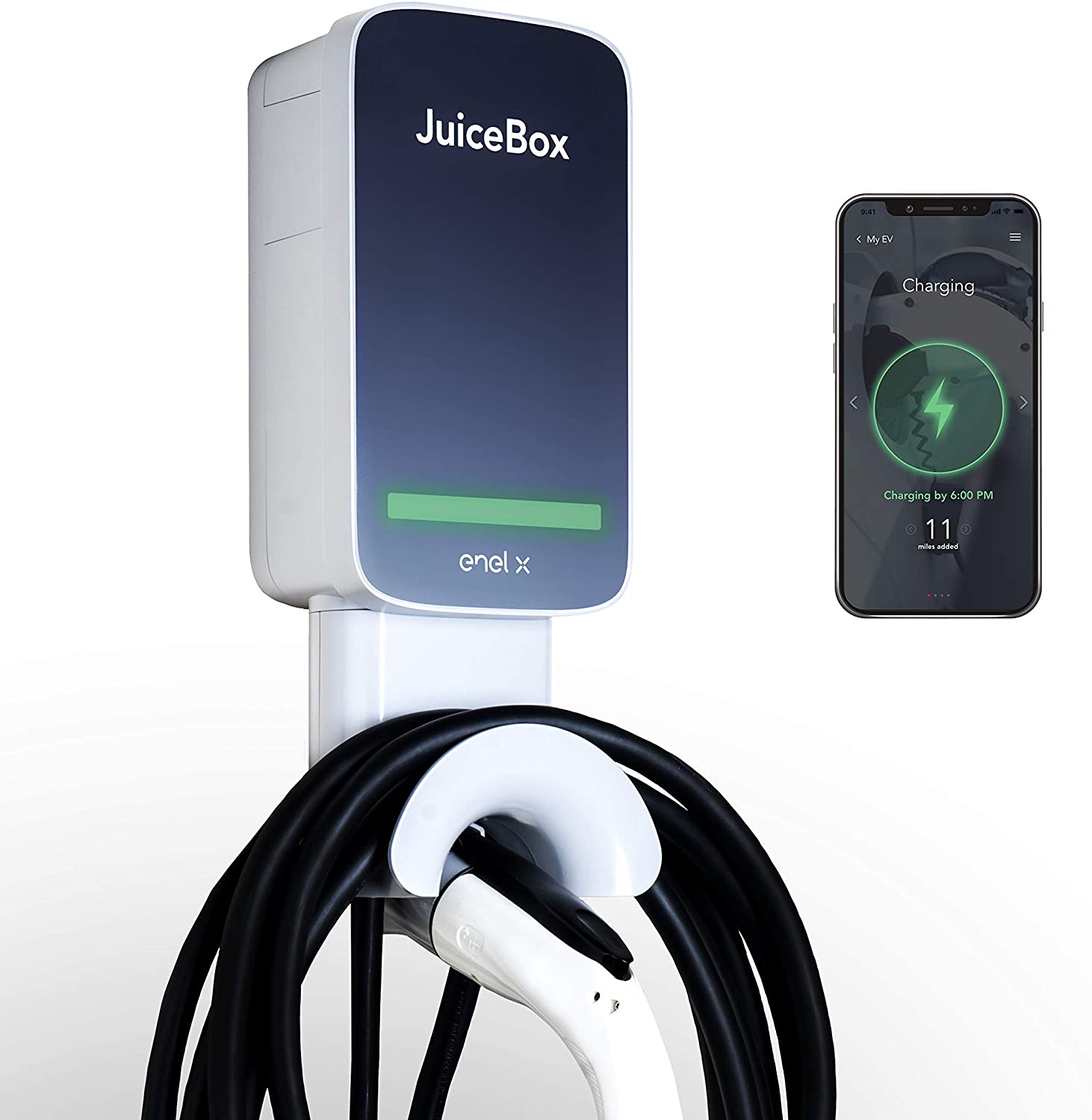 Let's have a look at each product in particular.
ChargePoint Home Flex – Level 2 EV Charging Station (16-50 Amp)
The one smart EV Charger that has to top our list is the ChargePoint Home Flex, the most successful and best-selling smart charger in the world. This model is a charging station which you mount on your garage wall and connect to either a NEMA 14-50, NEMA 6-50 outlet running at a 240V voltage or just hardwire it directly to your home circuit.
One of the first smart features is that the amount of electrical current it uses is adjustable, anywhere from 16 to 50 Amps and it will automatically tell how much power it can draw from the circuit it is connected to. But at its maximum charging power it will output almost 12 kW in order to charge an EV.
The EV charging cable extends 23 feet (7 meters) and uses a J1772 cable which is compatible with most EVs in North America, even with Tesla Models through the use of the adapter. Now this cable should be long enough for most homes however if you need something longer, but still want the ChargePoint you can just get an
extension cord such as this one
.
Now let's look at the smart features because that's one part EV drivers are keen on discovering. It comes with a Wifi connection that allows you to connect to it via the ChargePoint smartphone app. This is the same app that you use to find a charging point in the public charging network, an interesting choice on their part.
The first function is the scheduled charging feature which lets you set a daily schedule that is differentiated for weekdays and the weekend. You can choose to get notified if you forgot to plug in or when the car is done charging. There's a really nice reporting feature that shows you how much you've spent on charging your vehicle each day.
It also has Amazon Alexa and Google Assistant integration so you can remotely start or stop the charger by using your voice. They even introduced a fun voice command in which you can ask your home assistant to tell you how much you've spent on charging your EV this month.
Along with the app, there's also a backlight on the holster which changes colors depending on the charging status.
So in terms of smart features it is certainly up there, the outside isn't as tough though, it is only NEMA 3R rated, so you're gonna want to install it in a safer place. It does come with a 3-Year warranty and 24/7 Customer support provided by ChargePoint.
ENEL X JuiceBox 40 – Level 2 EV Charging Station (40 Amp)
Then there is the other Smart EV Charger, the Enel X JuiceBox which comes in 2 versions, the 32-Amp and 40-Amp. Now for comparison sake, we're going to be using the 40-Amp as our benchmark since it is much closer to the power range of all the chargers here.
It connects to a NEMA 14-50 outlet and outputs 10 kW of power at a 240V voltage. So the power here is slightly limited in comparison to the ChargePoint, however note that if you plug the ChargePoint to the same outlet and not hardwire it to a 60 Amp circuit, it will also work at 40 Amps because of the 80% rule.
But even still, this smart ev charging station is capable of achieving very fast charging times. Its cable stretches out 25 feet (7.6 meters) and has a J1772 plug like the others.
Now for the smart features, this is a WiFi enabled charger too and you connect to it via the JuiceNet app which you'll find on the App Store and Google Play.
The app is in many ways similar to the one on the ChargePoint, it can show you the battery level of your car, how much charge has been added to it in this session along with more technical info like amperage, voltage, power and frequency. There's a small gimmick to make you feel better about yourself that tells you how much CO2 you've saved just by using your EV. It has a full and detailed charging log showing you how much energy you've used each day.
There's a charge scheduling feature and of course Alexa and Google Assistant integration. The unit has a sleek design with an enclosure that is NEMA 4X rated (IP66 equivalent), so it is waterproof and dustproof to a high degree. It comes with a 3-Year limited warranty.
Wallbox Pulsar Plus – Level 2 EV Charging Station (48 Amp, 11 kW)
The Wallbox Pulsar Plus is our third smart EV Charger. This device also comes in two versions, a 40-Amp and a 48-Amp. We'll be reviewing the 48-Amp charger which outputs maximum power of 11.5 kW at a 240 Voltage. It is adjustable, so it will work on any circuit between 16 to 48 Amps. The 40-Amp version can be plugged into a 14-50 outlet however this one can only be hardwired to your home circuit.
In terms of smart features, it comes with Wifi & Bluetooth connectivity, an additional bonus that the other chargers do not have. You connect to it via the Wallbox mobile application that you can download from the App Store and Google Play. This device is capable of power sharing (Also known as dynamic load balancing / dynamic load management), so if you wire two or more chargers to the same circuit, they will evenly distribute power amongst them so that they don't overload it.
Another interesting feature is the fact that it can draw excess solar energy from the solar panels mounted on your roof and you can choose the balance between how much power you want from solar or from the grid.
The smartphone app has a great and clean design, there's a reporting feature, it shows you real-time data when the car is charging, you can remotely start or stop the smart charging station and it also integrates with the Google Assistant and Alexa. We were especially interested in the very extensive reporting feature that is well built. You even get a chart that gives you a sense of the amount of energy usage at a simple glance.
The housing on this unit is IP54 rated and it also comes with 3 years of warranty from Wallbox.
Emporia Smart – Level 2 EV Charging Station (48 Amp)
And finally we get to our last Smart EV Charger of the day, the Emporia Smart. This is a 48-Amp charging station that outputs 11.5 kW of power at a 240 Voltage. You plug it into a NEMA 14-50 outlet or you hardwire it to your home circuit.
The cable stretches out to be 24 feet long (7.3 meters) and uses a J1772 plug. Now to the smart features, it does have WiFi connectivity and you can connect to it via the Emporia Energy app. Now you need to know that Emporia is an energy management company, so they've built an entire ecosystem of products and services around that mission. This smart charger is part of it and that is why the app focuses more on energy management.
It does have the scheduled charging feature and like the other devices, it lets you remotely start or stop it, provides detailed information on the charging power and amperage as well as provide you with a detailed report on how much it cost to charge your car each day.
It too has the solar excess feature where it draws energy from solar panels and tries to use the energy coming from the grid as little as possible. There is also the peak demand management feature where the charger will avoid using power at times of peak usage and thus saves you even more money.
The housing is IP66 rated so you can splash it and it can withstand a dust storm. It too comes with 3 years of warranty.