We selected what we would consider the 5 Best EV Charging Stations that you can buy today out of more than 60 devices

We'll expain everything from charging performance, compatible outlets, connectivity features and durability.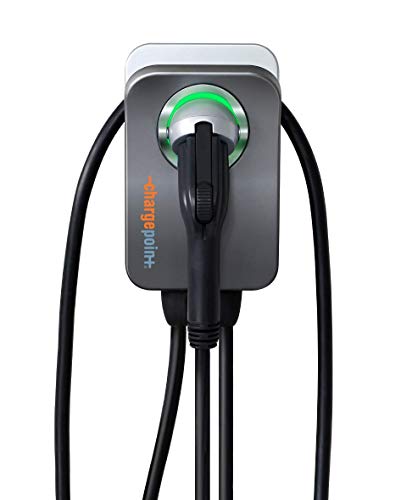 Let's have a look at each product in particular.
ChargePoint Home Flex – Level 2 EV Charging Station (16-50 Amp)
And we'll start with what is widely considered to be the best EV Charging Station on the market, the ChargePoint Home Flex electric vehicle charger. This unit can output anywhere from 16 to 50 Amps of electrical current and 12 kW of power. It can add the most miles of range per hour of all chargers listed here.
The idea is that you can plug it into a NEMA 14-50 or a NEMA 6-50 outlet, but in order to max out its full power, the best thing to do is to hardwire it to a 60-Amp circuit. It comes with a charge cable that is 23 feet long (7 meters) and has an SAE J1772 connector at the other end which will be compatible with most of the electric cars in North America, even with Tesla models through the use of the adapter.
This is a smart electric vehicle charger and that's because it has wifi connectivity and you can connect to it using the ChargePoint smartphone app, the same app that you might currently be using to find public charging networks. So what can this app do for you? You can set charging schedules so that the car only charges during a specified time of the day and you'll want to set it to use as much off-peak electricity late into the night to reduce charging costs.
You can get notified if you forgot to plug in your EV or when the car is done charging and ready to go. There's also Amazon Alexa and Google Assistant integration and you can ask them to remotely start or stop the charger, but also more complex questions such as how much you've spent this month on charging your vehicle. Along with that, you can access detailed reports on how much energy you've used for each charging session.
The unit is NEMA 3R rated and here is where we would recommend installing it in a safer place that's protected from potential water damage. The unit does come with a 3-Year warranty from ChargePoint and a customer support line that's available 24/7.
One of the great design features of the Chargepoint home flex ev charger the backlit holster which helps you find it in the dark and allows for easier holstering of the connector.
Grizzl-E Classic Charger – Level 2 EV Charging Station (16-40 Amp)
Then there is the Grizzl-E another great contender for the title of Best EV Charging Station. Now this device comes in two versions, the Grizzl-E Classic which we'll be reviewing here and the Grizzl-E smart. So you can have it either way, smart or dumb.
The Classic is the one that you want if you just want a solid charger that works and is easy to use. This unit can deliver anywhere between 16 to 40 Amps of current at a maximum power of 9.6 kW. In order to make the most of its power you need to plug it into either a NEMA 14-50 or a NEMA 6-50 outlet running at a voltage between 208V-240V. The cable length measures 24 feet (7.3 meters) which should be enough for most situations and the charge cord uses the same J1772 connector. Now if the cable itself is not long enough, you can always go for an
extension cord
.
As we mentioned, there are no smart features, the unit is very minimalistic not even including an LCD display for basic info. But some people just want to plug in and go, they don't want to complicate the process and the Grizzl-E Classic is just right for that.
It is a very durable product especially because its enclosure is IP67 rated so it is waterproof and dustproof. IP67 literally means that you can immerse it in water for a short time and it will still work. Grizzl-E backs all these claims up by offering a 3-Year warranty on the device.
If you want to charge two EVs at the same time, you'll be happy to know that there's also a Grizzl-E Duo that does just that.
ENEL X JuiceBox 40 – Level 2 EV Charging Station (40 Amp)
Now we get to the Enel X JuiceBox 40, one of the top EV charging stations out there. There are 2 versions to choose from, the 32 Amp unit and the 40 Amp. We will be reviewing the 40 Amp version as it is much closer to the other top charging stations here in terms of performance.
This fast charging station can deliver 10 kW of power at a 240V voltage when either plugged in using the NEMA 14-50 wall connector or hardwired. It comes with a 25-foot cable that will plug into your car's J1772 charge port.
The Enel X is a WiFi connected smart charging station that you can remotely control using the JuiceNet app from Google Play or the App Store. Apart from the usual charging info like Voltage, Amperage, Charging Rate and how much charge has been delivered to the EV in the current session, there's also a charging log that you can go through and a CO2 counter that keeps track of how much CO2 you've saved by using your charger and EV.
Of course, there is a scheduled charging feature and as a bonus you get Alexa and Google Assistant integration. But its not just about gizmos, because it has other useful features like Power Sharing where if you plug two of these to the same circuit, they will communicate with eachother and distribute power accordingly so that they don't overload it.
This high-performance charging station is NEMA 4X rated which would be the equivalent of an IP66 rating. This means you can do a lot of damage to it before it stops running and that is backed up by a 3-Year warranty. The design is great, especially the color combination and the fact that it is minimalistic.
Wallbox Pulsar Plus – Level 2 EV Charging Station (40 Amp, 9.6 kW)
The Wallbox Pulsar Plus Level 2 charger is another device that we consider to be one of the Best EV Charging Stations on the market today.
It is capable of delivering 16 to 40 Amps of current with a power of up to 9.6 kW when plugged into a NEMA 14-50 standard outlet. It has a
You can connect to this 40 Amp Level 2 charger not just by Wifi but also using Bluetooth via the Wallbox app. What the Wallbox app does very well in comparison to the others is to present the charging data by making use of visual charts and intelligent layouts. Of course, the scheduled charging is there, however it does have a more advanced feature which if you have solar panels mounted on your roof and supplying energy to your home circuit, it lets you choose how much power you want to draw from solar and how much from the grid.
So basically, you can use the solar home energy that you would normally sell back to the grid at lower prices and store it in the car's battery. When there's no solar energy, the charger can simply stop and resume when the time is right.
This fast charger is also capable of power sharing, so if there are two of these electric vehicle smart chargers plugged into the same circuit, they will communicate and distribute power evenly.