We selected 4 Tesla Model 3 Home Chargers that will charge your Tesla Model 3 as fast as possible, whether you drive the Standard, the Long Range or the Performance version

We take everything into account from charging performance to features and durability.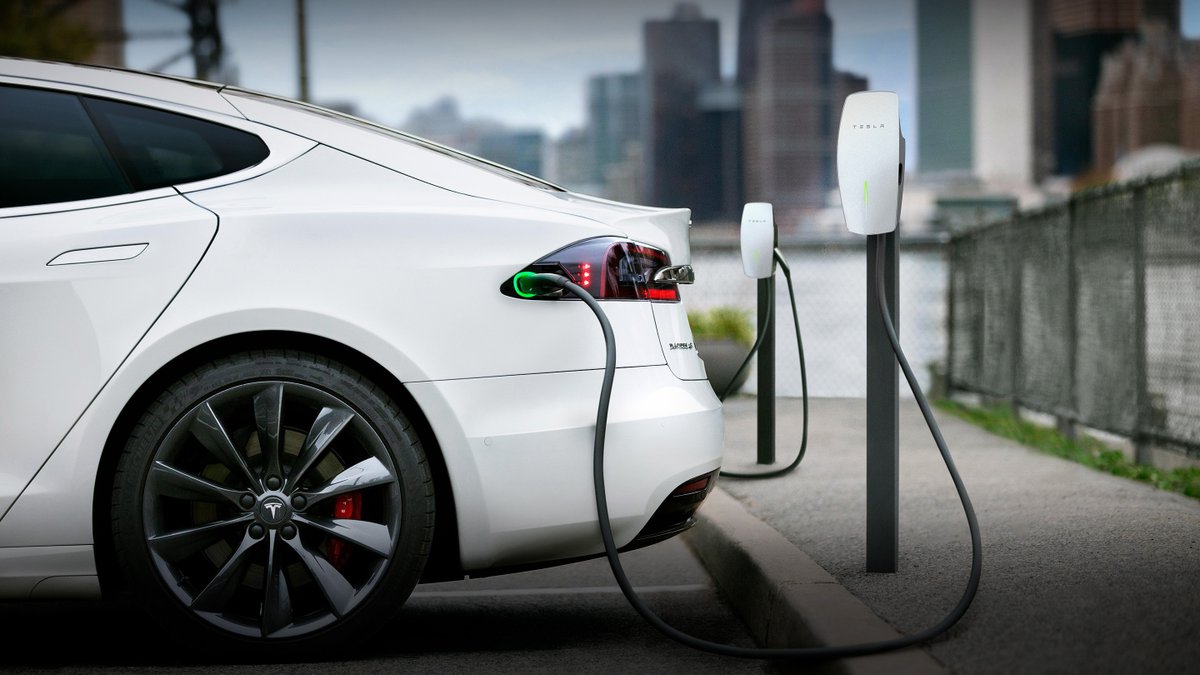 Let's have a look at each product in particular.
ChargePoint Home Flex – Level 2 EV Charging Station (16-50 Amp)
We start with what is probably one of the best EV Chargers for the Tesla Model 3 and that is the ChargePoint Home Flex. This is an EV Charging Station that can deliver anywhere between 16 to 50 Amps of electrical current to your Tesla. You can plug it into a 14-50 or a 6-50 NEMA outlet however if you want to take full advantage of its power you'll need to hardwire it to a 60 Amp circuit.
It can deliver 12 kW of charging power but what does this mean exactly for your Tesla? It means this is better suited for the Long Range and Performance models because they can both handle the 11.5 kW AC charging rate.
Now we'll refer to the recently upgraded versions so the standard range Tesla Model 3 with the new 62 kWh battery should fully charge in about 9 hours given the fact that it is limited to 32 Amps by the on-board charger. The Long Range and Performance models which now come with an upgraded 82 kWh battery pack should fully charge in about 8 hours. DISCLAIMER: These are just estimates, do not take them as official data.
With the ChargePoint, it is as close you're going to get home to public chargers which provide DC fast charging. The time to charge is within the window of getting a good night sleep which could be considered sustainable for not having to rely on the Tesla supercharger network all the time.
The cable stretches out up to 23 feet (About 7 meters) and it has an SAE J1772 connector. You can plug it into your Tesla charger port by using the J1772 adapter that comes included with every car that Tesla Motors makes.
The ChargePoint is a smart charger because it is wifi connected and you can remotely control it using the ChargePoint smartphone app, the same one that you would use to find a charging locations for your Tesla. It allows you to set a charging schedule so that you use as much off-peak electricity, it can send you reminders that you forgot to plug in your car or that it is done charging and it even has Amazon Alexa and Google Assistant voice integration, so you can ask it to tell you how much you've spent on charging your EV this month. There is also a detailed log showing how much energy you've used in each charging session and all the reporting features you might need.
The charger housing is only NEMA 3R rated so you might want to be a bit careful where you install it so that it is secluded from rain and water. But ChargePoint does offer a 3-Year warranty and 24/7 Custommer support. The charging connector is very easy to holster and the holster itself is backlit so you'll be able to easily find it in the dark.
Wallbox Pulsar Plus – Level 2 EV Charging Station (48 Amp, 11 kW)
Our next Tesla Model 3 charger is the Wallbox Pulsar Plus, another smart charger that can output between 16 to 48 Amps of current. Now in terms of charging speeds, because this is an 11.5 kW charger it will basically match the charging time of the ChargePoint when it comes to your Tesla, so you can take those as a reference. It is important to know that two chargers with the same number of Amps will in essence deliver the same miles of range per hour to your Tesla.
This particular charging station for your Tesla comes in two versions, a 40-Amp and a 48-Amp and we'll be looking at the 48 version for the time being. It doesn't come with a NEMA wall connector, instead it has to be hardwired and you'll want to do wire it to a 60-Amp circuit in order to take advantage of the charger's full power.
Its cable stretches out a bit longer measuring 25 feet (7.6 meters). It too has a J1772 connector which you can use with the adapter to plug it into your Model 3's charge port. You can connect to it using WiFi and Bluetooth and you can do so through the Wallbox app available on the App Store and Google Play.
The app itself lets you remote control the charger, start it or stop it whenever you want, schedule charging times but what it does really well is to visualize the charging reports using some very well designed charts. So if you're into numbers, you will really enjoy the app. The Wallbox can do power sharing, so if you have two Tesla cars and you wire two chargers to the same circuit, they will communicate with each other and distribute power evenly so that they don't overload the circuit.
Another interesting feature is that if you have solar panels mounted on your roof, you can choose from the app the ratio of solar to grid usage that you would like. So you can basically tell it to only use solar if you want to, it is more cost effective than giving the energy back to the grid.
What is great about the Wallbox is that it does come with an IP54 rating, much stronger and more durable than the ChargePoint and it too comes with a 3-Year warranty.
ENEL X JuiceBox 32 – Level 2 EV Charging Station (32 Amp)
The ENEL X JuiceBox 32 is our third Tesla Model 3 Charger we'll be looking at. The JuiceBox comes in 2 versions, a 32 and a 40 Amp and today we'll be looking at the 32 Amp in order to give you options that are also suited for the standard range model, since the previous models were better suited to the Long Range and Performance given their rapid charging ability.
Because this is a 32-Amp it will output 7.7 kW of power at a 240V voltage and thus the charging process is going to be a bit slower, but this will max out your standard Model 3's on-board charger power and fully charge it in about 9 hours. The Long Range and Performance models should take about 12 now. Remember, we're taking into account the recent upgrade to the 62 kWh and 82 kWh battery pack which will both take longer to charge than before.
But the idea is that if you have the RWD standard model, you shouldn't spend more on a charger than your car can take and that's why this electric vehicle charger is well suited for the job.
Now onto the details, it packs a 25ft charging cable with a J1772 connector, so you'll need to plug it into the included adapter and the charger itself can be plugged into a NEMA 14-50 wall outlet.
This Model 3 charging station has wireless connection so you can use the JuiceNet app to connect to it and get all the charging info, schedule charging times, get an extensive log showing how much money each charging session costs you and also remote control the charger via your voice through either Alexa or Google Assistant.
The enclosure is NEMA 4X rated, which would be the rough equivalent of IP66 so it is waterproof and dustproof. It can work great as a workplace charger or home charging station. ENEL X provides a 3-Year limited warranty on every unit that you buy.
Lectron – Level 2 Portable EV Charger (32 Amp)
Now along with these 3 more premium charging stations we thought we'd also offer a low-cost option and this is the Lectron Level 2 Portable EV Charger (32 Amp). This costs half as much as the others and provides decent charging speeds.
It can output 32 Amps of current at a power of 7.8 kW, so you'll want to take the Enel X's charge times as benchmark since they essentially deliver the same amount of power. You don't need to mount this one on the wall or hardwire it, you just plug it into a NEMA 14-50 connector and you're good to go.
It has a 21ft charging cable with a J1772 connector and no smart features, there's no connectivity or smartphone app. All it has is a small LCD display on the unit telling you the amperage, voltage and a timer together with two buttons for adjusting the number of Amps. Sometimes you just don't need much more than that for your Tesla charging process, you just want to charge your EV and drive.