A thermal imaging camera for home insulation checks can greatly reduce your energy bill and keep your house warmer or cooler, depending on how you need it to be

We compiled a list of 4 thermal cameras that can help you detect where the heat loss is occurring and the places where it has poor insulation.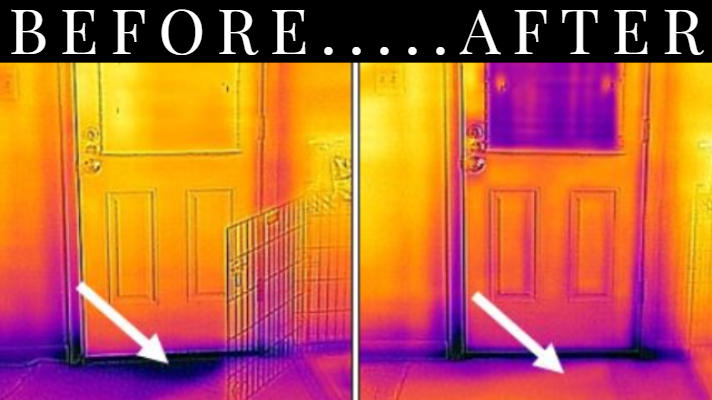 Let's have a look at each product in particular.
FLIR TG267
The Flir TG267 is a thermal imaging camera for home insulation checks that was built specifically for this purpose, that is why it is popular among home inspectors. It has a little K-Probe which plugs into a port on the device which you can also use to inspect tight places where you can't physically get in with the camera like ductwork.
It has a thermal sensor with a 160 x 120 IR resolution which is also assisted by a high-resolution visual camera. The two images are overlapped using the MSX image enhancement technology. On the back along with the visible light camera and the sensor, there is also an LED light and a laser pointer. You can connect it to your PC via USB cable and to your smartphone via its Bluetooth connection.
In terms of its temperature measurement abilities, it can measure anything in a thermal scope from -13°F to 716°F(-25°C to 380°C ) with a 0.07°C sensitivity. Its thermal vision accuracy is about +/-3° C but this varies across the temperature range, so you can expect to have peak accuracy at the middle of the range.
This thermal camera has 4GB of storage which allows you to store literally all the thermal images you will ever capture because they are not in radiometric format, so they take up very little room. The battery lasts for 5 hours which should be enough for professional day-to-day use and the entire enclosure is completely waterproof with an IP54 rating.
Flir TG165-X
Our second thermal imaging camera for home insulation is the Flir TG165-X. This device is the succesor to the popular Flir TG165 spot thermal imaging camera with a few key upgrades. It is cheaper than the TG267 and can be a great entry-level camera for hobbyists and professionals alike.
This particular thermal imaging system has an image resolution of 80 x 60 pixels and also a visual camera together with the MSX image enhancement feature. Let's have a look at its temperature screening and monitoring capabilities: It can measure any hot or cold object within a temperature range from -13° to 572° Fahrenheit (-25° to 300° Celsius) and it can sense a temperature difference as low as 0.07° C with a very high +/-1.5 °C accuracy.
Just like the previous camera, it is IP54 rated for being waterproof and dustproof, it has a 4GB internal memory and provides 5 hours of battery life.
FLIR E8 XT
There is no other device at the moment which can beat the Flir E8-XT when it comes to a thermal imaging camera for home insulation checks. This camera can help you do a complete home energy audit on any home and it is part of a professional line of Flir Thermal cameras which also includes the Flir E4, E5 and E6.
When it comes to thermal resolution, this is as good as it gets because it can output a 320 x 240 image, totaling 76,800 pixels. The images that come out of the camera are indeed almost perfect in terms of sharpness, detail and contrast.
The E8-XT also performs brilliantly on the detection of hot spots and also the coldest ones because it can measure anything from -4°F to +1022°F (- 20 to 550 C), so that you can capture even the warmest heat patterns. It has a host of adjustable settings for emissivity, brightness, ambient temperature, color palettes and color scale.
It stores all of the captured images in full radiometric form together with the thermal data for each pixel so that later on your computer, you can measure any point in them, switch color palettes and adjust the color scale.
This infrared thermal imaging camera can be used for anything from HVAC inspections to electrical systems or plumbing. Like most Flir cameras, it comes with a 2-10 warranty where you get 10 years for the sensor if you complete the product registration process. This is a perfect thermal camera for home inspections and that is why it is one of the tools of choice for inspectors and energy auditing specialists which are specifically looking for poor insulation.
Flir also makes pocket thermal cameras which are worth considering like the Flir C3, C3-X and C5.
Seek Thermal Compact PRO
The Seek Thermal CompactPro is a smartphone thermal imaging camera which you can use to inspect your home's insulation issues and find all the places where you get air infiltration and air leakage.
It is much cheaper than the handheld thermal cameras because you are only paying for the infrared sensor because it uses the color display, internal storage and battery from your phone. It is a very small and light module which you attach to your phone via the USB or Lightning port, whether you are using an Android device or an iPhone. Then you download the Seek Thermal app and you are ready to detect heat loss in your home.
Because you are only buying the sensor, it does offer a 320 x 240 thermal sensor resolution. This thermal imaging device can detect heat patterns up to 1800 feet away, something which none of the infrared cameras listed here can do. It has a wide temperature range from -40F° to 626°F (-40°C to 330°C) and it offers a 0.07°C thermal sensitivity.
Which is the best thermal imaging camera for home insulation
If you just want to inspect your own home, the TG165-X or Seek CompactPro are going to provide great value and do not have a high price tag, but if you are a professional inspector, then you may want to look into the TG267 or the more expensive E8-XT.


How to detect home insulation issues?
The best time to perform this kind of inspection is when there is a 20 degree Celsius difference between the inside of your home and the outside, so you're most likely going to get this window during the winter and basically check for heat loss, because the reverse will apply during the summer too. You'll want to use one of these cameras with a higher thermal sensitivity so that you can get as much contrast as possible.

So where would you find missing insulation? Usually in the areas around doors and windows, those are the first places you want to look. Then there is the place where the roof and the exterior walls unite, that's a place where air sealing is often poor and it is the reason why attic inspections are recommended. Then there are things like bathroom exhaust fans which can generate insulation issues. Other places include outlets and switches, but those are not sources of major heat loss. Thoroughly inspecting all of these sources and subsequently fixing them can help with energy saving.

Every time you notice a significant difference in temperature in those areas, that might be due to a lack of insulation, something which can affect your home cooling or home heating and this is worth addresing.