Did you know you can inspect and diagnose solar panels with thermal cameras? Consumer infrared cameras have gotten better and cheaper and inspecting solar installations can become a DIY thing

So what can you spot in the images Cracks in cells, gas pockets from manufacturing defects, faulty interconnections and much more

We selected 4 of the best thermal cameras to use with solar panels and evaluated them on every aspect from image quality to battery life and software features.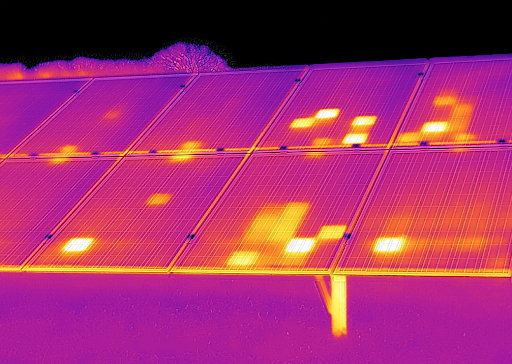 Let's have a look at each product in particular.
FLIR E8 XT
If you are serious about inspecting your solar panels, then the best camera to use is the Flir E8-XT.
With its 320 x 240 thermal resolution which offers 76,800 thermal pixels in total, you can inspect the photovoltaic cells up close and in detail to find potential faults. In addition to that, it also has a high-resolution visible light camera and the software blends the thermal and visual images together using its proprietary MSX image enhancement algorithm. The result really does look stunningly sharp and accurate.
This compact thermal imaging camera is able to measure a temperature range from -4°F to +1022°F (- 20 to 550 C ) with a very high accuracy of +/- 2 C and a thermal sensitivity of 0.05°C, so it is safe to say its temperature measurement capabilities are more than enough for this type of activity. The thermal sensitivity is important because of the temperature differences on the solar glass panels are small. Another thing to adjust is the emissivity which should be between 0.85 and 0.90 for the glass surface.
The battery life is up to 4 hours with a 2-3 hour charging time and the entire enclouse of this infrared thermal imaging system is IP54-rated which means it is almost completely waterproof, dustproof and you can drop it from 2 meters above.
You can view the images on its 320 x 240 pixel LCD screen which measures a full 3 inches or you can transfer them via USB cable to your computer or via its built-in Wi-fi connection to either an iPhone or Android phone using the Flir Tools app.
The camera captures the images in JPG mode, but it also adds a piece of radiometric thermal data to each pixel which represents the measured temperature at that exact spot. Something which can come in handy when you are trying to compare solar cells. You can't spend too much time on a roof looking at solar panels, so you can grab the pictures and then do a post-analysis of the temperature data. You can also change color palettes later or adjust the temperature scale.
Hti HT-301
| Product | Type | Resolution | Battery capacity | Waterproof | LCD screen | Price |
| --- | --- | --- | --- | --- | --- | --- |
| Hti HT-301 | Smartphone | 384 x 288 | Uses Phone Battery | No | Uses Smartphone screen | Click for more info |
The Hti HT-301 is a smartphone thermal imager, meaning it is a little device that only has an infrared sensor and nothing else which you attach to your Android phone via USB-C or micro USB (iPhone is not supported here). Then you download either the official app which is buggy or the ThermViewer app which works much better from the Play Store. It uses your phone's battery, screen and internal memory.
The advantage to this specific camera is that it has an even higher IR resolution of 384 x 288 totalling 110,592 thermal pixels. We know that when inspecting photovoltaic panels, image resolution matters because the solar cells are so small and you don't have much time to grab all the photos. Like the E8-XT this camera also captures the thermal data for post-analysis.
The camera lens is detachable, however we haven't seen yet any new 3rd part lenses available for it on Amazon or eBay. It has a 25Hz refresh rate which is much higher than the one on any of the cameras here, regardless of the price. This is because it is made by Hti, a chinese company rather than a US one like Flir which has to subject to US EAR export regulations and limit the frame rate at 9 Hz. So you can capture images and record video at a smooth frame rate.
Even though it doesn't have a visual camera like most handheld thermal imaging cameras, it doesn't really need one because the sensor has such a high resolution. At night if you use it with a grayscale palette, it really looks like an advanced night vision device.
Parrot Anafi 4K Thermal Drone
All of these thermal cameras work just fine as long as you're on the roof. But getting there is a different story, so for that matter if you can't get up there, you can use a UAV Drone for that, more specifically the Parrot Anafi 4K Thermal Drone.
The idea is to fly it and have it hover above the solar panels long enough for you to take some shots. Because it is so precise and stable, you can get very close to the photovoltaic installation and do solar inspections without every leaving the ground. The drone is also useful when you have to cover areas with a large number of solar arrays like with solar power plants for routine checks.
It's best that you do a fly-over when the sky is clear and the reason for that is because clouds can apparently produce some interference because of a reduced solar irradiance. Another good tip is to disconnect them so that they cool down and then reconnect them and observe them during their heating process. You should do that if you're not getting enough thermal contrast in the image.
It has a thermal vision sensor with a 160 x 120 resolution built-in and a 4K camera that records 4K video. It uses the same MSX image enhancement feature that the E8-XT uses to blend the two images together. All the images and videos are captured onto an SD card that you insert into the memory card slot.
On the top left corner it will display the coldest and the warmest point in the screen and the color palette can instantly show you all the hot spots or if anything is overheating.
Its temperature measurement range spans between 14° and 752° Fahrenheit (-10° and 400° Celsius). Will it be as precise as getting up close with an E8-XT? No. Is it good for predictive maintenance and quickly inspecting solar panels? Yes.
Seek Thermal Revealpro
The Seek Thermal RevealPro is a compact handheld thermal camera which can be used for solar panel inspections. The reason we included it in our list is because it has a high 320 x 240 resolution and its heat detection and temperature screening capabilities can go up to 1800 feet away.
You can use this camera to measure anything in a temperature range from -40°F to 626°F (-40°C to 330°C). It has a 4-hour battery life and 4GB of storage on which you can capture more than 4000 images. All the images hold thermal data inside them for post-editing and analysis.
It also uses the FastFrame technology from Seek to deliver a 15Hz refresh rate for a smoother view. What is also interesting is the way it is designed, with the IR sensor and LED light put on the top of the device, not on the back so you hold it in a different way. You get used to it after 10 minutes.
The downsides of this camera are the small LCD screen, the fact that it is not waterproof and that the digital zoom is a bit difficult to use, granted most of the other imaging cameras for solar panels don't even have it.
Which is the best thermal imaging camera for solar panels?
Our main choice is the Flir E8-XT for its high precision, image resolution, rugged design and great software. One of the stronger points is the thermal sensitivity rated under 0.06K which allows you to accurately measure the very small differences in temperature between the different solar cells.
For photovoltaic power plants, a thermal drone would be useful for everyday checks and maintenance while an E8-XT would be perfect when you need to get up close with the photovoltaic modules.
As a home user, the Hti-301 can be a good low-cost alternative, because you do get the high resolution that you need.
How to inspect solar panels using an infrared camera
1. Make sure the sun is shining, the sky is clear and there isn't much wind so that the solar cells are triggered, which will offer a higher thermal contrast. The problem with wind is that it is going to cool off the cells and you won't get a high contrast. The minimum solar irradiance that you should have is about 700 W/m2.


2. Set the emissivity somewhere between 0.85 and 0.90. Don't point the thermal camera straight at the solar panels because you will get reflections, so you'll be measuring at an angle. If you can inspect them from behind, it's even better since you won't get the reflections.


3. If a cell is considerably hotter than the rest, it is most likely a defective cell. If you notice a hot spot inside a cell, it might be damaged. If the entire solar module is warmer than it usually is, you may have some interconnection issues.