If you have an Android phone and you need to do any kind of thermal inspection, be it for your home or professionally, then instead of spending more money on a separate camera, you can just buy a smartphone attachment that is cheaper and gives you great image resolution

We researched the 5 best thermal infrared cameras for Android phones and compared them on everything from how they perform, how good the image quality is, battery life and the apps that they use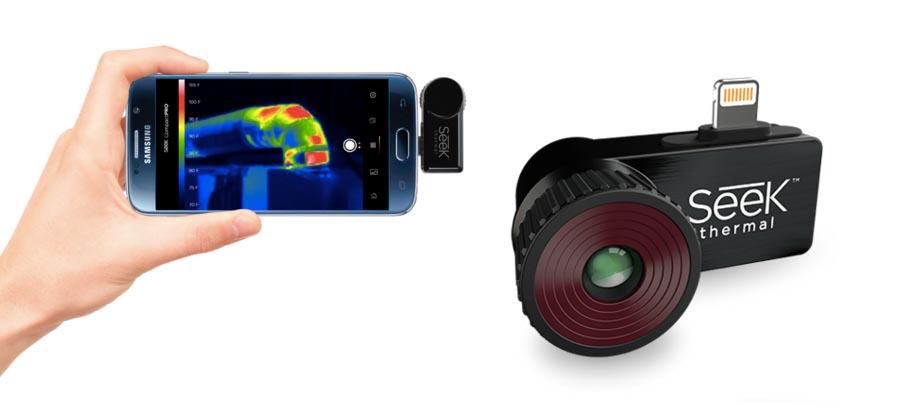 Let's have a look at each product in particular.
FLIR ONE Pro
| Product | Type | Resolution | Battery capacity | Waterproof | LCD screen | Price |
| --- | --- | --- | --- | --- | --- | --- |
| FLIR ONE Pro | Smartphone (2 different versions – Android & iOS) | 160 x 120 | 45 minutes | No | Uses Smartphone screen | Click for more info |
The Flir One Pro is one of the most popular thermal infrared cameras for Android phones. It is the flagship model from Flir Systems and it actually comes in 3 versions for Android and for iOS. When you buy it, you have to decide beforehand whether you want it with a USB-C or micro USB connector for Android or a Lightning connector for iPhone.
The device is really small and on it you will notice a few things: It has an infrared sensor, a visual camera, a 350mah battery, a charging port and a power button.
The One Pro has a 160 x 120 thermal resolution which accounts to 19,200 thermal pixels in total. Not only that but it also has MSX image enhancement technology that combines the thermal image and the visual image to enhance the sharpness and the details which we found to be the best in the market.
The images are stored in JPG format and bundle in 14-bit thermal data for each pixel, meaning you can switch color palettes and adjust the color scale or measure any point in the picture even after you've captured the image. So if you are an inspector, you don't have to spend your time at the site, you just capture the photos and inspect them later using the Flir Tools analysis software.
It can detect and measure an object temperature range from -4 -> 752° Fahrenheit ( -20 to 400 Celsius ) and the system is very reactive to temperature differences with a 0.07° C thermal sensitivity.
The biggest downside is its short battery life of only 45 minutes. Instead of using the smartphone's battery, it has its own and you can't power it from the phone.
To use the camera, you just plug it into your Android device's port and download the Flir One App on Google Play. It struggles with the rating and the app needs some more development but it has been getting better. Most of the glitches that users have encountered are when connecting the camera and when recording video. If the newest version has issues on your phone, what you can do is search for an older APK and install it.
The Android app also gives you a selection of color palettes, lets you switch between MSX image mode, visual or pure thermal vision and it also lets you adjust emissivity together with ambient temperature to get a better temperature measurement accuracy.
FLIR ONE Gen 3
| Product | Type | Resolution | Battery capacity | Waterproof | LCD screen | Price |
| --- | --- | --- | --- | --- | --- | --- |
| FLIR ONE Gen 3 | Smartphone (2 different versions – Android & iOS) | 80 x 60 | 45 minutes | No | No | Click for more info |
The Flir One Gen 3 is a thermal camera for Android phones and the low-cost version of the Flir One Pro.
It offers a lower 80 x 60 infrared resolution, but it still has MSX technology. You can still get it in with 3 types of smartphone attachments, USB Type-C, micro USB and Lightning just like the One Pro for Android OS or iOS and you basically download the same app from the Play Store.
Only this time, the app has a more limited functionality when you plug in the standard Gen 3, you can't for example switch between MSX and other image modes, you are limited to only the MSX image.
The thermal scope of this Flir thermal camera is also narrower from -4 to 248 °F (-20 to 120° C) with a 0.15 C thermal sensitivity, which doesn't make it as good as the Pro version in temperature screening and monitoring.
It also has the same small 350mah battery which only lasts for 45 minutes. So is this good enough for the average home user? Yes, absolutely. The thermal images have a decent amount of detail in them so that you can tell things apart and it still stores the thermal images with radiometric temperature data in the JPG files for every pixel.
Do the Android app and iOS app have different features or functionality? Not as far as we've checked. Apart from the design being slightly different, there is no core difference between the two apps on compatible phones and the app is so easy to use, you do not need a user manual.
If I change Android devices with different ports can I use a micro USB – USB-C adapter? Yes, but you need to google before you buy one because there are only a handful of adapters with a reasonable price on Amazon and eBay that are perfectly compatible, so not all the cheap ones will work.
It is best to choose the one which has the same port as your phone in order to take advantage of the adjustable connector. You may have noticed there is a dial on the camera that you can adjust which is not manual focus, it is just for the connector. The dial is available on both android-based thermal imaging devices and the iphone version.
Between the Pro and Gen 3 there is the Flir One Pro LT which has the flir one's thermal imaging resolution but the Pro's features. If you need something for long range detection, try the Flir Scout TK.
Seek Thermal Compact PRO
The Seek Thermal Compact Pro is a thermal infrared camera for Android smartphones that uses a different approach.
First of all, most of the focus is on the Infrared sensor and we'll explain why. Its thermal image resolution is 320 x 240 which amounts to a staggering 76,800 thermal pixels in total. At this point it doesn't even need a visual camera for you to distinguish the details in the image. If you use the right color palette, at night it really looks like a night vision device.
It doesn't have a visual camera but you can get a side-by-side view of the visible light camera from your Android phone and an overlap using the SeekFusion image enhancement. It is not as good as the MSX technology and you often have to realign the images, but it is an easy process by double tapping on the screen.
Its heat detection capabilities span from -40F° to 626°F (-40°C to 330°C) with a 0.07 C sensitivity.
This infrared thermal imaging camera can detect hot spots, heat and warm areas up to 1800 feet away, beating out most handheld IR Cameras and smartphone thermal imagers. In fact, the detection range on the Seek Thermal CompactPro is comparable to the one you will find on the Seek Reveal.
The CompactPro has a wider range of applications which extend beyond HVAC, roof inspections and plumbing and it includes wildlife, hunting and PCB circuit board inspection where you can detect components which may overheat or simply inspect where a circuit board is warmest and where it is coldest.
It doesn't have an IP54 rating, it is not waterproof or dustproof but then neither are the other smartphone thermal imagers. But it does come with a waterproof carrying case.
There are also cheaper versions of this thermal imaging camera for Android like the Seek Compact thermal imager and the Seek Compact XR.
Hti HT-301
| Product | Type | Resolution | Battery capacity | Waterproof | LCD screen | Price |
| --- | --- | --- | --- | --- | --- | --- |
| Hti HT-301 | Smartphone | 384 x 288 | Uses Phone Battery | No | Uses Smartphone screen | Click for more info |
The Hti HT-301 is a thermal camera for smartphones that only works with Android USB-C phones and comes as standard with a USB-C connector and micro USB adapter. Because the USB-C adapter is by standard reversible, you don't have to worry if the micro USB is pointing the wrong way on your particular phone because you can just flip it. This can be an issue on the models from Seek Thermal.
This Android thermal imager has the highest IR resolution you will ever find in a smartphone attachment, 384 x 288 totaling 110,592 thermal pixels. This is higher not than just what most Android thermal imagers offer but what most handheld thermal imaging cameras in general do because you have to spend in excess of 1000$ to get that kind of level of visual resolution. The images and video that this camera can output are comparable with the ones from pro thermal cameras.
There is no visual camera and at this resolution, you don't even need one because the level of detail is more than enough. It can easily be used as a night vision device. It also uses the phone's battery, which we think is the right choice.
There is even more good news when you get to the refresh rate because Hti Xintai have created this compact imager with a 25Hz refresh rate. If you are new to the field, you need to know that most thermal camera modules, not just the Android compatible ones are limited to frame rates of 9 Hz because of EAR export regulations in the US. So the image is pretty choppy in videos, however not on the Hti-301. It looks fantastic and smooth, the smoothest we have ever seen.
You can use it with the standard Hti app but it is very buggy and crashes a lot, so we suggest you download the ThermViewer app from the Android Play Store. It has all the features you need like image capture, video recording, different color palettes, adjustable emissivity and ambient temperature.
CAT Phone S61 FLIR
The CAT Phone S61 from Flir is actually not an infrared camera for Android, it is an Android phone itself that has a built-in infrared sensor along with the digital camera. This is a unique approach and the only one in its field.
It is an Android smartphone that was designed for professionals who need a rugged phone to use in the most extreme conditions and that is why it has one of the highest IP ratings that a device can have, IP68. You can leave it in a sandstorm, drop it from several meters, immerse it underwater and it will still function perfectly.
In terms of how it works, think of it as a phone with a built-in Flir One Pro camera and the Flir One app. It has all the quirks and features including Flir's MSX image enhancement and a large 4500mah battery which is sure to last more than the 45 minutes that the One Pro offers. By this point, the phone runs the Android 9 version of the OS.
If you are a technician or an inspector and you need to use thermal imaging from time to time, this might be a very good choice as a phone because it is always with you and has more than decent thermal imaging system.
Which thermal infrared camera for Android to buy?
In terms of the combination of software and hardware, the Flir One Pro is our favorite. If you can't afford that, the standard Flir One is almost half the price and provides great value.

If you need thermal imagers for smartphones with a higher resolution, then you should consider the Seek Compact and especially the HTI 301 which we would recommend especially for applications in which you are measuring very small objects like chips on a PCB board. The HT-301 is clearly the best thermal camera for android in terms of resolution.

If you are an inspector or a technician then instead of buying a phone and a thermal camera, the CAT S61 Flir is the best choice because you not only save money but you also have thermal vision in your pocket always with you.

Just remember that for highly accurate measurements, it is best to pair these thermal imagers for android with an infrared thermometer which measures temperatures with a higher accuracy. Thermal sensors that are reasonably priced usually have a +/-3 C error and their main goal is to detect heat signatures and infrared radiation to help people like home inspectors find water leaks, moisture or air leaks but when you need to measure with a very high accuracy, a thermometer would be best suited.