If you are in construction, then a thermal camera can help you with all aspects of the building diagnostics from checking that the roof doesn't have any leaks to window insulation and moisture levels. Given that since 2009, Ireland requires a BER (Building energy rating) for any building that is for sale, we expect this to become more important in the future

Here are our 4 best thermal imaging cameras for construction and building inspections: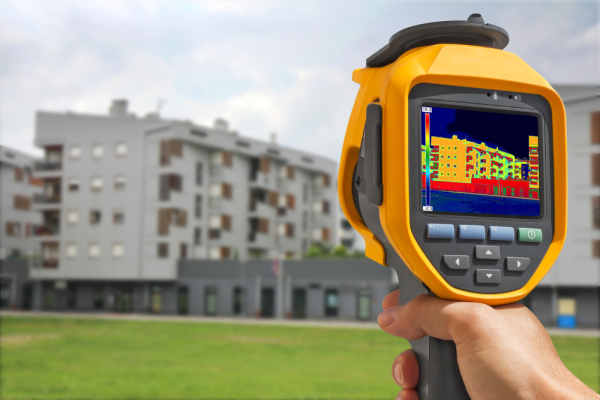 Let's have a look at each product in particular.
FLIR E8 XT
If you are doing construction work, you will need to inspect your buildings and a thermal camera will be a very low cost in the entire scheme of things, so it would be a good idea to make no compromises.
The Flir E8-XT is a professional thermal camera that doesn't compromise on anything. You can use it to inspect the roof to find potential leaks before they become a problem and this is particularly important on flat roofs. You can also inspect the plumbing system to inspect the flow of water throughout the pipes and to find out if the electrical system is overheating at any point.
This thermal imaging camera has an infrared sensor with a 320 x 240 thermal resolution which amounts to 76,800 pixels. But you might be thinking that it is too low since a plain digital camera can get 10 times more pixels, but don't worry because it also has a high-resolution visual camera and the two images are overlapped together using the Flir's proprietary MSX image enhancement feature. So you see all the details, edges and objects with the infrared picture nicely nicely overlaid on top.
Because it is an XT model, it can measure a temperature range from -4°F to +1022° Fahrenheit (- 20 to 550 Celsius), so this will more than enough for what you need to inspect a building. The sensor has a 0.05° C thermal sensitivity, which means it can readjust its measurement if there is a temperature difference larger than 0.05° C. That is extremely precise and along with that, it has a +/- 2 C thermal accuracy (Here, lower is better).
The camera captures images in JPG format together with temperature data stored for every pixel, so you can edit it afterwards and for example if you don't like the color palette you can change it and also adjust the color scale or do measurements in different parts of the image.
One of the great things is that the camera is IP54 waterproof
and dustproof and you will be needing that in a dusty environment like a construction site. You also don't have to worry if you drop it from 2 meters because it will still work. The battery is great too, because it lasts a full 4 hours of thermal imaging.
FLIR E6 XT
The Flir E6-XT is part of the same line as the E8-XT, only with a lower resolution of 240 x 180 pixels, but still keeping the high-resolution visible light camera and MSX image enhancement. As for the rest of the components they are almost identical and its temperature measurement, detection and temperature screening capabilities are the same.
You can use this infrared thermal imaging system just as well in detecting hot spots and finding where the coldest and the warmest points are in a picture. It can be used for building surveys, it can see through dry wall, but not concrete or steel and this applies to all the infrared cameras listed here.
As a housing builder, you can use it to for your own energy auditing before applying for one, something which has already become a very important factor in the purchase decision. Then there are all the maintenance and repair issues which can arise and you can spot them sometimes before they become a bigger problem and this is especially true with moisture and leaks.
The camera, like the E8-XT and other IR cameras from Flir Systems is subject to an extended warranty program, 2 for the device and 10 for the imaging sensor which is the core of product and the most expensive component.
FLIR C5
The Flir C5 might not have the high resolution of the E8-XT but it does have so many other advantages and features that make it a great thermal camera for building inspection and construction.
It doesn't look like a laser thermometer like the rest do, instead it looks exactly like a pocket digital camera. This compact thermal imaging camera has a 3.5″ touchscreen and very few buttons. Besides those, it has a 160 x 120 infrared sensor on the back together with a 5 megapixel visual camera.
It really looks and feels like 2020 product, for example it has Wi-fi, USB and Bluetooth connectivity. While the others have this too, they don't make use of the wireless connection like the C5 does: It captures thermal images and then automatically uploads them to the Flir Ignite Cloud platform where you get 1GB of free storage for every C5 camera. This is a feature that you can only find on the C5 and C3-X at the moment.
The firmware can also update itself via wireless OTA updates, again something specific only to the C5. It can record video and capture thermal images with all the radiometric temperature data embedded in the picture for each thermal pixel. In the settings menu you'll find adjustments for every aspect of the image including emissivity and reflected temperature.
It is waterproof and dustproof and has the same IP rating as the E6-XT and E8-XT and its battery lasts for 4 hours as well. This handheld thermal camera can measure temperatures between -4 to 752°F (-20 to 400°C).
Seek Thermal Compact PRO
If you are a on a budget but you still need a thermal camera for inspection of construction buildings, you can opt for the Seek Thermal Compact Pro. This is a little device that you attach to your smartphone's USB or Lightning connector, download the Seek Thermal app from the Play Store or App Store and you can start your thermal inspection.
The device itself only has a thermal vision sensor, no visual camera, battery or internal memory and instead it uses the ones that you already have in your phone. That's how it can be cheaper than handheld thermal cameras while maintaining a high-quality.
It actually has a high infrared resolution of 320 x 240 pixels and can measure a temperature range that spans between -40F° and 626°F (-40°C to 330°C).
Now there are some disadvantages compared to regular cameras like short battery life, for example this one will last about 2 hours with a regular phone. It has no IP54 protection so you need to be extra careful with it in construction environments. You also have to connect it to your phone and it only works like that.
But there are advantages, the price you pay for the resolution you get is unmatched and this specific model can detect heat at up to 1800 feet away.
Which thermal camera should I use for construction building inspection?
If you have the budget, the Flir E8-XT is worth it as it has the resolution, durability, features and battery life.

If you can't get the E8-XT, the E6-XT can do the job almost as well. And if that is out of your budget, then the Flir C5 is the next best thing out there with its multitude of unique features.

If you are just looking for one for occasional use as an engineer in housing projects, then the Seek Thermal Compact Pro is the cheapest version that can get the job done.


How can thermal cameras help in building diagnostics?
You can use these devices to first of all detect poor insulation, anything from air leaks or moisture. You can easily view where the air might be escaping, where cold air might be infiltrating and take the necessary steps to fix the issues. After all, air exfiltration can increase your energy bill.

Then there is the issue of moisture, which you can detect before it damages parts of the building. Usually for this, it is best you also use a moisture meter. Flir makes a moisture meter called the Flir MR176 which is designed especially for that.


How does a thermal camera work?
Basically, a thermal camera uses an infrared sensor to capture and record infrared radiation. Every object or entity on earth emits an amount of heat, but we as humans cannot see the infrared light because it is on a different part of the spectrum that is visible with the naked eye. The thermal sensor is able to capture that and translate it into a visual image.


Can thermal cameras see through walls?
No. It is possible sometimes to see through dry wall for example if an object is stuck to it and transfers some of its heat to the wall, but otherwise it cannot and the same goes for concrete.


Can thermal cameras see through glass?
No. Although visible light can pass through glass, infrared radiation cannot. If a hot object is pressed against the glass however, you could be able to detect a change in temperature.


Are thermal cameras accurate?
If set correctly, yes. Most of the time, they are not used as a thermometer to find the exact temperature in one spot, but mostly to get a general idea of what is happening. However, with the emissivity set to the right value and also the ambient temperature, you can get a fairly accurate reading.