The Vogvigo portable EV charger comes in two distinct versions, both of which are waterproof but which differ greatly in charging speed and cable length.

PROS: Fast charging speeds (32-Amp model), IP67 waterproof & LCD Display (Both models)

CONS: Shorter cable (32-Amp model)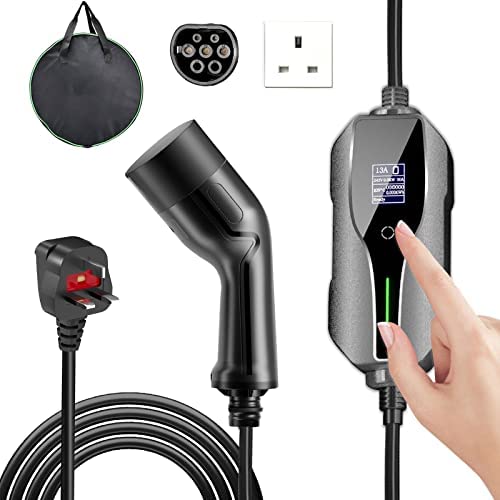 Vogvigo – Portable EV Charger (13 Amp) Specifications
| | |
| --- | --- |
| Amp rating | 13 Amp & 32 Amp versions available |
| Level | Level 1 & Level 2 |
| Type | Portable EV Charger |
| Cable Length | 8m (26 feet) for the 13 Amp, 5m for the 32 Amp version |
| Nema | EU Plug / UK Plug |
| Power | 3 kW (13-Amp version), 7.2 kW (32-Amp version) |
| Voltage | 240V |
| Connector | Type 2 (Mennekes) |
| Connectivity | No |
| IP Rating | IP67 |
| Display | LCD Display |
| Warranty | 1-Year |
| Features | |
| What's in the box | |
| Weight | 6.7 lbs |
Vogvigo – Portable EV Charger (13 Amp) Charging specifications
The Vogvigo EV Charger is a Type 2 portable charger which comes in 2 distinct versions. Now it is important to mention that they both look the same, the only differences between them being on the inside and on the cable length.
The first one can deliver up to 13 Amps of electrical current while the other one can power up your car with 32 Amps. Now for the 13-Amp version they don't state the actual power delivered to the vehicle but we estimated it to be up to 3 kW while for the 32-Amp they clearly state it is 7.2 kW of power.
So how do these numbers translate into actual charging times? Let's say you drive a Tesla Model 3 with a 62 kWh battery pack. It will take you 18.5 hours approximately to get it from 20% to 100% using the 13-Amp charger while the 32-Amp version will do it in just under 8 hours. Staggering difference isn't it?
Vogvigo – Portable EV Charger (13 Amp) Cable types and connectors
Now as I mentioned before, there are some slight differences between the two units and one of them has to do with the length of the charging cable. The 13-Amp unit has an 8M cable (26 feet) while the 32-Amp charger is much shorter at just 5 meters (16 feet). Why they chose to do it like that is beyond me, since the difference in length has minimal impact on the charging process.
When it comes to plugging it into your EV, you'll be glad to know it uses a Type 2 connector which will plug into literally every electric vehicle that's sold in Europe. When it comes to the connector that you use to plug it into the wall socket, there are UK and EU plugs available.
The charger is tethered, so you can't simply disconnect its cable like you do on other european EV chargers so if you want to extend its length, you'll need to buy an extension cable.
Vogvigo – Portable EV Charger (13 Amp) Features
Because this is a portable charger, there are no smart features or connectivity like you'll find on more expensive EV charging stations. To be frank, there is only one portable charger out there which comes with any kind of connectivity.
You get an LCD screen and a button. The button is there to adjust the amperage that's being delivered to the vehicle while the screen can show you some key information on the charging process like the amount of power that's actually being delivered to the car, voltage, amperage and unit temperature.
There are a few protection features built-in like overheat protection, ground protection, leakage, overtemperature and short-circuit.
The device itself is IP67-rated so you won't have to worry about charging in the rain since it can easily handle that given its IP rating. They also do claim that a 2-ton car can just drive over it and it will be fine. Every Vogvigo comes with a 1-Year warranty, a storage bag and the entire package weighs about 6.7 lbs.