The MOTOCOCHE EV Charging Station provides decent charging speeds, a waterproof IP65 housing and an extra-long EV charging cable.

PROS: 8.5m charging cable, fast charging speeds, IP65 waterproof, Smart Card security system.

CONS: No connectivity.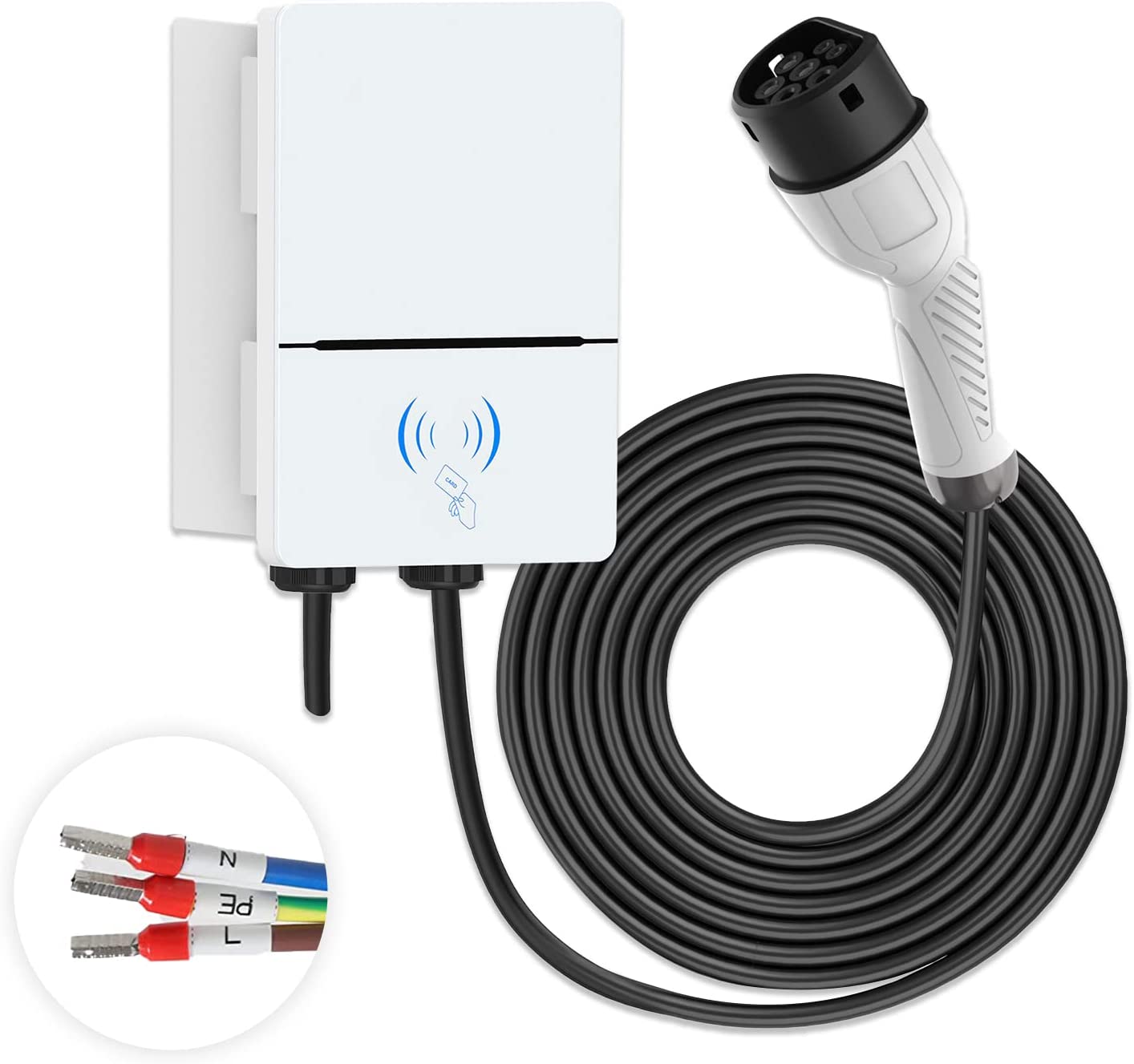 Motocoche – EV Charging Station (32 Amp) Specifications
| | |
| --- | --- |
| Amp rating | 32 Amp |
| Level | Level 2 |
| Type | EV Charging Station |
| Cable Length | 8.5 m (28 feet) |
| Nema | Hardwired |
| Power | 7.5 kW |
| Voltage | 220V |
| Connector | Type 2 |
| Connectivity | No |
| IP Rating | IP65 |
| Display | LED Indicator |
| Warranty | 2-Year (24/7 Support) |
| Features | |
| What's in the box | |
| Weight | 6.9 kg (Total package) |
Motocoche – EV Charging Station (32 Amp) Charging specifications
Now MOTOCOCHE is a company which makes tools for repairing car parts. But these days there's quite a trend popping up: anyone in the auto business wants to make their own EV Charger whether they design it or build it on their own or just rebrand a Duosida charger and get it over with. MOTOCOCHE are no exception, so they came out with a new 32-Amp EV Charging Station.
It can output up to 7.5 kW of power to your EV which in reality means that if you drive a Tesla Model 3 with a 62 kWh battery, it is going to charge from 20% to 100% in under 8 hours. This basically means that you get full overnight charging for your EV.
Motocoche – EV Charging Station (32 Amp) Cable types and connectors
One of the things which I really appreciate about the Motocoche charger is that it comes with a charging cable which is 8.5 meters long (28 feet). This makes it 3 feet longer than the average charging cable which you usually get on the market.
Now the device itself doesn't come with any kind of connector to plug it into your home circuit and instead you're going to have to hardwire it. But that's not a complex task as any licensed electrician can easily do it.
The other end of the cable, the one which plugs into your electric vehicle uses a Type 2 connector (Also known as Mennekes) which is the standard for EVs that are sold in Europe.
Motocoche – EV Charging Station (32 Amp) Features
Now you'll notice that it is often referred to as a smart electric vehicle charger but it's actually not because that would imply some kind of connectivity or mobile app like you'd find on the WallBox Pulsar Plus or Project Ev. neither of these are present on this electric car charging station.
One of the charger's cool features though is the use of smart cards. Basically you can't charge without authorizing a smart card first which ensures the fact that nobody will ever use your charger without your authorization. This makes it especially useful in 2 scenarios: When you want a workplace charger or when you install a charger on your parking spot which happens to be in a public place. Now it's good to know that if you don't want to have to use the cards, you can just deactivate this and put the charger in plug-and-play mode very easily.
It also good to know that you can mount it as an EV wall charger in your garage or on the side of your house Even though the this car wall box charging system runs at a maximum of 32 Amps, you can also set it to work at 16 Amps by adjusting the P10 jumper inside. There's no LCD display mounted on the unit and instead you get an RGB LED which flashes different colors and in different patterns depending on what the issue or status is.
The entire housing is well sealed and it has an in IP65 rating guaranteeing that it is waterproof and you can install it outside regardless of the weather in your area. Of course there are the usual safety features like Grounding protection, Leakage protection, Overvoltage, Overheat, Overtemperature and Lightning protection.
What is also nice is that MOTOCOCHE offers a 2-year warranty on this charging unit along with 24 x 7 customer support.