We selected the best waterproof thermal cameras, each for a specific category. We have a pocket camera, two handheld thermal imagers and a phone that has an actual infrared sensor embedded in it. All of the devices that we listed here are waterproof and all have a high IP rating

Here is our round-up of the 4 best waterproof thermal cameras: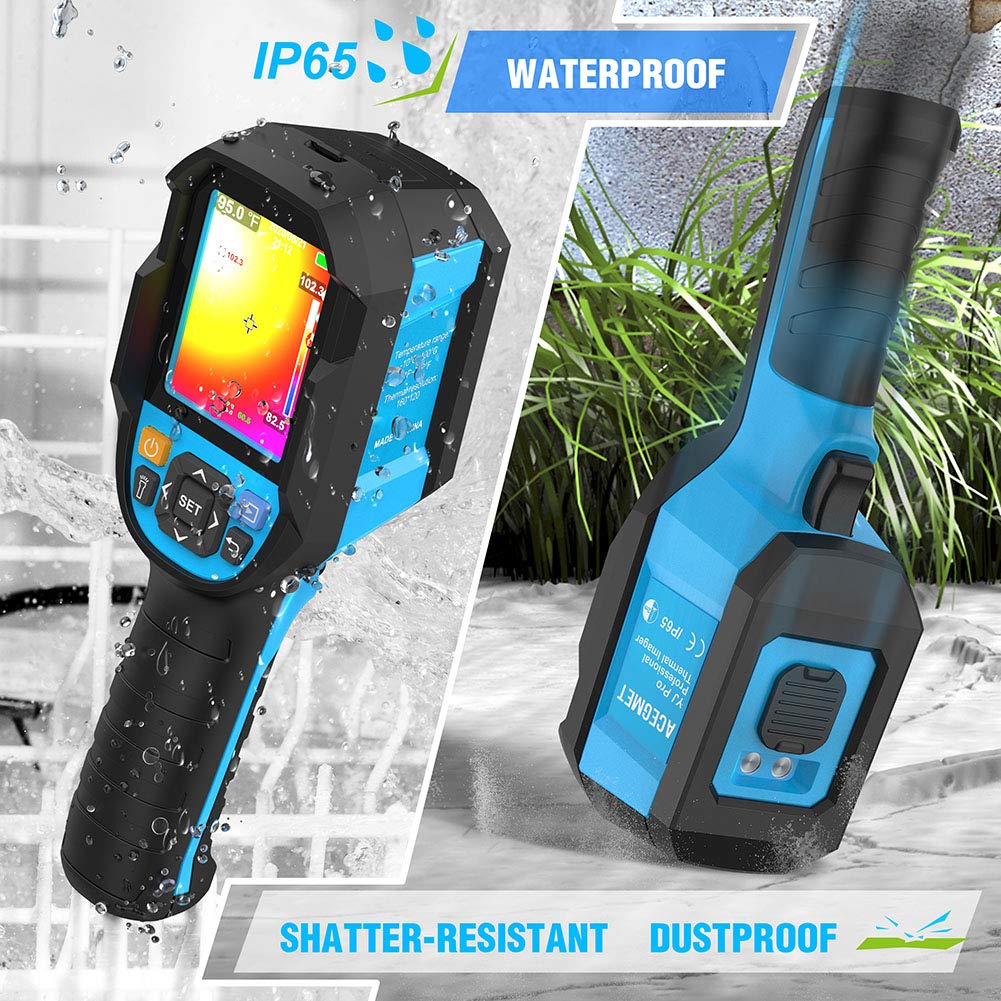 Let's have a look at each product in particular.
FLIR C5
In terms of waterproof thermal cameras, the Flir C5 is our favorite. It has an IP54 rating which means that it can withstand hard splashes without sustaining any kind of water damage and continuing to function.
It can also take a large amount of dust and dirt. While IP54 is not the highest level of protection it is still a soild guarantee that the device won't be damaged in heavy use.
It can also withstand a 2 meter drop without malfunctioning which confirms the rugged design of the C5 works in reality.
But the waterproof design is just the tip of the iceberg, because this camera has much more to offer in terms of thermal imaging.
It has a digital camera form factor and it is equipped with a visual camera and an infrared sensor that outputs a 160 x 120 thermal resolution. The two images produced are blended together using Flir Systems' MSX technology which we consider the best image enhancement technology for thermal cameras on the market.
It is also equipped with Wi-fi to sync the camera with your Android or iOS smartphone, Bluetooth and USB connectivity which is the most you will find in an infrared thermal imaging system. Actually, 90% of cameras just have a USB port to download the images.
It also has a unique feature: Cloud connectivity through the Flir Ignite platform, the first one of its kind for thermal images.
Then there is the large 3.5″ LCD touchscreen and the 4-hour battery life. Things just get better and better the more you look. The temperature range is very wide enough for heat detection and cold detection, between -20 to 400 C and the 0.05 Celsius thermal sensitivity which allows you to do accurate temperature screening and monitoring is probably the lowest you will find on consumer thermal cameras.
Actually the only minus that we could find with the camera is that it is priced on the higher side.
Flir TG165-X
The Flir TG165-X is also a waterproof handheld thermal camera with the same kind of IP54 rating as the Flir C5. So no matter if it is a water splash or a sandstorm, no water and dust will get into the core components of this handheld thermal imaging camera.
The TG165-X has a different form factor than the Flir C5 because it is a handheld thermal camera with a trigger to capture the images.
Its infrared sensor can produce thermal images at a 80 x 60 IR resolution that is then backed up by a 2 megapixel digital camera and all of it is put together with MSX technology for a perfect 4:3 thermal image that also holds the thermal data in radiometric form, meaning you can get the temperature (Celsius or Fahrenheit) of each pixel in the image later.
It has a 5-hour battery life and 4GB of memory to store plenty of images. You can measure temperatures between -25 to 300 C with a very high accuracy of +/- 1.5 degrees.
But the TG165-X is as good at spotting water as it is protecting itself from it because you can use it for plumbing inspections to find water leaks or just inspect the water flow through the pipes.
Like all Flir products, it is backed by a 2-year warranty and a 10-year warranty on the infrared sensor if you perform the product registration process.
CAT Phone S61 FLIR
The CAT Phone S61 is actually an entire phone with a thermal imaging camera. It has the best IP rating out of all the devices here, a IP69K rating. This means it is completely waterproof, even if it is submersed in water, or hit with a high-pressure sprays of water.
There is more good news from the drop test because it can handle a vertical fall from the height of 2 meters on concrete.
Because it is a smartphone it has USB, NFC, Wifi and Bluetooth connectivity. It is equipped with a 160 x 120 pixels thermal infrared sensor and a digital camera with manual focus. It can measure temperatures between -10 and 400 Celsius with a thermal sensitivity of 0.05. The battery-life is great too because the phone has a 4500mah battery.
In terms of memory, it comes with 4GB of RAM and 64GB of internal storage, so plenty of room for your thermal images. Because it is a phone, it has the biggest LCD screen of any consumer thermal camera with a diagonal of 5.2″ and exceptionally high resolution.
This is a device for professionals to use and not worry about it taking a few hits and given its price, it is a very interesting proposition. Instead of buying separate thermal imaging cameras and phones, you get a 2-in-1.
Acegmet
The Acegmet is the last waterproof thermal camera that we are going to be reviewing. It beats out all the other pure infrared cameras here in its IP rating because it is IP65 certified. That means it is protected against jets of water as well as splashes and rain. On the dustproof side, it is completely dust tight so that no kind of dirt can get inside the device.
While it doesn't have a visible light camera, just the Infrared sensor for thermal vision, it does output a high-quality 160 x 120 thermal image and it can detect hot spots or the coldest spots just fine, so if you want to check your electrical wiring to find out if the fuses overheat, you can do that. The accuracy is great at +/-2 C and it can measure temperatures between 17 and 752 Fahrenheit.
Although more basic than the Flir or Seek Thermal Cameras, it has all the standard settings for emissivity, brightness, ambient temperature, a choice of a few color palettes. You can download the images to your computer via its integrated USB port and USB cable included in the package.
Acegmet gives you an 18-month warranty on the device and a 60-day return period.
Which waterproof thermal camera is the best to buy?

As an overall device, the Flir C5 is our favorite in this category given its IP rating and host of features.

The TG-165X works well if you are looking for that specific handheld form factor.

If you need a 2-in-1 phone and thermal camera then the S61 is pretty much your only choice in this category.

If you think IP54 is not enough and you're going to be splashing it a lot, then you might want to look at the Acegmet because it has an IP65 rating.


Do thermal cameras work underwater?
Now given that the infrared cameras that we recommended here can withstand water, it is not a good idea to use them underwater. They cannot take accurate measurements because infrared light doesn't pass through water very easily, just like your eyes cannot see just as well underwater as they can aboveground.

Water will interfere and block most of the wavelengths in the infrared spectrum and it is a completely different thermal conductor when compared to air, so the heat that is emitted by the objects tends to quickly fade. If you were to put your CAT Flir phone or C5 underwater, what it would see is mostly images coming from the visual camera and not much information from the thermal camera so you mustn't rely on it to spot any fish.