Sometimes you need to take your thermal camera to measure not heat, but the opposite. We researched the best thermal cameras for low temperatures that you can buy and we trimmed the list down to 5 cameras which we can recommend

We compare them on image resolution, temperature range, how good the image quality is and how easy they are to use. Here is our list of 5 thermal cameras for low temperature: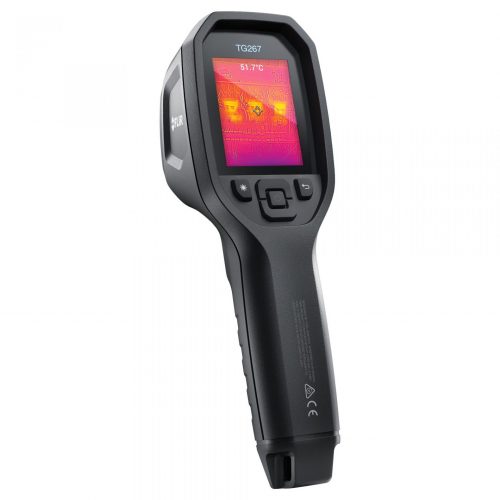 Let's have a look at each product in particular.
Seek Thermal Revealpro
The Seek Thermal RevealPro is a thermal camera for low temperature readings that comes with a few interesting features.
But first, we'll look at the temperature range which is the important issue here: It can detect temperatures as low as -40°C with the full temperature range being -40°F to 626°F (-40°C to 330°C). This means that you can use it to diagnose objects and areas with sub-zero temperatures like freezers. This means you can easily inspect refrigerators or Air Conditioning devices which makes it more than suitable for HVAC inspections.
It has a high thermal resolution of 320 x 240 but it is not equipped with a visual camera and frankly when you look at the images, you realize that it almost doesn't need one. They are very detailed and we found the shapes and outlines to be clearly distinguishable.
Something that really stands out with this compact thermal imaging camera is its long distance detection capability. It's thermal vision sensor can detect heat at up to 1800 feet away, far longer than most thermal cameras are capable of, in fact most cameras from Flir Systems can't do that. When you use the right color palette at night with the smooth frame rate, it really feels like a night vision device.
Another interesting choice that Seek Thermal made was to put the infrared sensor on the top instead of on the back, which means you hold it looking down on it like you would look on your phone.
When you use the camera for the first time you'll immediately notice that the picture is much smoother than on other thermal cameras and that is because of the FastFrame technology which has a 15Hz refresh rate, above the usual 9Hz that you get from most cameras.
The captured images are stored in PNG format and with all the thermal data for every pixel (Radiometric). Its 0.05°C thermal sensitivity makes it usable for temperature screening and monitoring.
FLIR TG267
The Flir TG267 is a low-cost thermal camera for low temperature from Flir with a 160 x 120 thermal image resolution.
The camera can detect temperatures as low as -25° Celsius (-13° Fahrenheit) and its entire range spans between -13°F to 716°F(-25°C to 380°C). It too is usable for lower temperatures which means you can use it in troubleshooting refrigeration devices and inspect freezing chambers.
Unlike the RevealPro it also has a visual camera and uses MSX image enhancement to produce a sharper image with more distinguishable shapes and outlines. In addition it also has a laser pointer which projects a bullseye target that not only makes it very comfortable to use because you know exactly the spot which you are measuring but it is also sure to impress your customers when they see it.
You get 4GB of internal memory together with a 5-hour battery life and the camera enclosure is perfectly sealed because it has an IP54 rating, meaning it is waterproof and dustproof. In terms of connectivity along with the option of connecting the device via the USB cable provided in the package it also brings a bonus in the form of Bluetooth connectivity.
The settings menu is really simple and easy to use, amongst others you can adjust the emissivity, ambient temperature, brightness and color palette.
As standard you get a 1-year warranty, but if you do the boring but quick product registration process, you get a 2-year warranty on the device plus a 10-year warranty on the thermal sensor.
Fluke VT04
The Fluke VT04 is also a thermal camera for low temperature that can also measure objects at freezing temperature. Its temperature range spans between 14° F to 482°F (-10° to 250°C).
In terms of accuracy it does well with a +/-2° C thermal accuracy but it lacks in thermal sensitivity because it only reacts to a 0.25° C temperature difference. Fluke actually calls this a Visual IR Thermometer.
What we don't like is the startup time which takes about 20 seconds and the fact that every time you capture an image it asks you if you want to save it but doesn't display the picture for you to decide.
What we like is that it has a visual camera for image enhancement, the fact that you can set an interval at which it automatically captures images and that it has a high & low temperature alarm. The least feature is not available on most thermal imaging cameras.
Seek Shot
The Seek Shot is a thermal camera for low temperature that doesn't joke around. It looks like a digital camera and packs a lot of pixels.
But how does it do with low temperatures? Well the lowest temperature it can measure is -40 C. The entire measurement range spans between -40 ->626°F (-40 to 330°C), so it can be used to measure temperatures below freezing conditions.
Its thermal sensor has an IR resolution of 206 x 156 totaling 32,136 pixels and unlike the RevealPro it also has a visible light camera for image enhancement.
It also brings something great to the table, video streaming via Wi-fi to your smartphone.
What we like is the large 3.5″ LCD touchscreen, the fact that it captures the images with radiometric data so you can edit them later.
Seek Thermal Compact PRO
The Seek Thermal CompactPro is the only smartphone thermal imager that that can measure very low temperatures. Its infrared thermal imaging system can measure temperatures between -40F° to 626°F (-40°C to 330°C), so you will be able to measure even the warmest and the coldest objects without any issues.
With a thermal resolution of 320 x 240 pixels, it fares well against many of the thermal cameras with an equivalent price and that's because its price is low and there are several reasons for that: There is no screen, battery, internal memory or visual camera. It makes use of the phone's resources for all of these functions.
5 Thermal Cameras for low temperature – Which one to choose?
For general use, the Seek Thermal RevealPro and Seek Shot are great cameras that will perform well when measuring lower temperatures.

If you only want pure handheld thermal infrared cameras, then the Flir TG267 is our choice.

For something that doesn't cost much and you can attach to your phone for home use and as a hobby, the Seek Thermal CompactPro is the best choice.



What is an uncooled thermal camera?
For starters, all consumer infrared cameras are uncooled thermal cameras. That is why they are so light, compact and easy to use. You have to remember that the thermal camera emits a certain amount of heat itself and that heat energy is going to produce noise in the data that it captures.

Cooled thermal cameras are kept in a special casing at a very low temperature so that they don't interfere with the sensor by creating what would be infrared noise. These devices are much more expensive to buy and they are mostly used for professional applications because the accuracy is much higher and the range at which the thermal sensor can spot heat extends. Cooled or uncooled, it doesn't necessarily have something to do with lower temperatures but rather with the accuracy.


How does a thermal camera measure temperature?
The simple answer: they have a special infrared sensor that measures infrared light, something which we can't detect using our eyes, because it is on a different part of the spectrum. The visual spectrum is quite large and our eyes can only capture a part of it.

The more complex answer: It actually uses a frequency or likely multiple bands of infrared light and it captures the variations in temperature, rather than just getting the absolute value. The it uses the emissivity value to normalize these values and thus outputting a relative temperature on a scale that is readable and understandable by a person.