We're going to review the best 110V & 120V EV Chargers that you can buy today and which can plug into your typical household outlet. No extra outlet costs because you already have it, no charger installation costs because they are portable

They are 3 portable chargers and we'll be reviewing every aspect from charging speed to features, portability and durability.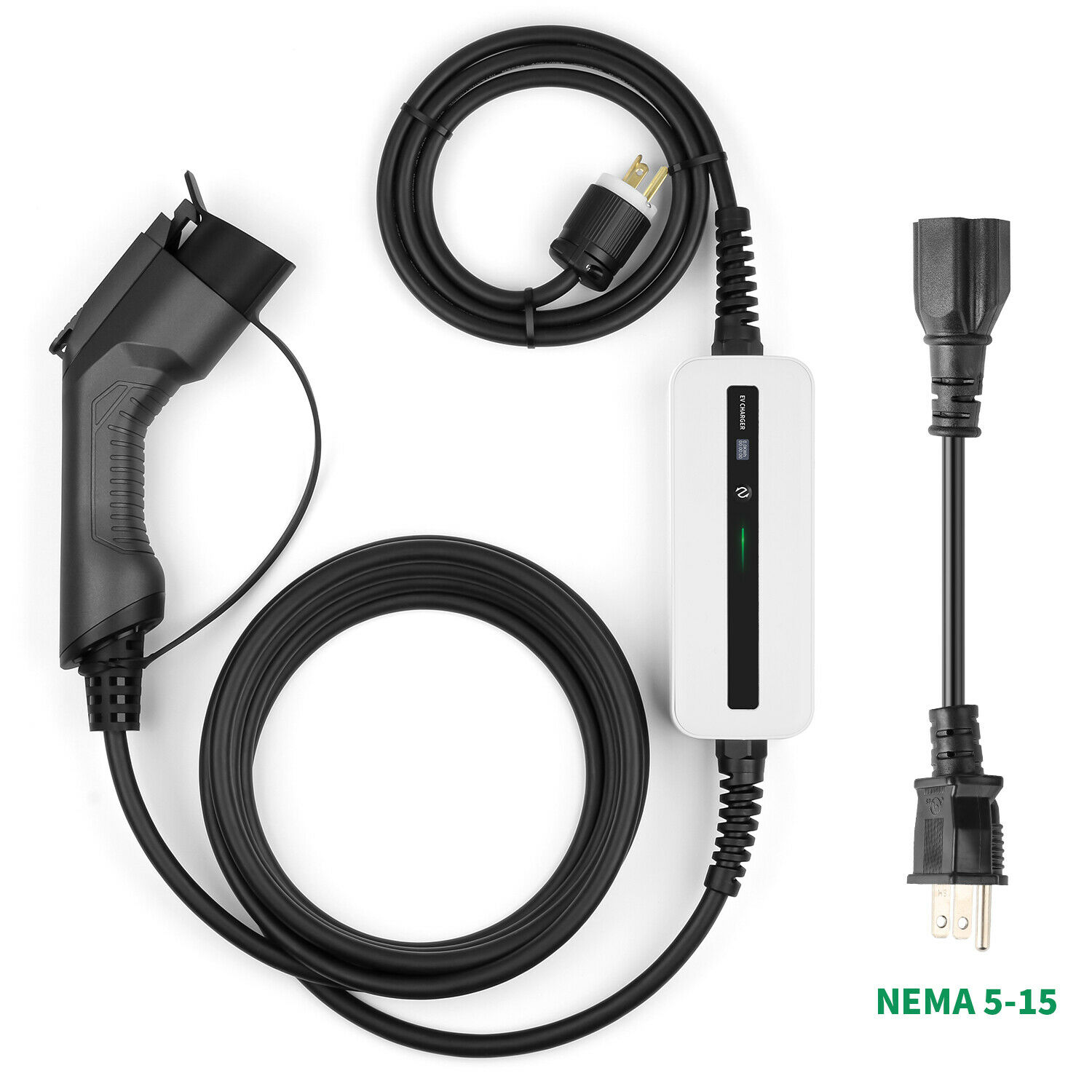 Let's have a look at each product in particular.
MEGEAR – Level 1 Portable EV Charger (16 Amp)
The first 120V charger we'll be looking at is the Megear SkySword Level 1 portable charger. Now it is important to know that 110V is essentially the same as 120V so whenever anyone refers to a charger as a 110V or a 120V, they plug into the exact same 5-15 household outlet.
It can deliver 1.92 kW of power which is the maximum that you'll find with any Level 1 120V charger, even though technically Level 1 chargers can go up to 2.4 kW. This is a 16-Amp charger with a 25 feet long charging cable.
Now 25 feet is the usual cable length you'll find on most chargers, 18 feet is on the short side and some but very few come with a 30 ft. cable or even longer. The cable is fixed to the control box making it a tethered charger. All of the chargers that we could find in the US are tethered.
At the end of the charging cable you'll find a J1772 connector which will be compatible with all EVs in the US even with Tesla models through the use of the adapter that you get when you buy the car.
Now 110V & 120V chargers are the cheapest ones and so the manufacturers don't put any smart features like wifi connectivity, scheduled charging or a smartphone app. They're basically plug & go devices. The Skysword only offers 4 LED lights which will indicate whether the charger is getting power from the 110-Volt outlet, whether it is charging the EV or if there is a fault that is preventing it from doing so.
The control box of this 120V portable charger is IP55 rated so you can be sure it is going to be waterproof and dustproof.
Lectron – Level 1 Portable EV Charger (16 Amp)
Another great 120V EV Charger is the Lectron Level 1 Portable 16-Amp charger.
Just like the Megear, it too plugs into a 5-15 standard 120V outlet that you already have in your home. There's a 21 ft. charging cable with a J1772 connector so this one is a bit shorter than the cable you get on the 110V Megear but it should still be long enough to cover most situations. However if you find yourself needing a longer cable, you can just get an
extension cord
.
No smart features on this control box either, this one actually uses the classic Duosida control box that you get on so many other chargers. You get the 4 standard LED lights to tell you if the electric car charger is getting 120V power, if it is delivering it to the car or if there is some kind of fault.
Now Lectron haven't mentioned the IP rating of that particular control box however we know from other models that it should be IP55 rated. The charger also comes with a 1-Year No-Hassle warranty.
The big plus with these portable EVSE chargers is that you don't have any kind of installation costs like with electric vehicle charging stations. Most of those require a 240-Volt electrical outlet and also need to be mounted on your garage wall, so when you add up the costs it will amount to more than one of these 120V chargers.
Morec – Level 1-2 Portable EV Charger (15 Amp)
Now from the start I want to mention that the Morec Level 1-2 Portable EV Charger is actuall a Level 1 120V charger. Morec described it as a Level 1-2 and it is not because it just works with 120v outlets. So why did we also name it like they did? Simple, to avoid confusion when you buy one and to know exactly which one we're referring to.
The charger can plug into your typical NEMA 5-15 household outlet without you having to install it or having to install another outlet. Its J1772 charger cable stretches out to be 24 ft. long and is compatible with all EVs in the US.
While there are no smart features, there is a little LCD which can display some very basic charging info like the Amperage.
One of the big advantages of this particular 120V EV Charger is that it is has the lowest price out of the 3 here by approximately 30$.
Another big plus for this device is that it uses a control box which is IP65 rated and comes with a 1-Year No-Hassle warranty.
Is 110V the same as 120V?
Yes, both represent essentially the same outlet and are inter-compatible. The difference is voltage very small.


Are all Level 1 chargers on 110V / 120V?
Yes. Chargers that plug into 240V outlets are considered Level 2 chargers. Level 1 is limited to typical 5-15 household sockets that you'll find in any home in the US.


Is 120V Charging slower than 240V Charging?
Yes. 240V Chargers have a power rating between 3.84 kW and usually up to 11.5 kW while 120V charging is limited up to 2.4 kW. The more kW of power the shorter the charging time. The speed of charging realistically should halve when the power doubles, essentially meaning you get twice the amount of miles of range per hour of charge.