We selected the 4 Best Level 2 EV Chargers you can find and reviewed each of them

We'll be covering everything from charging speed to connectivity features and durability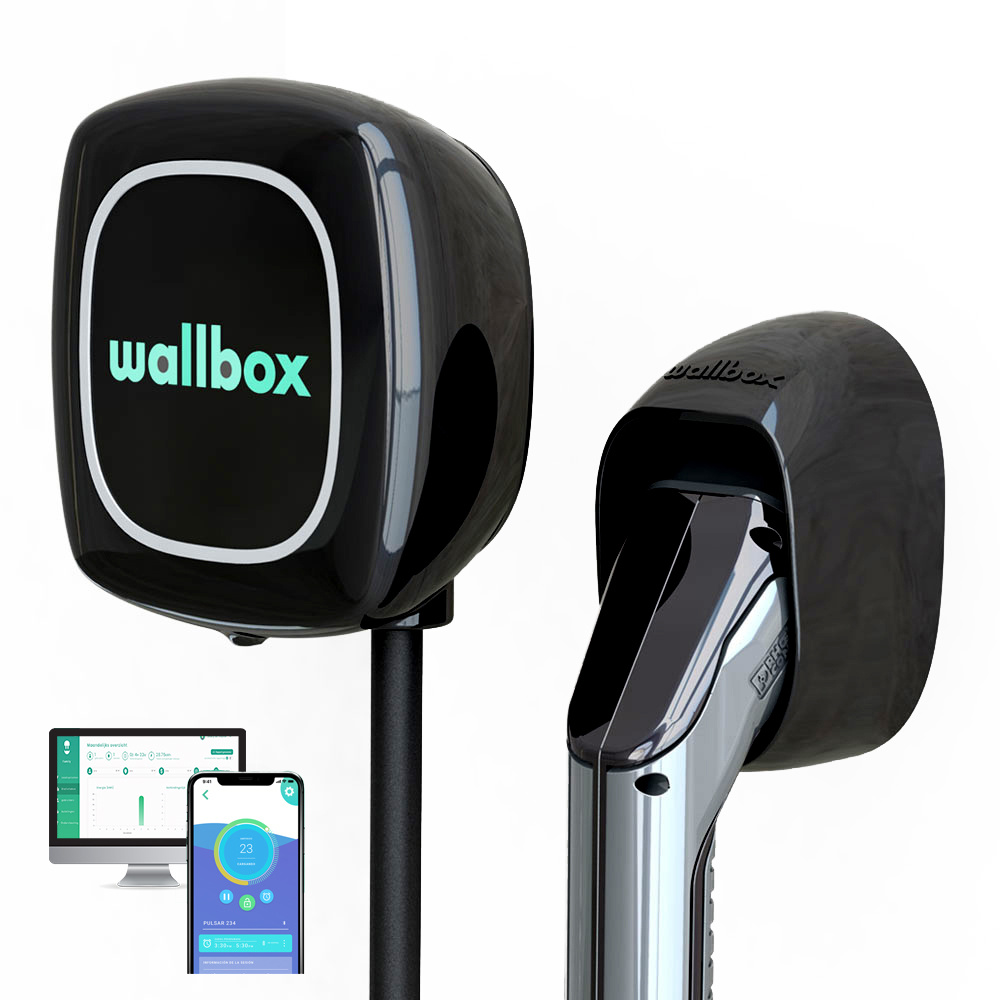 Let's have a look at each product in particular.
ChargePoint Home Flex – Level 2 EV Charging Station (16-50 Amp)
Probably the best Level 2 EV Charger in the world in terms of sales is the ChargePoint Home Flex. The success is no coincidence, this is a highly capable device. It can output up to 50 Amps of electrical current and 12 kW of power. This is about the fastest you can get with a Level 2 charger that you can buy from the store and put in your home.
You can plug it to a NEMA 6-50 or 14-50 outlet but if you want to get full power out of it, it's better you hardwire it to a 60-Amp circuit breaker. On the other end of the cable it has an SAE J1772 connector which is compatible with all EVs in North America including Tesla models with the help of the included adapter (Included with the car not the charger). It comes with a 23 ft. long charging cable so you should be able to charge your electric car even if it is parked in front of your garage.
This smart electric vehicle charger also comes with features like wifi connectivity and a smartphone app which you can use to remote control the charger even by using your voice because the device can be integrated with Amazon's Alexa or Google Assistant. This even goes beyond the usual tech gimmick because you can actually ask it useful questions like "How much have I spent on charging my EV this month?".
Along with that there is the option to schedule charging times and also get real-time data on the charging process. This is actually the same app that you would use to find public charging points.
Now it is important to understand that all these smart features are only found on Level 2 chargers. Even though in theory you could put them into a Level 1 charger, no manufacturer will bother to because Level 1 chargers are built to be cheap.
The ChargePoint is NEMA 3R rated and comes with a 3-Year warranty.
Wallbox Pulsar Plus – Level 2 EV Charging Station (40 Amp, 9.6 kW)
Another one of the best Level 2 EV Chargers is the Wallbox Pulsar Plus. It is a 40-Amp Level 2 Charger that can output 9.6 kW of power. While it isn't as fast as the ChargePoint it's still capable of delivering fast charging times.
You can plug this into a 14-50 outlet or just hardwire it directly. Wallbox also provides a 48-Amp version of this device and that doesn't even come with a NEMA connector at all.
In terms of tech features, there is WiFi. It is not rare to find a wifi connected charger but it is rare to find Bluetooth on a Level 2 EV Charger. We tried the app and it is really nicely designed, you can get notifications that the car is done charging or to remind you to plug in.
There's even a watch app that lets you remote control it plus of course detailed reports on each charging session, real-time data on what the home EV charger is doing and the ability to customize a charging schedule.
Two notable features of the this home electric vehicle charging station: Power sharing which lets you connect 2 of these Level 2 charger stations to the same circuit and not have it overload because they balance each other out and the fact that you can customize it and tell it how much power you want it to user from solar and how much from the grid. It can even stop when solar energy is not available and then start charging once there is.
The Wallbox is IP54 rated, the cable length is 25 feet and it comes with 3 years of warranty.
ENEL X JuiceBox 40 – Level 2 EV Charging Station (40 Amp)
The next one on our Best Level 2 Charger list is the Enel X JuiceBox, a favorite of ours. In terms of charging speed there is no difference between this and the Wallbox. You get the same 40 Amps and a power of 10kW at a 240V voltage (The only voltage for Level 2 charging stations).
It comes with a 25 feet charging cable that has a J1772 connector at the end so you can plug it into any EV. This is a charging station with WiFi and there is a smartphone app which is similar to the ones you'll find on the ChargePoint and the Wallbox with the same features being available like charge scheduling, power sharing, reporting on all the past charge sessions and real-time data. The design is different but the functionality is essentially the same.
There's a cool CO2 metric that you don't get with the others which keeps track of how much CO2 you've saved since you started using your EV with this charger.
This top Level 2 Charger is NEMA 4X rated (IP66 equivalent) which makes it a pretty tough home charge station. The only one with a higher IP rating is the Grizzl-E Classic EV Home charger. and comes with a 3-Year warranty.
Mustart – Level 2 Portable EV Charger (40 Amp)
The Mustart 40-Amp is in our opinion the Best Level 2 Portable Charger. It can provide the same kind of power as the other Level 2 charging stations but in a portable package and at a lower price. It can be plugged into a 14-50 or a 6-50 outlet, it has a 25-foot cable and can deliver 9.6 kW of power.
This is as powerful as a Level 2 portable charger can get. So if it is that good, why do the others exist? Well for one it has no smart features whatsoever. There's no app, no charge scheduling, none of those. You get a button to cycle through different Amp settings and one to set a charging timer delay and that's it.
This portable EV charger does also have an LCD screen that shows you basic info with things like Amperage, Voltage, the current charging rate a timer and the battery level. The control box is IP65 rated and it comes with a 2-Year warranty.
What is a Level 2 charger?
We define an EV charger as being Level 2 if it can output a power greater than 2.4 kW, usually between 3.84 kW and 12 kW. Level 2 chargers are always plugged into 240V outlets and their amperage varies from 16 Amps to 50 Amps.


Are all Level 2 chargers the same?
No. They can differ in terms of form factor, out of more than 67 Level 2 chargers that we studied, 45 were portable chargers and 22 were home charging stations (Wall chargers).

Then there's a difference in speed, the more Amps the faster the charging times. They can also vary in features, EV charging stations usually have wifi connectivity and a smartphone app that connects to them allowing you to schedule charging and keep track of your costs. Portable chargers tend to be more "dumb" and lack these functions.

There's also the key issue of durability: This varies greatly from charger to charger but sometimes the control box is IP67 rated and can withstand water and dust but sometimes it is more fragile and cannot. Chargers like the Grizzl-E and Enel X Juicebox are very tough.


How fast are Level 2 Chargers?
The 32-Amp Level 2 Charger which can output 7.7kW of power running at 240V should be 4 times faster than the 16-Amp Level 1 charger running at 120V which can output 1.92 kW of electrical power.


Do i need a Level 2 charger?
If you drive a Plug-In Hybrid you can get away with a Level 1 charger since the battery is tiny and thus will charge overnight. However for an EV, you will most likely need one if you don't want to have range anxiety. Battery packs are getting bigger every year and so Level 1 chargers which have plateaued in terms of charging speed years ago are becoming obsolete.


Can Tesla cars use level 2 chargers?
Yes, with the help of the J1772 adapter that comes included with your Tesla, you can plug it to any AC charger on the market.


Is level 2 charging more efficient?
According to some studies, yes but by a very small margin within 5-6%. However, a Level 2 charger can take in more off-peak electricity at night and direct it to your car in the same timeframe thus being cheaper. The off-peak timeframe lasts about 8 hours which is usually enough for a Level 2 charger to get your EV up to 100%.