These are the 11kW EV Chargers, some of the most powerful home chargers you can buy

We selected 4 EV Chargers that are capable of outputting this kind of power and we review everything about them from compatibility, features, performance and cable length.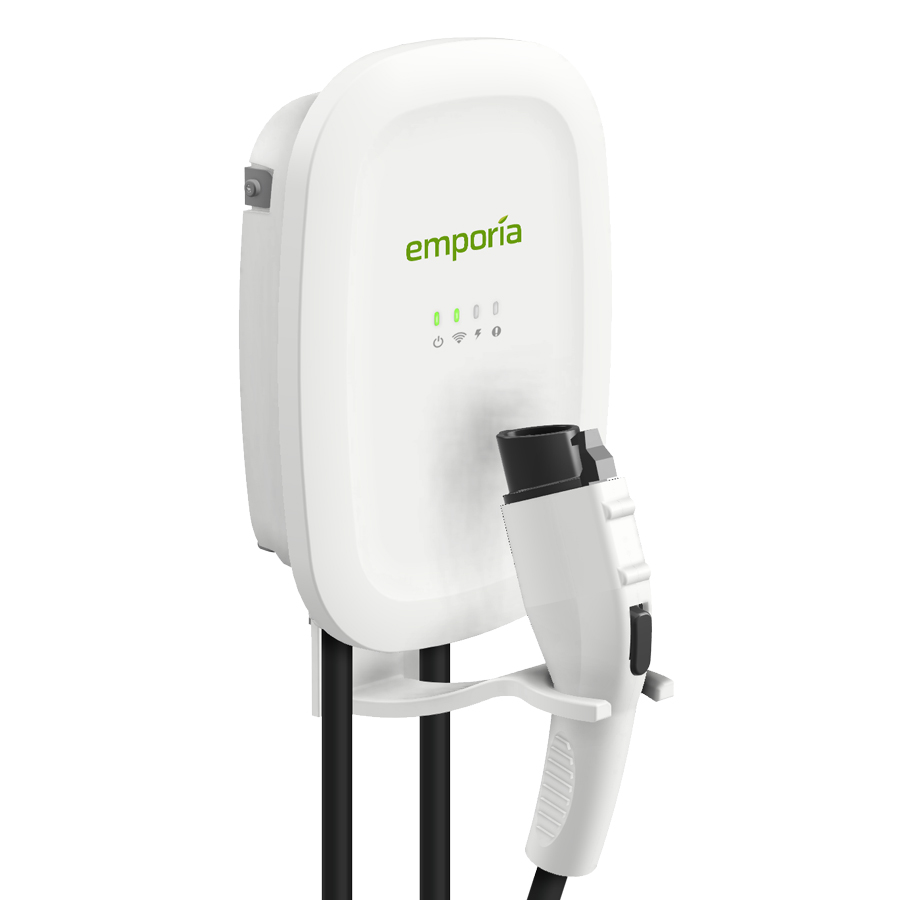 Let's have a look at each product in particular.
ChargePoint Home Flex – Level 2 EV Charging Station (16-50 Amp)
The ChargePoint Home Flex is the first 11 kW EV Charger that we'll be reviewing and one of our favorite. Actually, technically it can go up to 12 kW because this is a 50 Amp charger.
It can work at any amperage between 16 to 50 Amps as long as it is plugged into a NEMA 14-50 or a NEMA 6-50 outlet running at 240V. The other end of the cable that plugs into the electric vehicle's charging port is a J1772 connector, something which is universal to all EVs in North America.
So let's understand how these performance figures can translate into actual charging times: The Tesla Model Y will take between 6 to 7 hours to charge, the Long Range Model 3 should take about 6 and the Mustang Mach E should also come close to 6 hours.
This wall mounted EV charging station comes with a cable that is 23 feet long (Approximately 7 meters) and is connected to the charger in a way that it can't be removed, that is because it's a tethered charger but then again none that we've found for sale in the USA allow you to disconnect it.
Then there is the smartphone app and here, ChargePoint had an interesting approach: You use the same ChargePoint app for your Home Flex that you use to find a public charger, making the app a full charging solution. It lets you schedule charging times in order to take full advantage of off-peak electricity and it can set reminders so that you don't forget to plug in your car every night. It also keeps track of all your charging session and can basically tell you how much you're spending on charging your electric car every month.
The outer case is NEMA 3R rated which is the equivalent of IP14, so you can't really place it outdoors in the open. This is probably one of its more weaker points.
Wallbox Pulsar Plus – Level 2 EV Charging Station (48 Amp, 11 kW)
The Wallbox Pulsar Plus is the second 11kW EV Charger we'll be studying here. It has a charging power of 11.5 kW and this one doesn't plug into any NEMA outlet, it has to be hardwired to a 240V circuit.
It comes with a charging cable that measures 25 feet (7.6 meters) and the holster is built into the charger, it's really easy to holster it plus it has that cool backlight that not only provides you with instant info on what the charger is doing depending on the color, but is also really easy to find in the dark.
Like the Home Flex, it is also a smart charger with WiFi and Bluetooth connection and a smartphone app. The Wallbox app as its name is, can help you remotely start or stop charging your car remotely, schedule specifing charging times for your car every day and the fun thing is you can do some of these just by using your voice since it is integrated with Amazon Alexa and Google Assistant.
From the point of view of connectivity and smartphone app, we would conclude that there is no major difference between this electric car charging station and the Home Flex, since both will provide more or less the same info and remote commands.
This charger's outer case is clearly tougher and sturdier because it is IP54 rated so it will be able to take a lot more water, dirt and the dust than the ChargePoint. Every Wallbox comes with a 3-Year warranty when you buy it.
Emporia Smart – Level 2 EV Charging Station (48 Amp)
The Emporia Smart 48A is our third 11 kW EV Charger that we'll be looking at. This is an 11.5 kW EV Charger that can plug either into a NEMA 14-50 socket or can be hardwired to a 240V Circuit. A cable that is 24 feet long (7.3 meters) stretches out and it is permanently connected to the charger.
In terms of connectivity and the smartphone app, Emporia have had a slightly different approach. There is Wifi connectivity and you can connect to the charger using the Emporia app, so far so good. But you'll notice that the app is more focused towards monitoring energy consumption and helping you save money. For example, beyond the usual charge scheduling feature you can also set it to only charge when the solar panels are producing energy, so it is not using any amount of energy from the grid. This is something that is unique.
On this fast charger you'll find the 4 LEDs that tell if you it is powered on, if it's charging your EV or if there is a fault. The unit is IP66 rated, so it can easily sit outdoors because it is waterproof and dustproof. Plus the unit comes backed up by a 3-year warranty.
PRIMECOM – Level 2 EV Charging Station (50 Amp, 30 feet)
The PRIMECOM charging station is our last 11 kW EV charger that we'll be looking at. Like the Home Flex, it is technically a 12 kW device, but of course this will depend on how much your electrical circuit can take. It can plug into a NEMA 10-50 OR A NEMA 14-50 wall outlet running at a 240V Voltage. The other end that plugs into the car is an SAE J1772 connector.
This should charge a Nissan Leaf with a 40 kWh battery pack in about 6 hours and that's because of the 6.6 kw maximum power limitation on the on-board charger in AC Charging mode. You see, 11 kW chargers currently provide much more energy than the AC charger can take, that's why most cars are also equipped with a port to connect to DC charging stations.
This is the only charger here that is not a smart charger. There's no connectivity and the way you interact with it to adjust the amperage or set a charging timer is through the use of RFID cards (tags, keys, you'll find them under different names). The charging timer isn't the same as schedule charging, it is basically just a delay timer that works in 1 hour increments.
This electric vehicle charger is IP56 rated so it will do fairly reasonable outdoor, it has overheat, overvoltage and overcurrent protection as well as flame resistance.