The Emporia Smart EV Charger has everything that you would want in a package that in our opinion is reasonably priced.

PROS: Fast Charging (48-Amp, 11.5 kW), Smartphone app, Delayed Charging Timer, Intelligent scheduling, IP66 rating, 3-Year warranty.

CONS: Nothing notable.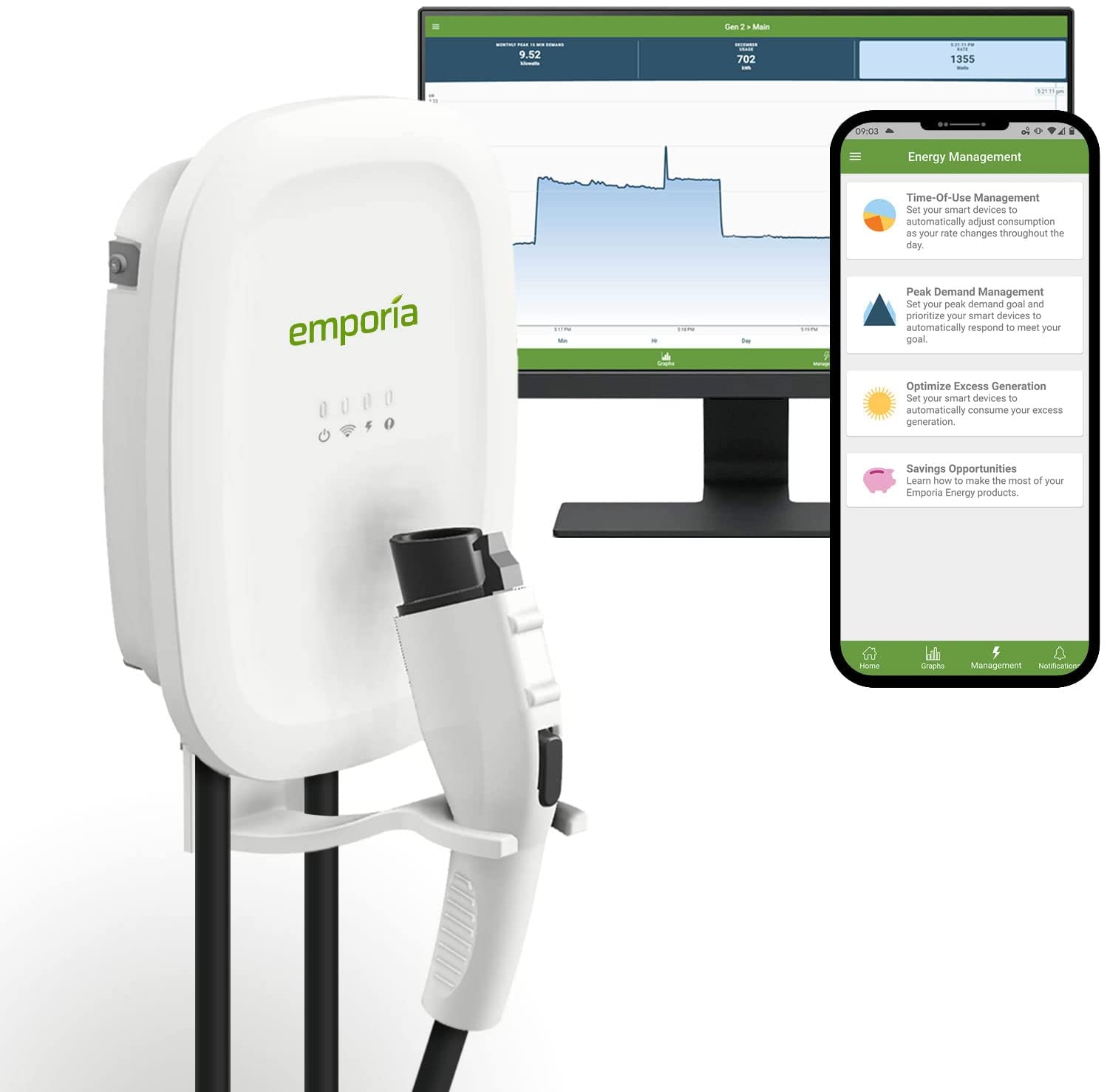 Emporia Smart – Level 2 EV Charging Station (48 Amp) Specifications
| | |
| --- | --- |
| Amp rating | 48 Amp |
| Level | Level 2 |
| Type | EV Charging Station |
| Cable Length | 24 Feet (7.3 m) |
| Nema | NEMA 14-50 |
| Power | 11.5 kW |
| Voltage | 240V |
| Connector | J1772 |
| Connectivity | WiFi |
| IP Rating | IP66 |
| Display | 4 LED Lights |
| Warranty | 3-Year |
| Features | WiFi, Energy Management, Excess Geneartion Charging, Peak Demand Management, Time-of-use Management, SAE J1772 connector, Indoor / Outdoor, Hardwired / NEMA Plug |
| What's in the box | Allen wrench, Charging station, Charging cord Power cable, with NEMA, 14-50P plug, SAE J1772 connector gun, Mounting bracket, Gun cradle, Eight 7/32 inch #12 Phillips screws 8 drywall anchors |
| Weight | 26.2 lbs (11.9 kg) |
| Features | Tethered, Alexa & Google Home, Charge Scheduling |
Emporia Smart – Level 2 EV Charging Station (48 Amp) Charging specifications
The Emporia Smart Charger is EV Charger is without a doubt one of our favorite EV Chargers. Now this is a charger which if hardwired to your home's electrical circuit is capable of delivering 48 Amps of power. What does that mean? By our estimations, the 11.5 kW fast charging rate in the right car which can handle this amount of power can deliver up to 30 miles of range per hour of charge or even more. A Tesla Model 3 Long Range would charge in just 6.5 hours, and about the same goes for a VW ID.3 Pro S or an ID.4 Pro with the 77 kWh Battery pack. The Mustang Mach E with the 70 kWh battery pack should also be able to charge in 6 to 7 hours.
Now these charging times are just estimations, so just take them as rough approximations that point to the idea that the charger is really fast. But the 48 Amp power is available when hardwired to the 240V circuit, however if you plug it into the standard NEMA 14-50P wall socket it will charge at a rate of up to 9.6 kW which isn't slow by any means.
It will still fully charge your EV in the time it takes for you to sleep. If you're the EV owner of a plug-in hybrid, it will probably take half the time since those only pack really small batteries.
Emporia Smart – Level 2 EV Charging Station (48 Amp) Cable types and connectors
The EV cable length is great too, it measures 24 feet which is about 7.3 meters. That should be long enough for you to stretch it outside of your garage. This is a tethered charger, you can't disconnect the cable from it and replace it for a longer or a shorter one but then again this is the case for most chargers sold in North America.
In terms of the charge port in which it plugs into, it uses the standard SAE J1772 connector which you'll find on most of the EVs in North America. Tesla is one of the few that uses a different one, however they do provide an adapter so you can use this charger with your Tesla without any problems.
Emporia Smart – Level 2 EV Charging Station (48 Amp) Features
The Emporia Smart Charger is as smart as the name suggests, it has Wifi connectivity which you can use to connect to the device through its smartphone app.
This one can do a few interesting things, the first one is the standard scheduled charging feature which you'll find on most smart chargers. That lets you use off-peak electricity that is available usually late into the night to reduce the charging cost on your electric energy bill.
But then, there is another interesting feature which can charge your car only when the solar panels are generating more power than your home is using, something really neat and efficient since power that is given back to the grid is usually bought at a much lower price by the power company. For this you'll be pairing the charger with the Emporia Vue Smart Home Energy Monitor.
The Peak Demand Management feature can also be integrated with the charger, where it can stop charging when prices are at peak demand level. So the charger can be a part of their fully integrated ecosystem.
Other than the smartphone app, the charger does have 4 LED Lights for indicating if the charge is getting power, if it is charging the car, if the wifi connection is established or if there is a fault.
But it's not just clever on the inside, it's also pretty tough on the outside since it is IP66 rated, which means it will be waterproof and dustproof. It also comes with a 3-Year warranty which beats the average 2 years that you would normally get in this price range.
The charging station itself weighs just 26 lbs which is about 22 kg.