We're going to round up the fastest home EV Chargers that you can buy right now

Not only will we be looking at charging speed, but also key factors such as cable length, durability, compatible outlets and smart features.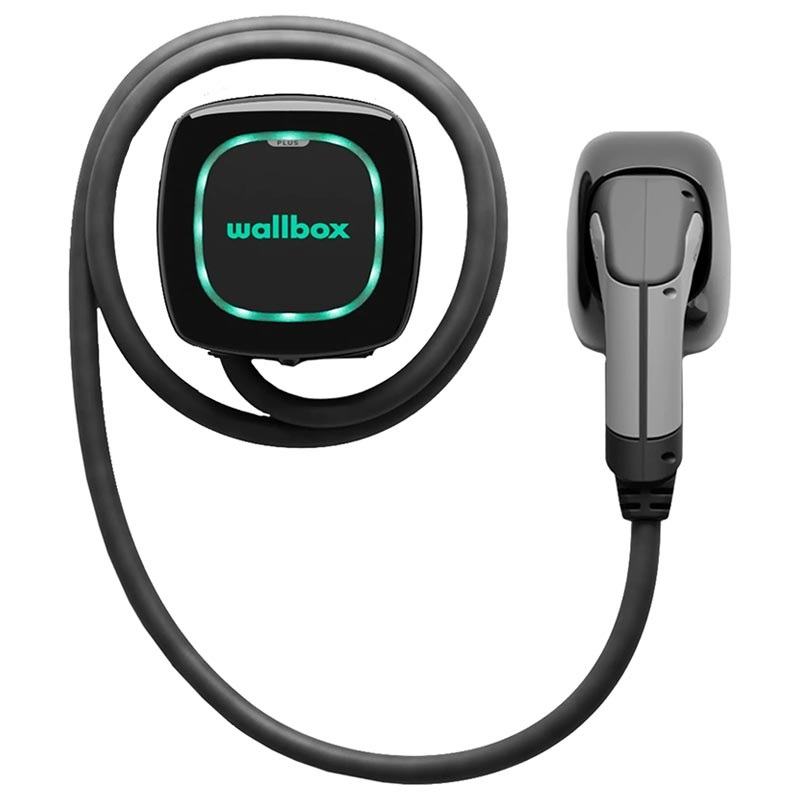 Let's have a look at each product in particular.
ChargePoint Home Flex – Level 2 EV Charging Station (16-50 Amp)
If it is fast EV chargers for home, nothing beats the ChargePoint Home Flex electric vehicle charger. Why? Because this device can deliver speeds of up to 50 Amps. You can plug this into a NEMA 14-50 or a NEMA 6-50 240-volt outlet, however if you want to get it up to its full power you should hardwire it to a 60 Amp circuit breaker. This is because in order to get any EV charger to its maximum speed, you'll need to have 20% more power on the circuit than the charger is capable of.
Now how fast is that? Let's say you're charging a Tesla Model Y with a 75 kWh battery pack. Now in theory, not accounting for any kind of software throttling for the AC charging process, it should fully charge from 0% to 100% in about 7.5 hours at the 11.5 kW rate that it is capable of. That is basically faster than more than 95% of the home chargers out there.
The built-in cable stretches for 23 feet (7 meters) and has an SAE J1772 connector that plugs into the car's charge port. Every EV in North America either has a J1772 plug or an adapter for it so you can expect this device to charge any EV.
This is a charging station with wifi which means you'll be able to connect to it via your smartphone and remotely control it, start it or stop it via the app or by using your voice through the Amazon Alexa / Google Assistant integration. The voice feature is actually a bit more than a gimmick because it can also answer relevant questions like "how much have i spent on charging my ev this month?".
You can set charging schedules so that it uses more off-peak electricity thus reducing your charging costs and you also get detailed logs of how much energy you've used in each charging session and also how much it cost. The smart charging app also allows you to check the current charge speed in terms of amps, voltage, power, miles of range per hour of charge and other parameters.
The unit is NEMA 3R rated, making it not as tough as the next ones we're going to review but it is backed up by a 3-year warranty with 24/7 customer support.
Wallbox Pulsar Plus – Level 2 EV Charging Station (48 Amp, 11 kW)
The Wallbox Pulsar Plus Level 2 is another fast EV charger for home. It matches the ChargePoint in terms of maximum charging rate by delivering 11.5 kW of power when it is hardwired to a 60 amp circuit breaker (It is a 48-Amp charger). This particular version doesn't come with a NEMA wall connector. The charging cable is 25 feet long (7.6 meters) and uses a J1772 connector, so it will be compatible with all EVs in America because even though Tesla vehicles come with a different plug
This electric vehicle smart charger has wifi and bluetooth connectivity, the surprise here being bluetooth which none of the other smart electric vehicle chargers here have.
To connect to it, you just download the Wallbox app from either the App Store or Google Play and you'll be able to do everything that you could do on the ChargePoint including setting charge schedules, get real-time data on how fast the EV is charging and also check out data logs on each charging session. What is nice is that this particular app can visualize them on a chart making it much easier to grasp and understand.
If you have solar panels mounted on your roof, you can tell this powerful charger how much power to draw from solar and how much from the grid, that way it will optimize your costs, because it can stop charging when solar energy isn't being produced.
The EV charging station is IP54 rated, so it is waterproof and dustproof and has a 3-Year warranty.
Emporia Smart – Level 2 EV Charging Station (48 Amp)
The Emporia Smart is also one of the fastest EV chargers for your home. This is a 48-amp charging station that can be plugged into a NEMA 14-50 outlet running at 240V or hardwired directly to your home circuit.
This fast charger can output up to 11.5 kW of power when running at 48 Amps, so it will be matching the estimates for the ChargePoint. Its charging cable stretches out up to 24 feet (7.3 meters) and it is equipped with a J1772 connector.
Because this is a wifi enabled charger, you can connect to it and of course it has all the basics like remote controlling it, displaying detailed reports, however in addition to these, the Emporia offers 2 key features which are worth mentioning: the first is that it can use solar excess in a similar way to the Wallbox. Basically, it can be set to only charge when the solar panels are producing excess energy which makes sense because if you'd sell it back to the grid and then use the grid to charge the EV, it would be less cost-efficient.
The second feature is the one that allows you to avoid peak tariffs, so the charger can automatically stop when peak electricity prices kick in at a certain time of the day. All of these functions make sense because the manufacturer offers a full ecosystem of energy management products.
The outer enclosure is IP66 rated, so this particular model is waterproof and dustproof to a high extent, being even tougher than the Wallbox. The design is very elegant too, it has a matte white finish and a minimalistic approach. Emporia offers the charger with a 3-Year warranty.
ENEL X JuiceBox 40 – Level 2 EV Charging Station (40 Amp)
The last device we'll be looking at is the Enel X JuiceBox 40, a fast EV charger for your home that is also very smart. It can "only" output 40 Amps of electric current and thus it outputs a slightly smaller amount of power, 10 kW. Still this is way on the upper end of the EV Charger scale, that's why it made the list. You can plug it into a NEMA 14-50 outlet or hardwire it.
There's a WiFi connection that you can use to connect to the charger through the Juicenet app. You can start or stop the charger either through the app or Alexa / Google Assistant, set charging schedules, get real-time data on amperage, voltage, power or frequency. There's also a metric that tells you the amount of CO2 that you've saved by using your EV ever since you started using this high-speed charger.
The unit comes with a J1772 cable that measures 25 feet (7.6 meters). One of our favorite aspects about this fast charger is the design which has a nice blue gradient on the front. of the enclosure for the JuiceBox is NEMA 4X rated (IP66 would be the equivalent) so it can still work even if it gets drenched in water, though it is preferable to avoid this.