We selected the best Level 1 EV Chargers that you can find today. All of these can be plugged to your standard NEMA 5-15 outlet without having to install a more powerful one

They are also portable chargers so you you won't have any installation costs.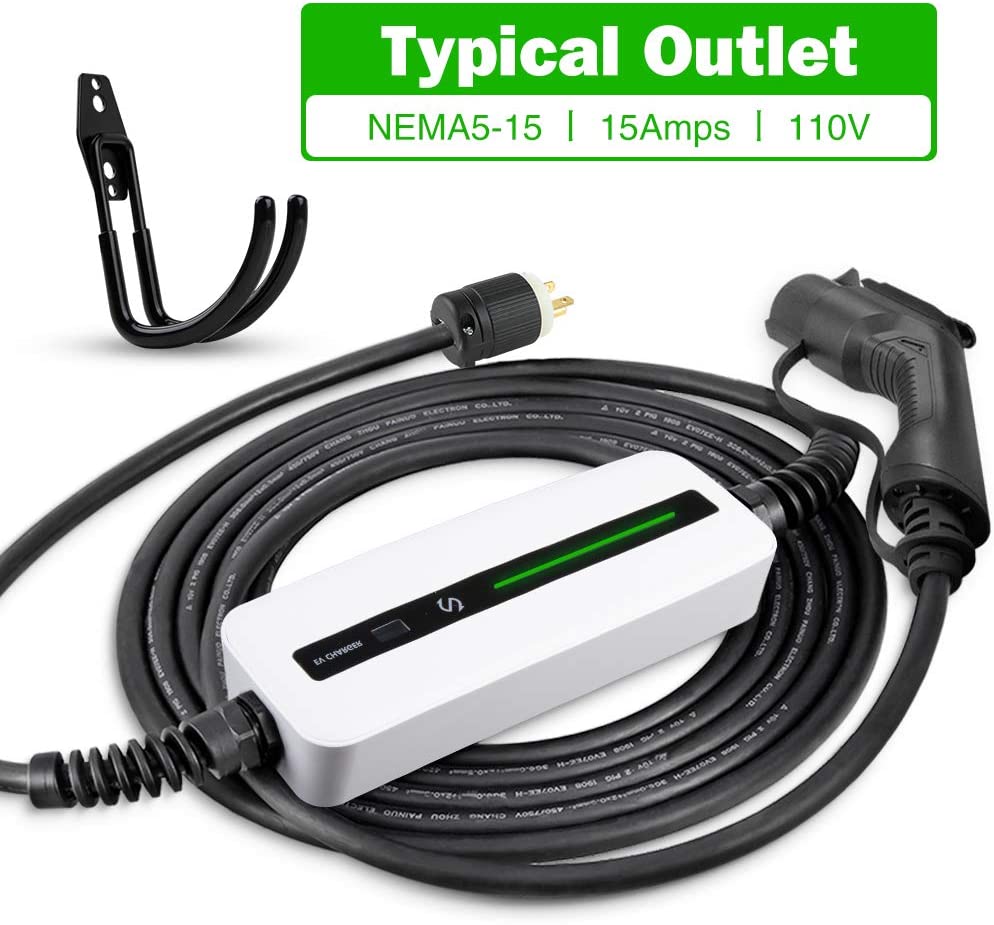 Let's have a look at each product in particular.
MEGEAR – Level 1 Portable EV Charger (16 Amp)
One of the best Level 1 Chargers that we're going to review is the Megear Level 1 16-Amp Portable also known as Skysword. It can output 16 Amps of electrical current at a 1.92 kW power. The best part is that you can connect it to an already existing 5-15 typical household outlet without having to do any modifications.
It comes with a J1772 EV charging cable that measures 25 feet (7.6 meters) and which can basically charge any EV in North America since your typical electric car comes with an SAE J1772 plug and if it doesn't as it is the case with Tesla vehicles, they will most certainly come with a J1772 adapter when you purchase them. The charge cord is fixed to the charger making it a tethered charger. This is the case with all J1772 chargers.
There are no smart charger features like WiFi connectivity or smartphone app on this Level 1 portable charger and the reality is you won't find any. Out of all the Level 1 chargers that we've reviewed and analyzed we have yet to find a single one that can provide any kind of connectivity. Of course there is no Alexa integration and nor is there a charge scheduling function.
The control box of the device is IP55 rated and there are 4 indicating LED lights on it that will point out if the charger is powered on, if it is delivering power to the EV or if there is a fault that is preventing it from doing that. It also comes with a 1-Year No-Hassle warranty.
Lectron – Level 1 Portable EV Charger (16 Amp)
Another one of the Best Level 1 EV Chargers is the Lectron Level 1 Portable EV Charger. If you've been looking around at EV Chargers then you'll immediately recognize the control box because many other manufacturers use the same kind of Duosida control box that it's hard to trace it back to whoever used it first. You'll find the same one in the BougeRV Level 2 charger. It has 4 indicating lights just like the Skysword to tell you whether it is charging, whether it's getting power or whether it is faulty.
It can deliver 16 Amps of electric current and just like our previous Level 1 charger, it will connect to your standard household 5-15 outlet without any modifications. The cable is a bit shorter on this one though because it only measures 21 feet but whenever the cable isn't long enough, you can always get an
extension cord
.
Lectron hasn't mentioned an IP rating for this one but we know that this specific control box is IP55 rated and comes with a 1-Year warranty.
Now at this point you've probably heard about the Chargepoint Home Flex electric vehicle charger, the Wallbox pulsar or the Grizzl-e classic. Now these are Level 2 fast chargers that will require special outlets. We reviewed them as well and if you are ready to half the charging times, have a look at our homepage.
Morec – Level 1-2 Portable EV Charger (15 Amp)
Then we get to the last one on our Best Level 1 EV Charger List, the Morec Level 1-2 Portable Charger which is just a Level 1 charger but for some reason marketed as Level 1-2. The reason we used the same name is so that you know exactly which one we are referring to.
You can plug it into a 5-15 outlet at 110V and it uses a 24ft. charging cable. It too uses a J1772 to connect to your plug-in EV's charge port. Here's what is cooler about it is that it has a little LCD screen that displays basic information like the amperage or the temperature of the unit.
It is IP65 rated for outdoor use so you can be sure it's going to be waterproof and dustproof and it is backed up by a 1-Year warranty. There's also a host of safety features including Overcurrent protection, Overvoltage, Under voltage, Leakage and Overheating.
What is a Level 1 Charger?
Any EV Charger that can be plugged to a 120V typical household wall outlet and which can deliver up to 2.4 kW of electrical power output. If it plugs into a 240V, it is not a Level 1 charger anymore.


Are all Level 1 chargers the same?
To some degree, yes. All Level 1 chargers are limited to 16 amps and they all plug into a 5-15 outlet. None of them can output more than 1.92 kW of power and even though in theory, a Level 1 charger can output up to 2.4 kW, we evaluated more than 60 electric car chargers on Amazon and found out that no Level 1 charger went above this charging rate or below.

Most of them are portable chargers, most of them have an IP-rated control box and with some of them you might get an LCD and a delay timer but that's the most you can expect. Smart features and connectivity are not present in any Level 1 charger.


How fast does a level 1 charger charge?
5 miles of range per hour is a rough estimation that is usually put out there. By our calculation, a 52 kWh battery pack like the one the Model 3 used to have at first, should be fully charged by a 16-Amp Level 1 Charger running at 1.92 kW in about 30 hours.


How much electricity do level 1 chargers use?
Good question. Let's assume your typical Level 1 charger working at its peak 1.92kW power. Now let's say you plug in your car every day for 12 hours starting at 8 o'clock at night and finishing at 8 in the morning. At the average 0.1042 USD / kWh in the US, it will cost you about 72 USD / month since it will consume 691 kWh each month.