This is our review of the Seek Shot thermal compact camera.

PROS: Big LCD touchscreen, good IR resolution, post-capture editing, Wi-fi video streaming, Great blend of visible and thermal images, wide temperature range.

CONS: Short 1-year warranty, fixed storage.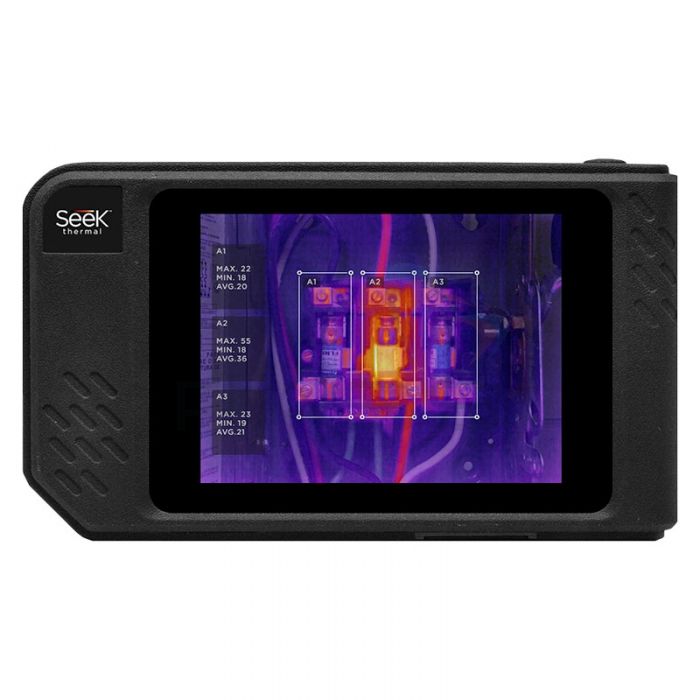 Seek Shot Specifications
| | |
| --- | --- |
| Type | Handheld |
| Resolution | 206 x 156 |
| Pixels | 32136 pixels |
| Connectivity | Wi-Fi, USB |
| Temperature range | -40 ->626°F (-40 to 330°C) |
| Accuracy | |
| Thermal sensitivity | 0.07°C |
| Distance | |
| Storage Type | 4 GB internal |
| Battery capacity | Li-Ion, 4 hours |
| Dimensions | 4.75 x 1.75 x 7 inches |
| LCD screen | 3.5″ |
| Refresh rate | 9Hz |
| Applications | building inspectors, building professionals, contractors, engineers, and DIY homeowners |
| View Angle | 36° |
| Features | Waterproof, Dustproof, Manual Focus, Visual Camera |
Seek Shot – Specs & Review
The Seek Shot thermal camera basically has the form factor of a digital camera, of course with a twist that it has an infrared thermal sensor. It is the main competitor to the Flir C2 and C3 pocket-sized thermal cameras. As far as connectivity goes, it is the best you can get. It has a USB port together with a USB cable, but also wireless connectivity in the form of Wi-fi to connect it to your smartphone or tablet.
What is nice is that you can add up to 3 spot measurements and edit photos. Along with measuring the spot temperatures it also has the ability for you to switch between color palettes. There is also the option to find the temperature of a given area in which it gives you the minimum, maximum and average temperature. You can set up to 3 of these temperature boxes simultaneously.
The last mode is the dynamic one in which it always displays the points with the lowest temperature in the picture and highest temperature. They update at a 9Hz refresh rate. You can also lock in and adjust the temperature span.
It also uses the Wi-fi connection to provide live video streaming which you can stream on mobile devices like smartphones and tablets. You just install the SeekView app on your mobile device and you can mirror the camera on the phone. Wifi streaming is not available on the Flir cameras.
You can then use it just for monitoring areas, like for example you want to monitor the body temperature of people coming in and out of a building, or a baby at home. The camera is indeed quite slim and pocketable.
The design is quite minimalistic, there is just a button for capturing images and one for turning the camera on.
Seek Shot – Thermal imaging quality
The IR resolution is quite high, the thermal imaging device has a resolution of 206 x 156 pixels. That adds up to 32,136 pixels which is the standard for this price level. It provides more resolution at a lower price than Flir's C2. The refresh rate is also the right one at 9Hz frame rate. Most IR cameras have either an 8hz or 9hz refresh rate because of US commercial trade regulations.
It has 2 cameras, one for visible light and one for thermal imaging and it overlaps them. So how does it overlap the images? It uses the SeekFusion technology to blend the visual image together with the thermal image and it provides you with a fully adjustable slider for you to make it exact like you want it. You can also adjust the intensity if you think the differences in the picture are not visible enough.
If you want, you can also just choose to see the thermal image or visible image. We like the scale that also shows numbers on it instead of just a rainbow gradient. You can also toggle between emissivity presets.
So after you've taken a photo, you can later edit the image quality and image blending because the images are stored in radiometric form by changing the type of color palette that you want to have and also the degree of fusion that you need. You can do the editing also in the SeekView app on the phone and it is much more convenient.
This original Seek camera takes a photo and analyzes it adding multiple measurement points to create reports on the spot and speed up thermal analysis. This feature is available on both the Seek Shot and Seek ShotPro camera. There is no manual focus mode for the lens just like with other infrared cameras at this price and form factor.
Seek Shot – Temperature Range, Accuracy
The thermal sensitivity on this pocket thermal camera is 0.07° Celsius which again is on par with other thermal imaging cameras in its class, most of these cameras are equally thermally sensitive. Temperature measurement sensitivity is important because it indicates how little does the measured temperature have to change in order for the camera to pick up on the difference.
The temperature range on this 206×156 compact thermal imaging camera is quite wide with it being able to go down to -40° Celsius. That makes it usable for applications related to insulation of freezers and freezing chambers. The viewing angle is 36° and if that is not enough for you, its bigger brother, the Seek Shot Pro comes with a 52° viewing angle.
Seek Shot – Battery life & Memory
Given the fact that it can capture photos, it comes with a 4GB internal storage on which you can save the JPG thermal images. The Li-ion battery on this handheld thermal imaging camera is expected to last about 4 hours of continuous thermal vision.
The device is not waterproof or dustproof so when you are using it in maritime navigation where chances of it getting we are high, you need to be careful. Of course you can use it in plumbing applications where you need to watch the water flow through pipes, check for leaks or in roofing where there is dust and places where water might be accumulating and even though the risk is lower, know that it can be vulnerable. It comes with a tripod mount so you can set it up as a temperature monitoring device.
The display itself is 3.5″ wide, a decent size for the price and it has a 640×480 resolution. It is a full LCD touch screen display.
This 206 x 156 compact thermal imaging camera comes with post capture analysis tools, basically very simple onboard thermography tools both in the form of on-device analysis and as a mobile app for.
So who should be using this type of IR Camera? Building professionals, people who do HVAC home inspections and home inspectors can also benefit from thermal photography.
Seek Thermal only offers a 1-year warranty, which doesn't fare well against other thermal cameras like the Flir line which offers 10 years on their thermal detector including on the Flir One Pro.
Inside the package you'll find the thermal imager, a user manual and USB cable.
If you are looking for a mobile version of the Seek Shot Series, you should have a look at the Seek Compact Thermal imaging camera.