The Amproad iFlow P9 is the first portable EV Charger to come with smart features and we're very excited to review it. But are those features good enough and are they plenty?

PROS: Fast charging speeds, IP65 rating, wifi connectivity.

CONS: Not as smart as a true smart charger. Lacking some features.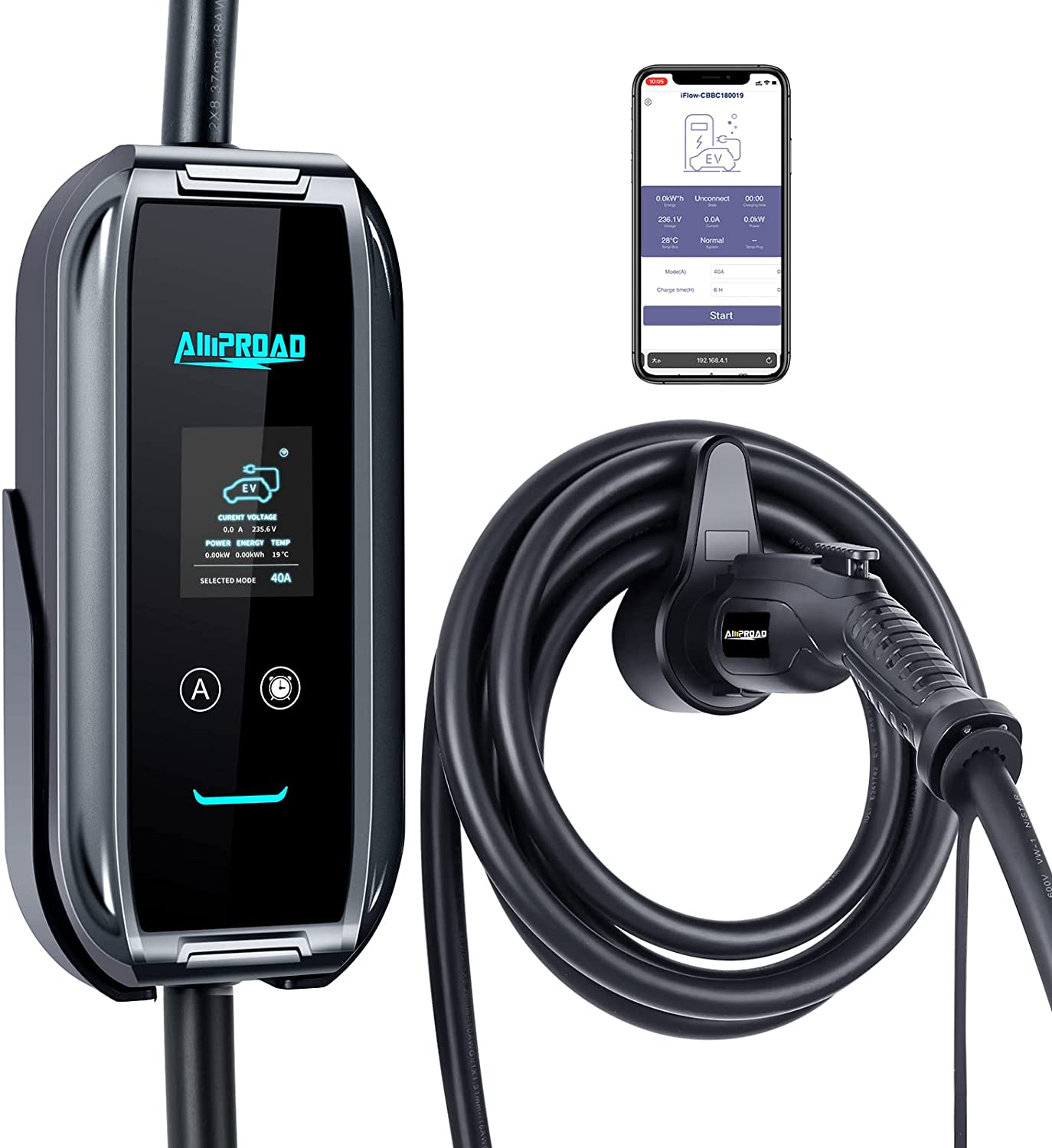 Amproad iFlow P9 – Level 2 Portable EV Charger Specifications
| | |
| --- | --- |
| Amp rating | 24 to 40 Amp |
| Level | Level 2 |
| Type | Portable EV Charger |
| Cable Length | 25 feet |
| Nema | NEMA 14-50 |
| Power | 9.6 kW |
| Voltage | 240V |
| Connector | Type 1 (J1772) |
| Connectivity | Wifi |
| IP Rating | IP65 |
| Display | LCD Screen |
| Warranty | 1-Year |
| Features | |
| What's in the box | |
| Weight | 16.5 lbs |
Amproad iFlow P9 – Level 2 Portable EV Charger Charging specifications
I never thought that day would be here. We finally have our first portable EV charger with smart features. Now if you've been browsing around for electric vehicle chargers then you probably know what I'm talking about. If not, let me explain: When it comes to EV chargers, if you want one with smart features (Smart basically meaning smartphone connectivity + app) then you absolutely have to go for a wall-mounted ev charger because the portable ones never have these features.
But now we have a new one and this one does have built-in wifi and a smart interface (not app). It's called the Amproad iFlow P9 and the first thing you'll notice is that it's powerful. Very powerful. It can deliver anything from 16 to 40 Amps and up to 9.6 kW of power. So what does all this power really mean in terms of actual charging times? Well if you want to charge a 50 kWh battery like the one on the Tesla Model 3, it will only take about 5 hours. But first of all please remember that you need to make sure your EV's on-board charger is not limited to a smaller AC charging rate which is often the case with the number being around 7.4 kW.
Amproad iFlow P9 – Level 2 Portable EV Charger Cable types and connectors
So what about the cables? Well the charging cable is 25 feet long, not less and not more than what you would get from any other portable electric vehicle charger. Now if you want to extend this, you can't just disconnect it from the control box and replace it since it's a tethered charger but you can just buy an extension cable and make it as long as you need. 10ft charging cables are available and even longer up to 30ft.
The end that plugs into the vehicle charging port uses an SAE J1772 connector which is perfect because all EVs made in North America use that one with the exception of Tesla models which provide an adapter.
The end that plugs into the outlet uses a NEMA 14-50 connector since that is the only one which can take the kind of power that this EV charging cable delivers.
Amproad iFlow P9 – Level 2 Portable EV Charger Features
Now let's look at what we enthusiastically talked about and those are this charger's smart features.
Basically to connect to its wifi hotspot and then basically just access its web interface via the 192.168.4.1 IP address. It doesn't connect to the internet nor does it have a dedicated app. So a bit more of a hassle than other smart chargers.
Once there, you'll find real-time data on the charging speeds, charging status, current, voltage, energy, power, temperature and charging time. You can change the Amperage, have it auto-start or not, set a charging timer. To be honest, it's just slightly above what a Mustart without the whole web interface can do. But this can be improved in the future, no doubt.
What it's lacking is charge scheduling, charging logs, power sharing and there just a few that we can name. Still, it's a n improvement and makes one hopeful for the future of portable EV chargers.
You can actually get the real time data from the LCD mounted on the charging unit and can also change the amperage or set the timer from there, so that's why I mentioned that the web interface doesn't justify its existence since it doesn't provide many more features.
This portable electric car charging station is IP65 rated so you can be sure it will charge even in the rain or snow without stopping. It is also backed up by a 1-Year warranty.
All the safety and security features are present on the Amproad iFlow P9 EV charger, including overcurrent protection, overvoltage, overtemperature and lightning protection.
Overall this is a solid home electric vehicle charger which can be transported anywhere and while the smart features were not impressive, all things considered and especially price-wise it's not a bad deal.