The Keruida EV charger is a portable device which can act as a home and workplace charger for your EV. It comes at a very low price and is offered in 4 different versions according to the amount of power that you need and outlet available.

PROS: 16, 32 and 40-Amp versions available, IP65 rating for the control box, Fast charging speeds, LCD display, Charging timer.

CONS: No smartphone connectivity.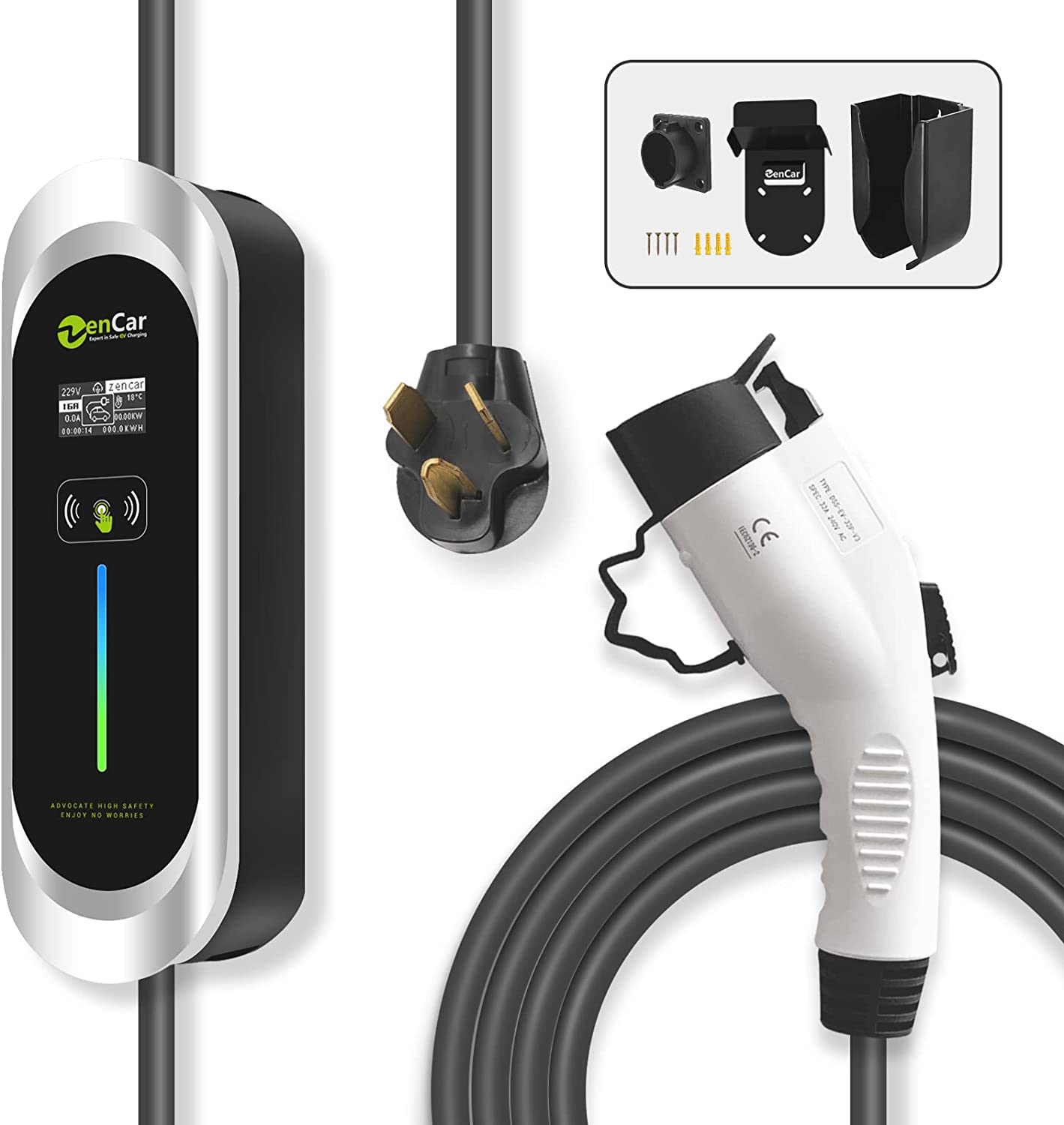 Keruida – Level 1 & 2 Portable EV Cahrger Specifications
| | |
| --- | --- |
| Amp rating | 16A / 32A / 40A |
| Level | Level 1 & 2 |
| Type | Portable EV Charger |
| Cable Length | 25 feet |
| Nema | NEMA 5-15, NEMA 6-20, NEMA 14-50 |
| Power | 1.76 kW / 3.84 kW / 7.4 kW / 9.6 kW |
| Voltage | 110V / 240V |
| Connector | Type 1 (J1772) |
| Connectivity | None |
| IP Rating | IP54 Connector / IP65 Control Box |
| Display | LCD Display |
| Warranty | N/A |
| Features | Fast charging speeds, Adjustable Current and Charge Scheduling, Multi-Function Display, Portable, Secure and Durable IP65 / IP54 rating |
| What's in the box | |
| Weight | 9 pounds |
Keruida – Level 1 & 2 Portable EV Cahrger Charging specifications
This is a portable EV Charger that comes in 4 different versions.
Now the 16-Amp version comes in 2 models, a Level 1 charger which can deliver up to 1.76 kW and a Level 2 charger which can go up to 3.84 kW. The Level 1 version works at a 110V voltage while the second one requires a 240V outlet.
But what about actual charging times? Let's take an electric car with a 40 kWh battery as a reference. If you were to plug in the 16-Amp 110v Portable EV charger (Level 1) it would take about 21 hours to charge it from a charging level of 20% too 100%. Now if you plug in the 16-amp 240V Portable EV charger (Level 2) it would take just under 10 hours.
Then there is the 32A 240V electric car charger which will deliver 7.4 kW to the electric vehicle allowing the car to charge in just under 5 hours from 20% to 100%. Now th The most powerful one from Keruida, the 40-Amp version can deliver 9.6 kW to the electric vehicle or plugin hybrid so the battery would charge in under 4 hours.
Now it is important that you also know your car's on-board charger capacity because most of them can be limited to 7.4, so it might not be worth spending all of the extra money on a 40A charger. If however the car can take the 9.6 kW it is completely worth it just for the fast charging speed alone.
Keruida – Level 1 & 2 Portable EV Cahrger Cable types and connectors
Regardless of which Keruida EV Charger you choose, all the charging cables are 25 feet long. To connect to your vehicle, all of them use the j1772 connector. Now this is good because the J1772 plug is found on all EVs sold in North America with the notable exception of Tesla which who provides an SAE J1772 charging adapter. It is worth mentioning that Keruida also offers a charger adapter for Tesla cars.
Now in terms of the connector for the wall outlet, that's a different story with each version. The 16-amp 110v portable EV charger, the Level 1 version will use a NEMA 5-15 plug, the 16-Amp 240V Level 2 version will use a NEMA 6-20 plug, the 32-Amp uses a NEMA 14-50 plug and the 40-Amp Keruida Level 2 charger also uses the 14-50.
The entire line-up of portable chargers that they offer are tethered which means you can't disconnect the charging cable from the control box and replace it with another.
Keruida – Level 1 & 2 Portable EV Cahrger Features
There is no connectivity or smart features on this portable electric vehicle charger. But while most EV home chargers only come with an indicating light, here you do get an LCD display which shows you the charging status and some basic info like power, amperage and voltage. But you do get a button to change the amperage or set a charging delay timer. This function is meant to be a very basic charge scheduling feature. While a smartphone app is preferable to this, it can still be a good feature to help you avoid peak energy prices and use as much cheap off-peak energy as possible.
The control box is IP65 rated and the connector is IP54 but know that both can withstand rain, dust and harsher conditions so you should be fine leaving it in the rain to charge your car. We could not find any information regarding warranty in the US for these chargers.
All the safety features are there including overvoltage, leakeage, overheating, overcurrent protection and flame resistance