The Vevor Portable EV Charger line-up consists of 4 different devices from 15 to 32 Amps, Level 1 and Level 2. No matter which outlet you have in your house, you are sure to find one for it. It is also tough because the control box has an IP66 rating.

PROS: Multiple versions available, Fast charging speeds, IP66-rated control box.

CONS: No smart features or connectivity. No charging timer.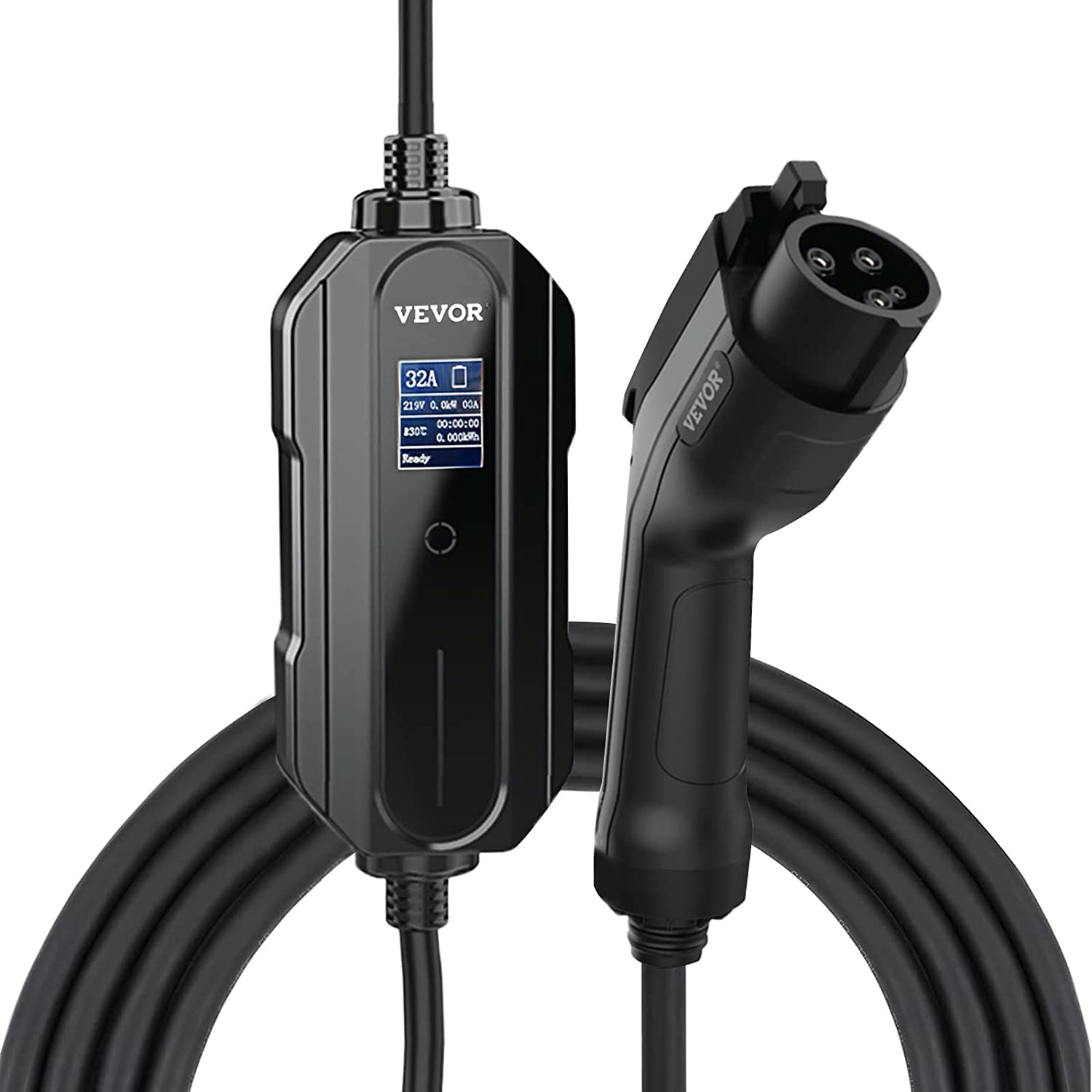 Vevor – Level 1 & 2 Portable EV Charger Specifications
| | |
| --- | --- |
| Amp rating | 15 / 16 / 24 / 32 Amp versions available |
| Level | Level 2 |
| Type | EV Charging Station |
| Cable Length | 25 feet |
| Nema | NEMA 5-15, 6-20, 10-30, 14-50 |
| Power | 3.6 kW (15 & 16 Amp versions), 5.76 kW (24 Amp version), 7.68 kW (32 Amp version) |
| Voltage | 110V (15 Amp version with NEMA 5-15 adapter) / 240V (All versions) |
| Connector | Type 1 (J1772) |
| Connectivity | No |
| IP Rating | IP66 (Control Box) & IP54 (Connector) |
| Display | LCD Display (24 & 32 Amp versions only), LED indicator light (15 & 16 Amp versions only) |
| Warranty | 1-Year |
| Features | |
| What's in the box | |
| Weight | 6.93 lbs |
Vevor – Level 1 & 2 Portable EV Charger Charging specifications
This is the Vevor portable electric vehicle charger line-up which consists of 4 different chargers: The first one is the 15 Amp Level 1 & 2 charger, the cheapest one.
This 110v / 240v portable electric vehicle charger which delivers a 15-Amp charging current can output either 1.74 kW if connected to a 110V outlet. This means that if you want to charge an EV with a 40 kWh battery like the Nissan LEAF, it would take about 21 hours to get it from 20% to 100%. But if you plug the same charger into a 240V outlet, then you can output 3.6 kW of power and that will charge the same car in just under 10 hours. These 10 hours also apply to the 16-Amp Level 2 charger.
Then we have the 24-Amp EV charger which when running at full power delivers 5.76 kW and thus charges your vehicle from 20% to 100% in about 6 hours, a huge improvement.
The most powerful of the line of electric car chargers, the 32-Amp version can deliver a charging speed of 7.68 kW so that will bring the charging time from 20% to 100% to under 5 hours.
Vevor – Level 1 & 2 Portable EV Charger Cable types and connectors
Regardless of which Vevor EV portable charger you choose, the car charging cable length will be the standard 25 feet. The part that plugs into your electric vehicle uses a universal SAE J1772 connector. When we mean universal, it means that it is the universal EV connector in North America. Every EV uses this plug with the exception of Tesla who deliver a charging adapter with each vehicle.
The charger cable is tethered to the control box so you can't disconnect it and replace it for another but if for example the cable itself is not long enough, you can buy an extension cord on Amazon for it. Same goes for any adapter you may need, there are plenty from 10ft to 30ft.
So now let's look at the power plug types for plugging in the charger. The 15-Amp comes with a NEMA 6-20 connector to plug it into a 240V outlet but also a NEMA 5-15 adapter. The 16-Amp uses the same 6-20 plug since it's Level-2 only. Then there's the 24-Amp which plugs into a 10-30 outlet and the 32-Amp which can plug into a 14-50 socket.
Vevor – Level 1 & 2 Portable EV Charger Features
Regardless of which Vevor portable EV charger you choose to buy, the idea is that it won't come with any smart features like wifi connectivity or a smartphone app. But this is common throughout portable chargers since at the moment there is literally one model which has wifi connectivity. What would have been nice to have is a charging timer so that you can plug in the car in the evening but not start charging until late at night when electricity is cheaper.
The basic 15 and 16-Amp models just have LED indicator lights on the control box but the 24-Amp and 32-Amp come with an LCD display on the case which can display info about the charging status like charging level, the amount of amps at which the device is functioning (There's also a button to cycle between different amp settings), the voltage, how much energy has been transferred to the EV and the actual charging power.
The control box of this portable EV Charger is IP66 rated and the connector from the durable charging cable has an IP54 rating. This tough equipment is backed up by a 1-Year warranty from the manufacturer.
The Vevor Level 1 & 2 charger line-up comes with a host of security protections like over overcurrent, overvoltage, overheat protection, leakage and lightning protection.