The Autel MaxiCharger Home Level 2 Charging station is one of the most promising charging devices on the market to be launched in 2022. It has everything we want: Fast charging speeds, smart features, NEMA 4 rating (IP66) and over-the-air updates.

PROS: Fast charging speeds, NEMA 4 waterproof & dustproof, Smartphone app, OTA updates, Wifi + Bluetooth + Ethernet connectivity.

CONS: Solar compatibility missing (But announced for end of 2022 Q4)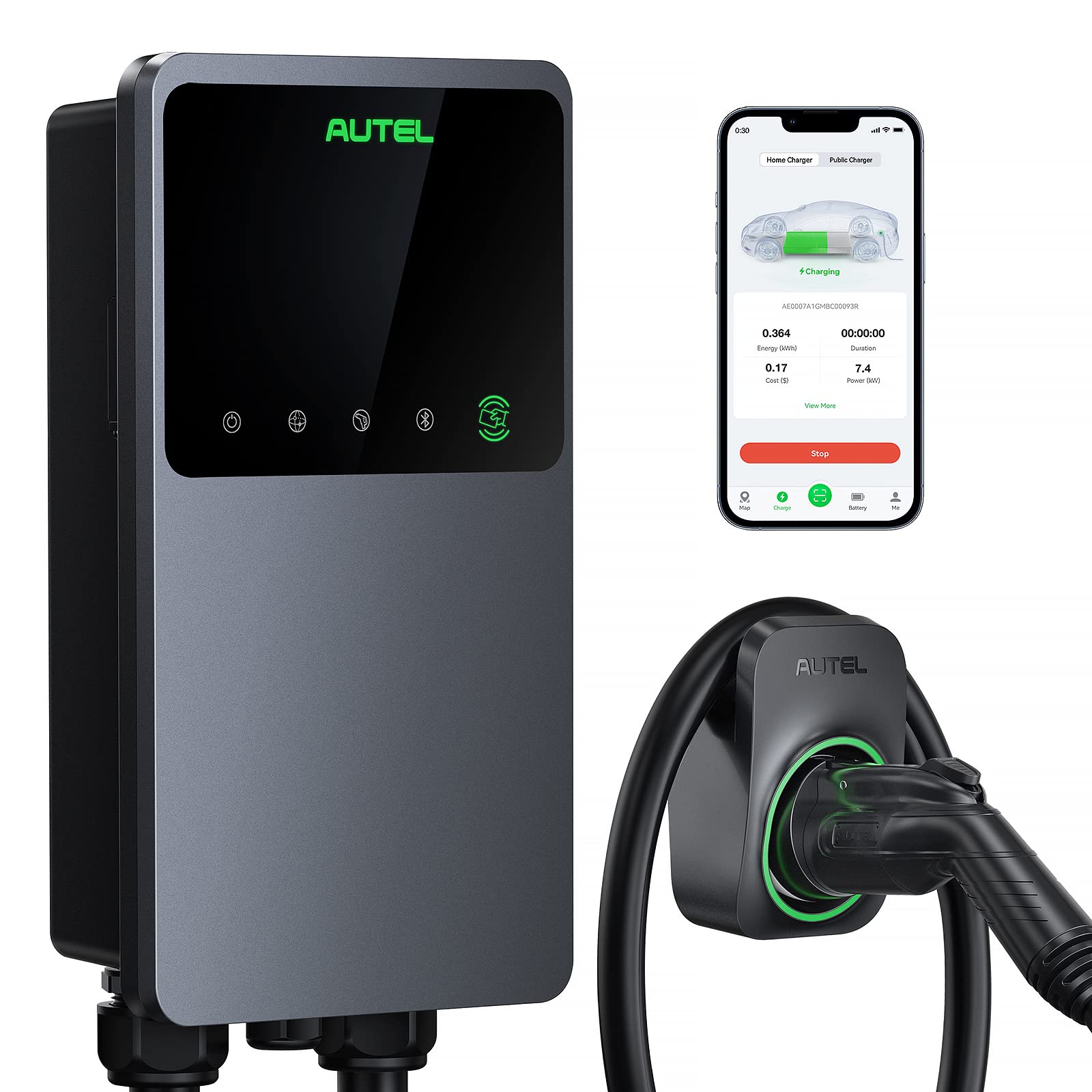 Autel MaxiCharger – Level 2 Charging Station (40/50 Amp) Specifications
| | |
| --- | --- |
| Amp rating | 40 Amp / 50 Amp |
| Level | Level 2 |
| Type | EV Charging Station |
| Cable Length | 25 feet |
| Nema | NEMA 14-50 (40-Amp version), Hardwired (50-Amp version) |
| Power | 9.6 kW (40-Amp version), 12 kW (50-Amp version) |
| Voltage | 240V |
| Connector | Type 1 (J1772) |
| Connectivity | Yes |
| IP Rating | NEMA 4 (IP66) |
| Display | 4 LED Indicator Lights |
| Warranty | 3-Year |
| Features | |
| What's in the box | |
| Weight | 22.4 lbs |
Autel MaxiCharger – Level 2 Charging Station (40/50 Amp) Charging specifications
The Autel MaxiCharger home electric vehicle charger is one of the newest smart EV Chargers out there. This is a 40-Amp Level 2 device which can deliver up to 9.6 kW of charge power to your EV. There's also a 50-Amp version though which can deliver up to 12 kW. But kW can only mean so much, how does that actually translate into real actual charging times? Well let's say you drive a Long Range Tesla Model 3 with an 82kWh battery capacity. Now that version is sure to have an on-board charger which can handle such a high AC charging rate of 9.6 kW.
So with this Autel Maxicharger AC wallbox home charging solution it would take under 8 hours to fully charge it from 20% to 100%. This is insanely fast by home charging standards because you're getting about 35 miles of range per hour of charge. The MaxiCharger home 50A can charge even faster in just 6-7 hours from 20% to 100%.
Is the 50-Amp version worth it? Given that it's just 40$ extra, we say yes. If you don't want to have to hardwire, then the 40-Amp is a better option since it comes with a NEMA connector but otherwise if your car's on-board charger can take the entire amount of power, it is worth.
Autel MaxiCharger – Level 2 Charging Station (40/50 Amp) Cable types and connectors
This home ev charging station comes with a charging cable that is 25 feet long. Nothing special here since most home chargers come with a 25-foot cable. It uses an SAE J1772 connector which is compatible with most electric cars in North America. The cable is tethered to the unit and so you can't disconnect the cable to replace it with another. If it is too short for your needs then you can just buy an extension cable from Amazon.
On the other end, in order to power the Autel Maxicharger Home 40A you can plug it into a NEMA 14-50 outlet or hardwire it directly either by yourself or by hiring a licensed electrician. The 50-Amp version doesn't come with a NEMA connector so that one can only be hardwired.
One interesting security feature is that you can use it with RFID cards if you want, so basically you give out these cards to people you want to share the device with and nobody else can use the charger since they don't have the right card.
Autel MaxiCharger – Level 2 Charging Station (40/50 Amp) Features
In terms of connectivity, this Autel Maxicharger has to be the most connected EV charger for home in the world since it has wifi and bluetooth but also an ethernet port. You can connect to it via your smartphone and the Autel Charge app. The system is very similar to the ChargePoint one since you can use the app to find public chargers (They do have a global presence) but also control your home charger.
One of the most important features in the Autel app is the scheduled charging function which lets you set custom schedules on weekdays and on the weekends. This will help you save money on electric energy since you can set it to use cheaper off-peak energy as much as possible and more expensive peak demand energy as little as possible.
Autel's maxicharger app also keeps track of your charging history and tells you how much energy you've used, the monthly electricity cost and also how much CO2 you've saved. You can also remotely start or stop it.
Now along with the ability to control your home charger, you can also use the app to find public charging stations which employ the use of Autel Maxicharger DC Fast Chargers.
There's also dynamic load balancing and this is important to have since EV chargers are the biggest energy user on your home circuit and it's important that your electric car charger uses load management and doesn't bring down the whole circuit.
Because it is connected to the internet, you can also perform software updates instantly and they are promising firmware updates for "years to come".
The entire enclosure is NEMA 4 rated (IP65 equivalent) which means it is completely waterproof, it can be installed outside and you can leave it charging your car in the rain, in the snow or extreme heat. Autel also offers 3 years of warranty for the MaxiCharger together with 24/7 customer support in multiple countries.
In terms of safety features, it is worth noting that the Maxicharger home electric vehicle EV Charger packs in features like Leakage detection and surge protection.