The Massimo Motor EV charger is a very powerful 50-Amp charger which comes with a longer than usual 28-foot cable and can be installed outside in any kind of weather.

PROS: Fast charging speeds, IP66 rating, Long charging cable, Wifi connectivity, LCD display.

CONS: EV Charger is available for purchase however the smartphone app is not available yet. (September 2022)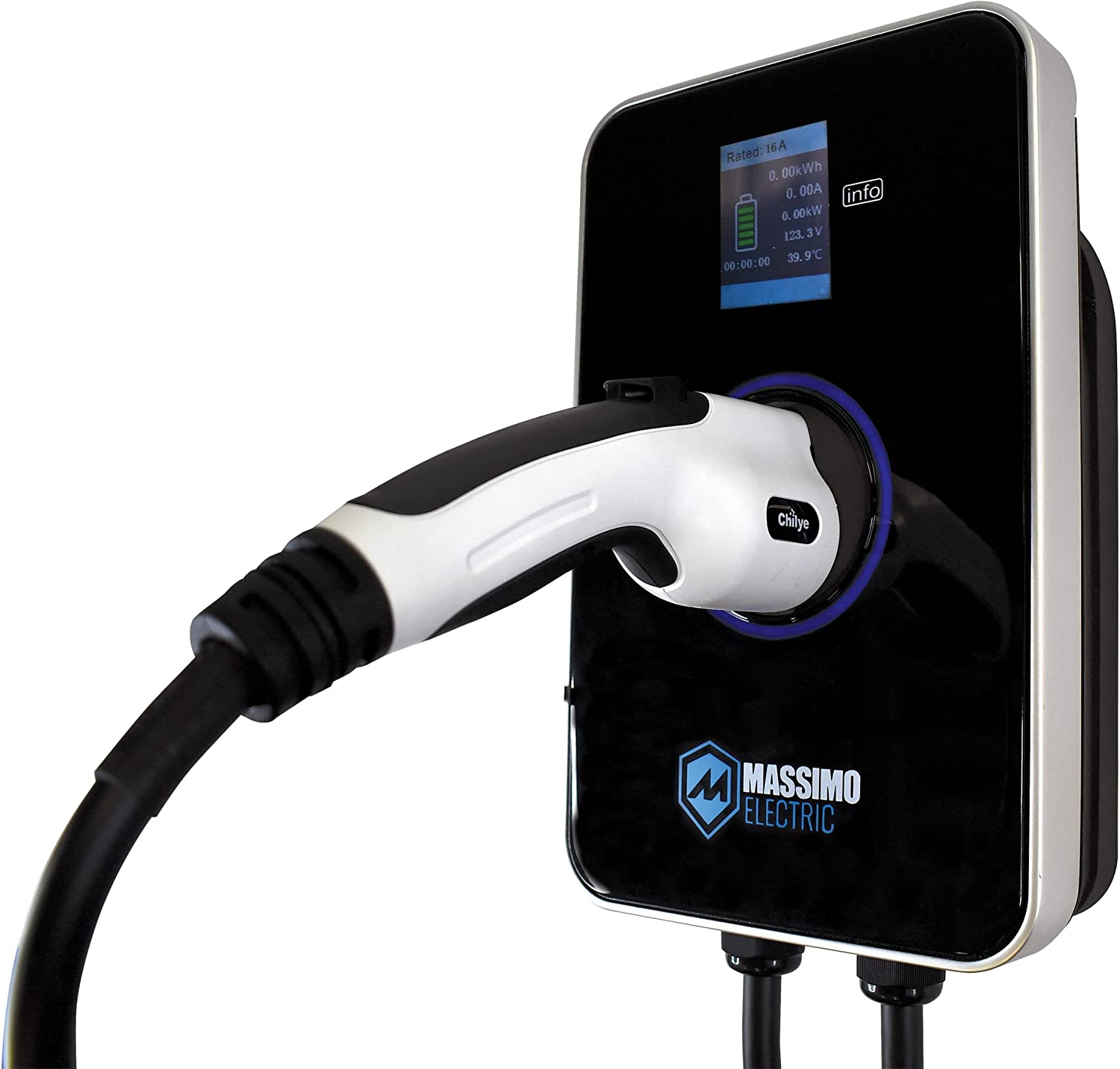 Massimo Motor Level 2 EV Charging Station (50 Amp) Specifications
| | |
| --- | --- |
| Amp rating | 50-Amp |
| Level | Level 2 |
| Type | EV Charging Station |
| Cable Length | 28 feet |
| Nema | Hardwired |
| Power | N/A |
| Voltage | 240V |
| Connector | Type 1 (J1772) |
| Connectivity | Wifi |
| IP Rating | IP66 |
| Display | LCD Display |
| Warranty | 1-Year |
| Features | |
| What's in the box | |
| Weight | 9 pounds |
Massimo Motor Level 2 EV Charging Station (50 Amp) Charging specifications
The Massimo Motor EV Charger is a device which can output up to 50 Amps of electric current to your electric car. Now for some reason Massimo Motor doesn't mention how much power their charger can output when connected to a 60-Amp circuit breaker, but given it has a maximum charging current of 50A, it is most likely 12 kW.
With that in mind, it is good to know that most electric vehicles are limited in terms of charging rate by their on-board charging equipment to either 7.4 kW, 11.5 kW or 19.2 kW.
So if you were to charge a Long Range Tesla Model 3 which has an 82 kWh battery and an on-board charger which is limited to a 11.5 kWh charging rate, then using the Massimo Motor Level 2 Charger you can get it from 20% to 100% in 6-7 hours. This is as fast as home electric vehicle charging stations get.
Certainly Massimo Motor Sports LLC went for the highest power available through AC current at home when they designed this charger.
Massimo Motor Level 2 EV Charging Station (50 Amp) Cable types and connectors
The Massimo Motor EV charging station comes with a longer than usual 28-foot charging cable. The standard with most chargers in North America is 25 feet and so the extra 3 feet of cable are a welcome addition. The cable is fixed to the main control box making this a tethered charger.
The cable itself uses an SAE J1772 connector (also known as Type 1) to plug into the electric vehicle. This port is universal for all cars made in North America with the exception of Tesla vehicles which use their own proprietary charging port but always come with an adapter.
In terms of the way you connect your Massimo Electric Car Charger to your home circuit, you'll need to know that it doesn't come with a NEMA connector. Instead you need to hardwire it directly. This is something that you can do yourself if you've got a bit of knowledge or you can just hire a licensed electrician to do this.
And speaking of installation, you'll want to know that there's also another version of this device, the AC column charging pile. From what we could tell, this is basically the same device just mounted on a very shiny metal column. Now is the 1000$ difference in price worth it for the column itself? Probably not. But it is understandable that they would offer you this option since sometimes you need to mount the charger outside next to a parking spot which has no walls or pillars, so you have to solve that problem somehow.
Massimo Motor Level 2 EV Charging Station (50 Amp) Features
The Massimo Motor EV charging system is equipped with Wifi connectivity and you can connect to it via its smartphone app. Now at the time of writing, we just couldn't find the app on the Play Store or the App Store but most likely they will be putting it up for download. What the app will be offering, we do not know yet.
Until the smartphone app drops, you can use the integrated LCD display to get real-time charging data on things like charging rate, battery level, amperage, voltage and temperature.
The charger is IP66 rated which means it is waterproof and dustproof. You can keep on charging your EV in the rain or snow or more difficult weather conditions. It is also backed by a 1-Year warranty from the manufacturer.