We'll be looking at 4 of the Best EV Chargers for home. These are chargers that can integrate with a modern smart home, that can make intelligent use of the solar energy coming from your roof and much more.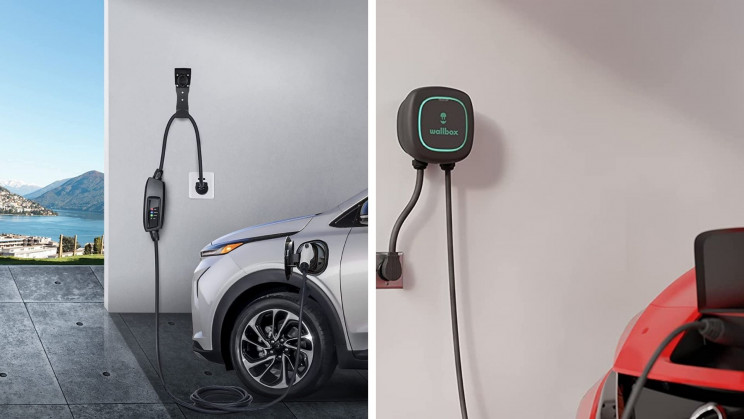 Let's have a look at each product in particular.
ChargePoint Home Flex – Level 2 EV Charging Station (16-50 Amp)
The ChargePoint Home Flex can arguably be considered to be the best EV charger for home in the world at least in terms of sales, it is the best-selling charger out there.
The ChargePoint Home Flex was created as a home version of their popular public charging station. It can output anywhere between 16 Amps and 50 Amps of electrical current. You can plug it into a NEMA 14-50 or a 6-50 outlet but that will get you up to 40 Amps.
If you want to unlock the full power and get the lowest possible charging time, you'll need to hardwire it directly to a 60-Amp circuit breaker. Do that and it can theoretically charge a 62kWh battery like the one on the Tesla Model 3 in just about 6 hours. Of course this is an estimation which doesn't include potential software throttling from the on-board charger.
And it's not just the sheer amount of power that this home electric vehicle charging station offers, it's also about some very interesting smart charging features. It is a wifi enabled charger to which you can connect to you via its smartphone app.
The app itself is worth it because it offers you real-time data on the charging process, but not only that because you also get detailed reports of every charging session that you had and it has voice integration too, so you can actually ask it to tell you how much you've been spending this month on charging your car. Not many devices in one's house can probably do that. It can perfectly integrate as part of your smart home and you can set charging schedules to use as much off-peak electricity as possible.
Now because this charger is only NEMA 3R rated, you may want to install it in your home garage or somewhere indoors as it is not very water resistant like the Grizzl-E Classic which is IP67 rated. But the ChargePoint is backed up by its 3-Year warranty together with its customer support line which they say is available 24/7.
Wallbox Pulsar Plus – Level 2 EV Charging Station (40 Amp, 9.6 kW)
The next EV Charger for home use that we'll be reviewing is the Wallbox Pulsar Plus. It comes in 2 versions: the first one is a 40-Amp Level 2 version that can deliver 9.6 kW of electrical power and can be plugged into a NEMA 14-50 240-volt outlet. This is also the version we'll be reviewing here. The second one is the 48-Amp charger that can deliver up to 11.5 kW of power and doesn't come with a wall connector, it can only be hardwired.
The same 62 kWh battery that we provided as example for the ChargePoint can now be charged in about 7 hours, so about 1 extra hour. Still a very good time though.
The charge cable length is the standard one that you would expect, you get a 25-foot cable with an SAE J1772 connector. Unlike other smart EV home chargers, this one comes with WiFi and also Bluetooth connectivity, allowing for more flexibility. It does come with a smartphone app that lets you control the charger remotely, it can integrate seamlessly with smart home devices like Amazon's Alexa and the Google Assistant.
One great thing to note about it is the ability to do power sharing, so if you connect two of these to the same circuit in your home, they'll communicate and share the available power so as not to overload it. This particular home EV Charger can also make use of solar energy in a clever way. You can set it up as to only draw power from the circuit if excess solar energy is produced or you can set a ratio between the two.
The Wallbox is IP54 rated so it is suitable for outdoor installation, however usually the best place to put it is in a garage if you can but if not, you'll be happy to know it can take a bit of rough weather.
ENEL X JuiceBox 40 – Level 2 EV Charging Station (40 Amp)
The ENEL X JuiceBox is our third EV Charger for home which we'll be looking at. We love the design and the fact that it is NEMA 4X rated (IP66 equivalent). This is one of the main things that sets it apart from the others, it is the toughest charger here and completely suitable for outdoor installation, it is probably the one we would choose if the charger had to stay outside.
There are two versions, a 32-Amp and a 40-Amp which we're looking at here. The 40-Amp will essentially have the same charging speed as the Wallbox Pulsar, no difference there. You can plug it into a NEMA 14-50 outlet or hardwire it and the same goes for the 32-Amp version.
In terms of the smartphone app, it offers essentially the same functionality as the others, you get detailed reports on all of your past charging sessions, there's real-time data on the charging process plus the ability to set a custom charing schedule. There's also a nice CO2 metric that tells you how much CO2 you've saved since you had the charger. The charging experience is certainly made better by its smartphone app.
The cable is 25 feet long, it comes with a J1772 connector and just like with the other home charging stations, you get a 3-Year warranty on it.
Morec – Level 2 Portable EV Charger (40 Amp)
The reason we've chosen to include the Morec Portable EV Charger in our list of the best EV chargers for your home is because unlike the previous ones, this one requires no installation and thus no installation costs. It does require you to have a 240V outlet though.
This is a portable home charger which means you can carry it around with you everywhere and wherever you may find a 14-50 outlet you can plug it in. It will deliver slightly fewer miles of range per hour of charge than the previous charging stations would since it only delivers 8.8 kW of power. So instead of the 7 hours that we estimated for a 62kWh batery, it would likely be 8 hours.
There are no smart features, there's just an LCD display telling you basic info about the charging process but it is IP66 rated so you can use it in bad weather too.
It comes with a 26ft cable and unlike an EV Charging station, it doesn't need to be mounted on the wall somewhere. In terms of warranty you only get 1 Year but it is cheaper than a charging station.
MEGEAR – Level 1 Portable EV Charger (16 Amp)
And now we get to our final EV Charger for home, the Megear Level 1 Portable. This is a 16-Amp charger that will only deliver 1.92 kW of power and you may ask yourself "Why are these people recommending it?". The answer is simple: It will plug into the standard 5-15 outlet running at a 110V voltage that you already have in your home.
You don't need to install an extra outlet or mount it on the wall and it costs just under 200$. You can't do better in terms of residential charging costs. But it will come at a price since this one would take approximately 36 hours or more to fully charge a 62 kWh battery.
It comes with a 25 ft cable, an IP55 rated control box and a 1-Year warranty. There are no smart features like wifi connectivity or a smartphone app but the big advantage is that you can use it in your home from the day you purchase it.
Are home charging stations safe?
Yes. Most of these products have all the safety certifications for them be considered safe for use. While it is recommended that you have a licensed electrician hardwire it or install the specific outlet that you want to plug it into, if you already have the outlet that you need in your garage it is just a matter of mounting it on the wall, something you can do yourself.


Does an EV charger increase home value?
While some studies claim that homes with an EV charger have an increased value, you should take that with a grain of salt because this might be a classic case of correlation does not mean causation.

It is most likely that homes which have an EV charger installed were owned or furnished by people who are open to new technology and ideas and thus are more likely to also have solar panels mounted on the roof or a high degree of energy efficiency throughout that specific home. All of these will add additional value to a home.

That being said, it is probably a good idea to add one to your home since this is most likely going to become the norm in the next few decades.


How much is an EV home charger?
Portable home chargers start from 170$ on Amazon and charging stations which you mount in your garage start from about 400$. A ChargePoint Home Flex will cost about 950$, a 32-Amp JuiceBox will cost about 600$ while a Wallbox Pulsar Plus will set you back about 600$ for the 40-Amp version.


What are the EV home charging power requirements?
If you buy a cheap portable Level 1 charger, then all you're going to need is a standard 5-15 outlet that you most likely already have in your garage.

If you buy a Level 2 charging station then you'll need an appropriate 240V outlet and that will depend on the charger you choose. A 6-50 and 14-50 are the most common for any charging station above 32-Amps. But you can hardwire it directly to your circuit too and in the case of 48-Amp chargers it is the only way to max out their power. You'll surely need to upgrade the fuses on the electrical panel so that they can withstand the high amperage that these chargers require, otherwise they'll just blow instantly.


Where should I install the EV Charger in my home?
The garage is the most obvious place if you have one. It's going to be closest to the car and since it is indoors it will be well protected from weather. However some of these chargers can withstand rain and bad weather so if your charger has an IP54 rating or better then you can consider outdoor installation, basically wherever it is closest to the car and also to a high-power source.

And also be wary of portable chargers from China that claim they have an IP66 rating but in reality at some point water starts to break through the inside of the device. We've found this out from sifting through reviews of long time users of these devices on Amazon. So before you get one of those, check the long-term reviews from Amazon just to make sure that the IP rating is true.