We selected 3 Wifi Enabled EV Chargers that are guaranteed to make the most of this smart feature

They will be reviewed and ranked by charging performance, features, connectivity options and also durability.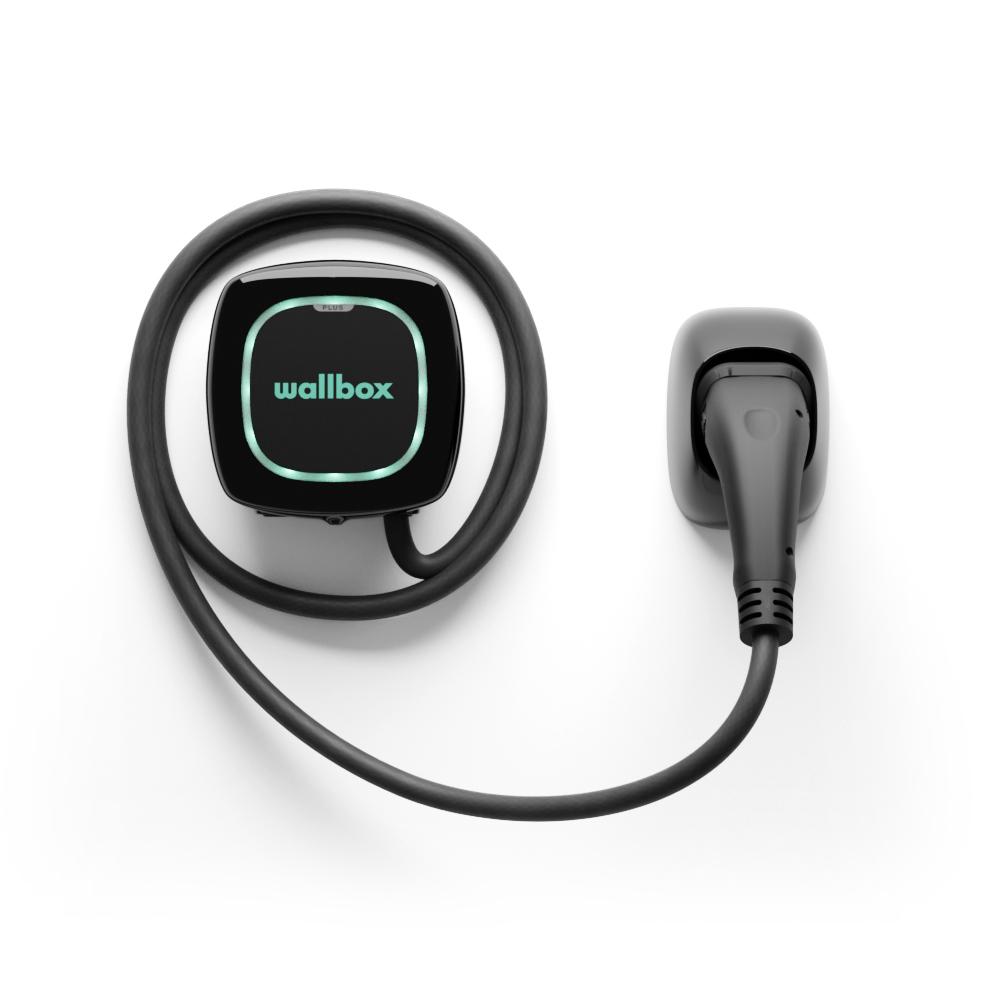 Let's have a look at each product in particular.
ChargePoint Home Flex – Level 2 EV Charging Station (16-50 Amp)
The first WiFi enabled EV Charger that we'll be reviewing is the ChargePoint Home Flex. It uses an 802.11 a/b/g/n WiFi connection that is capable of working on both a 2.4 Ghz and a 5Ghz frequency.
In order to connect to it via the wireless connection, you just download the ChargePoint app, create an account, add your EV to the app so that you get more precise estimates on the miles per hour of charge. Then you add the device and the way you do that is by connecting the charger to your home wifi network. You just tell it to which hotspot to connect to and provide it with the password and the rest is done automatically. The wifi connection can also be reconfigured at any time.
Now let's talk about the device itself: It is a 50 Amp electric vehicle charging station that can be plugged into a NEMA 14-50 or 6-50 240V outlet, however if you want to unlock the full 50 Amp output then you will need to hardwire it to a 60-Amp circuit breaker.
The wifi connection brings in the ability to use a smartphone app to remote control the charger, check on detailed charging logs and it even lets you ask it by using your voice "How much have I spent this month on charging my EV?". Kudos to them for going the extra mile as to actually making voice commands a useful feature and more than just a gimmick. You can also schedule charging times so that the charger uses more off-peak electricity.
This home charging station is NEMA 3R rated so it is certainly more suitable towards indoor installation than outdoor and it is backed up by a 3-year warranty.
ENEL X JuiceBox 40 – Level 2 EV Charging Station (40 Amp)
The next Wifi Enabled EV Charger we'll be reviewing is the Enel X JuiceBox. This too comes with a 802.11 b/g/n wireless connection however as opposed to the ChargePoint, this only works on a 2.4 Ghz frequency. Still this shouldn't be an issue as most wireless routers today are dual-band.
To connect to it, you just download the Juicenet app from Google Play or the App store, set it up and now you can remote control your charger even by using your voice, you can get real-time data on things like Amperage, charging rate, voltage, etc. but also check on detailed charging logs and create custom charging schedules. The app is very similar in terms of functionality to the one you'll find on the other chargers. What it does bring as additional extra is a metric showing you how much CO2 you've saved by using your EV with this charger.
This electric car charger comes in 2 versions: A 40-Amp version with 10 kW of power and a 32-Amp version with 7.7 kW. Both chargers will plug into a NEMA 14-50 outlet running at a 240V voltage. it uses a J1772 charging cable that measures 25 feet and is virtually compatible with any EV including Tesla models through the use of the included adapter that is shipped with the car.
This Wifi enabled EV charging station is NEMA 4X rated (equivalent to IP66) so it is waterproof and dustproof. It is suitable for indoor and outdoor installation.
Wallbox Pulsar Plus – Level 2 EV Charging Station (40 Amp, 9.6 kW)
The Wallbox Pulsar Plus is the last Wifi enabled EV Charger which we'll be reviewing here. Just like the JuiceBox, the Wallbox comes in two versions: A 40-Amp and a 48-Amp. The 40-Amp which we listed here can be connected to a 14-50 plug or hardwired while the 48-Amp doesn't come with a NEMA connector so hardwired installation is the only option.
The charging cable on this wifi enabled electric vehicle charger is 25 feet long and comes with a J1772 connector so it charges any EV in North America.
This is a smart electric charger that comes with WiFi 802.11b/g/n connectivity. Just like the JuiceBox, this too only works on a 2.4 Ghz frequency. But unlike other Wifi enabled charging stations, this device also comes with additional Bluetooth connectivity.
The Wallbox app is very well designed, we like the layouts and especially the data visualization part. All the usual features and functions that you would expect are available from charge scheduling to extensive reporting and real-time data on the charging process.
There are 2 features that make this charger great: The first one is power sharing which if you have 2 Wallbox chargers connected to the same circuit ensures that they don't overload it and blow the fuse. The second one is the solar excess usage where the charger can be set up to draw power from solar panels rather than the grid whenever excess solar energy is being produced. This can save you an extensive amount of money if done properly.
The Wallbox is moderately tough in terms of water and dust resistance because it has an IP54 rating. Now this should be sufficient for outdoor installation but if you have the option to put it inside it is better and you'll be happy to know the charger is backed up by a 3-Year warranty.
Do EV Chargers need WiFi?
Not necessarily. There are plenty of EV Chargers that can work just fine without WiFi, however the added bonus of features that come with that WiFi connection makes a wifi enabled charger clearly worth it and even in terms of value for money because you can potentially save hundreds of dollars just by effectively using the charge scheduling feature to use off-peak electricity as much as possible but also by using the solar excess feature which tells the charger to only draw power when excess solar energy is being produced.

These features are usually built into the smartphone app of that EV Charger and we've featured clear examples of that here with devices like the Wallbox Pulsar Plus. The reporting feature also helps you keep track of your monthly costs allowing you to have a better grasp on your budget.