Charging an EV when you live in an apartment or condo is not an easy task. The idea is that you buy your EV and from there on you can either install a charging station next to your parking spot (Best case) or you have to improvise

We selected some chargers that can adapt to any of these situations.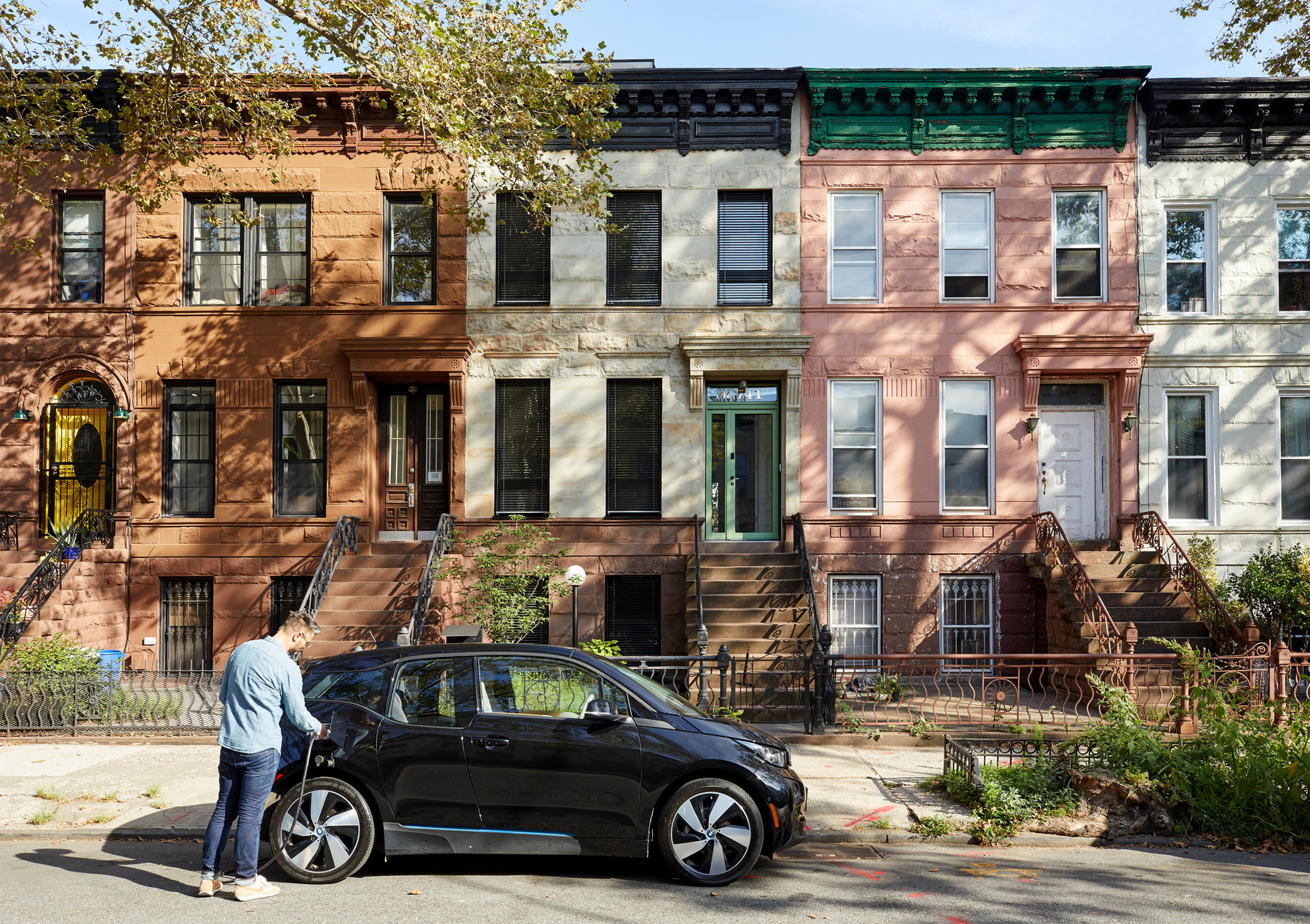 Let's have a look at each product in particular.
Wallbox Pulsar Plus – Level 2 EV Charging Station (40 Amp, 9.6 kW)
So the first thing you might want to do if you live in an apartment complex that doesn't have an EV charger is to install one next to your parking spot if possible and this obviously will differ wildly. If your parking spot is in an underground car park it might be easier to draw power from somewhere in the building or even better if you have a personal garage.
In both of these cases for this kind of situation we would recommend this Wallbox Pulsar Plus. This charging station comes in 2 versions, a 40-Amp device which can output 9.6 kW of power and a 48-Amp version which can deliver 11.5 kW of power. Now the 40-Amp on which we will be focusing here can be plugged into a 14-50 outlet so what you would have to do is install a 240V outlet which can provide the necessary power then mount the charger on the wall, plug it in and you're good to go.
In the case of the 48-Amp, you won't need an outlet because it can only be hardwired directly and we recommend you hardwire it to a 60-Amp circuit breaker in order to unlock its full potential.
The Wallbox is IP54 so it is weatherproof however we would recommended it more for a garage or underground car park but if that can't be done then you'll be happy to know it can sit outside without any problems.
This fast charging station comes with a host of smart features which start with WiFi and Bluetooth connectivity. You can connect to it via the Wallbox smartphone app and create custom charging schedules, get detailed reports on past charging sessions to keep track of your costs and also get real-time data on how the charging process is going.
But given that this is likely going to be in a shared parking area, one of the best features of this chargers is the ability to remotely lock it through the smartphone app. That way even if somebody else plugs it into their car, they won't be able to charge it, thus discouraging these kinds of attempts.
Grizzl-E Classic Charger – Level 2 EV Charging Station (16-40 Amp)
If your assigned parking spot is outside, then you'll need to install an electric vehicle charging station that is completely weatherproof and here is where the Grizzl-E Classic Charger comes in because it has an IP67 rating meaning that it can literally be immersed in water and it will still function afterwards. This is really important because for example in a place like New York, it is going to rain 120 days out of 365 in a year.
This EV charging station is a Level 2 charger that can deliver 40 amps of electrical current at a 240V voltage. This means it will output 9.6 kW of power, more than enough to fully charge a Tesla Model 3 overnight.
It comes with a 24 ft. charging cable that has a J1772 connector making it compatible with all EVs in North America including Tesla models with the use of the included adapter that is shipped with every Tesla car.
But it doesn't have any smart features or at least the Classic version doesn't. There's a smart version of this charger however the app is not very well polished but they did make the charger OCPP compliant so that you can connect to it through 3rd party apps that use this protocol.
You can also get a lock for the charger made by the manufacturer so that nobody can take it away.
PRIMECOM – Level 2 Portable EV Charger (32 Amp, 50 feet)
But what happens when you can't install a charging station next to your parking spot? That's where we start to get creative and consider actually charging at your apartment. First you need to get a 240V outlet installed in your apartment, either a NEMA 14-50, 10-50 or 6-50, either of these will do for this particular portable charger. Then after that you can plug in this portable charger from PRIMECOM which you can buy with a 50 ft cable.
I think you know where this is going at this point. It has been done before, you wouldn't be the first and it helps if you are at a lower level in the apartment complex and your electric car is parked close to the apartment. Just stretch the cable out of your window and into your EV's plug.
This is a 32-Amp portable charger that can deliver 6.7 kW of power which should be enough as well to fully charge your Tesla overnight. If you plug your EV in at 8 o'clock at night by morning at 8 it should be fully charged even if it has the larger 75 kWh battery pack.
It has no smart features, just an LCD display which tells you basic things like Amperage, Voltage, Charging rate, Unit Temperature and a charging timer. Now you can buy this with either a 30 ft, 40 ft or 50 ft cable and this is the reason we chose this one, especially because it has an unusually long charging cord. You only get a 1-Year warranty on this one but then again, 1 year is the standard for portable chargers.
MEGEAR – Level 1 Portable EV Charger (16 Amp)
Now finally, let's assume that you cannot install any charging station next to the parking spot and you resort to just stretching a cable out of your apartment or condo directly to the car BUT you also don't have time to install a 240V outlet so you want to use whatever you have and that's fine.
This is where the Megear Skysword Level 1 Charger comes into play. It is a portable charger that requires no installation and can be plugged into your typical 5-15 110V outlet. This is the cheapest way to charge your electric car because it costs under 200$ and you don't need to do any electrical work.
Of course this comes at the expense of charging speed because this charger will only deliver 1.92 kW of power so you can expect it to charge much slower. A standard Tesla Model 3 could take a full day to charge but then again you're likely not going to use its entire battery pack in one day.
There are no smart features either, just 4 indicating LED lights that tell you whether the charge is getting power from the grid, whether it is charging the EV or if there is a fault.
The charging cord is 25 ft long and you may ask yourself "Isn't that a bit short compared to the 50ft. Primecom charger?" and you'd be right. But if 25ft isn't long enough, you can always just buy an
extension cord
which will more than likely solve the issue even if you are a bit higher up in the apartment building.
So as you can see there are always charging solutions even if you live in multifamily housing, you don't always need to just rely on public charging networks to charge your car. Sure, these home charging stations are no match in terms of speed for the dc fast charging stations that you'll find in public spots but since you'll be charging your EV at night most likely, you won't be wasting any productive time.


How do you charge an EV in an apartment?
The first and best option is to have an outdoor charging station installed next to the car. The second best is to at least have an outlet that is close to the car so you can plug in a portable charger. The last and most complicated is to install a charging station or a 240V outlet for a portable charger in your home and then just stretch out a cable from your window to the car through the use of an extension cord.


How do you install an EV charger in an apartment?
There are a few options: The simplest option is to buy a Level 1 portable charger that doesn't need to be installed and which can plug directly into a typical household 5-15 110V outlet.

The problem with this is that the charger is slow, so you might want a Level 2 charger, case in which you'll need to install a 240V outlet, a 6-50 or 14-50 should cover most chargers. From then on you can either plug in a portable Level 2 charger into the outlet without mounting anything on the wall or you can go for a charging station which you'll need to actually mount on your wall somewhere.

Once you've figured out which option is preferable for you, then you need to make sure that the cable can stretch out all the way to the car. Either you can go for a charger with a very long cable or you can choose one with the standard 25ft cable and then buy an extra J1772 extension cord that will add another 25ft or so.