We researched and listed the best robot lawn mowers that have a coverage of up to 1/2 acres. So if your lawn or yard fits into that half acre range, you might want to have a look at these models

We compare them on everything from the way the cutting disc is mounted to what sensor and software features it offers and of course how much area they can cover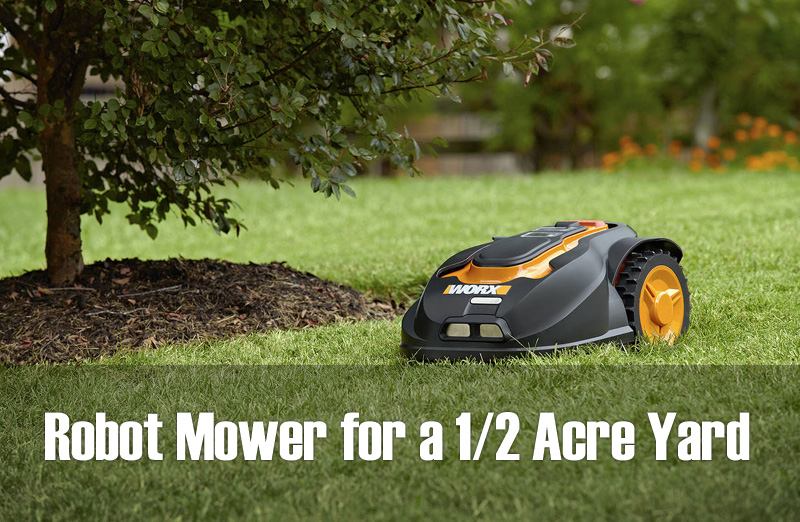 Let's have a look at each product in particular.
Worx WR150 Landroid L
The first robotic lawn mower that can easily cover 1/2 acres is the Worx WR150 Landroid L. Its coverage is exactly 1/2 Acres (2000 sq. m2), so if your lawn size fits this number, then you've found your device.
It's not just about the wide coverage, because this device uses a spinning disc with three rotating cutting blades that is situated right on the side of the mower so that it cuts right at the edge of the lawn and thus you don't need to use a trimmer very often as you would have to with the ones made by other manufacturers.
You can adjust the cutting height by manually turning the dial on the top of the robot mower from 1.9″ to 3.5″ (4.8 to 8.9 cm). As you can see, it is a great device to maintain a slightly taller grass. Even if your garden has slopes or maybe is situated on a hill, the mower can handle it because its engine allows it to climb hills with a slope of up to 20 (35 %).
In terms of battery life, this robotic mower fares great because it only has a 90 minute charging time and that will provide it with a running time of another 90 minutes. Whenever it runs out of battery, it simply follows the guide wire back to the charging station, recharges then heads back out to continue cutting grass.
There is a smartphone app that doubles as a remote control which you can download from the App Store or Google Play and it is called Worx Landroid. Through it, you can customize every aspect of the mowing process from telling it how big your lawn is, what species of grass you planted there, the type of soil, if you are using fertilizer for it to up its mowing frequency and you can use the app to set up multi-zones. Of course, you can set customized mowing schedules but there is an auto mode as well for starters.
It doesn't have GPS tracking nor a collision sensor, those are extras that you can attach afterwards.
Husqvarna 115H
| Product | Area covered | Cut height | Cut width | Max. Slope | Navigation Mode | Price |
| --- | --- | --- | --- | --- | --- | --- |
| Husqvarna 115H | 0.4 Acres (1600 sq. m2) | 2″ to 3.6″ (5 to 9 cm) | 8.7″ (22 cm) | 17 (30 %) | Boundary wire | Click for more info |
Another great option if you need a robotic lawn mower to mow a 1/2 acre lawn is the Husqvarna Automower 115H. While its coverage may not be exactly 0.5 Acres, it is very close because it has the ability to cover a garden or yard that has a lawn size of up to 0.4 Acres (1600 sq. m2).
It is also fully programmable through the Automower Connect smartphone app from which you can set the mowing schedule, adjust the cutting height from 2″ to 3.6″ (5 to 9 cm), remotely start, stop or pause it and check the status of the device. It can also integrate with Amazon Echo and Google Home smart devices, so you can just tell Alexa to start mowing your lawn.
It is a battery powered automatic lawn mower which has a charging time of 60 minutes and an identical run time of up to 60 minutes. The Automower uses a cutting disc with pivoting blades which has a cut width of 8.7″ (22 cm). It is also more silent than the Worx model because its noise level is rated at 59 Db.
So how does it know how to navigate within the boundaries of these 0.4 Acres? When you first install it, you'll be putting up a boundary wire all around your half acre lawn and it's just going to be mowing in random patterns while staying within that perimeter. You can find plenty of perimeter wire to cover 1/2 acres of lawn on Amazon made by 3rd party manufacturers, fully compatible with all automatic mower brands that costs much less.
In terms of anti-theft security features, there is a PIN Code and an Alarm system and in as safety features go, it is equipped with a lift sensor and a tilt sensor so that should you lift the device while it is running, it will immediately stop.
It doesn't have a GPS tracking system included and we haven't managed to find one on Amazon or eBay either so you can't retrofit it. The most that you can do is mount a 3rd party GPS tracker onto the device somewhere and use it via a separate app. This is actually a good idea because smart lawn mower manufacturers usually charge a lot more for these accessories.
Worx WR153E Landroid L1500
If you live in the UK, Ireland or in Europe then you may have noticed that your buying options are different than what you would get in North America. Case in point, the Worx models in Europe are completely separate from those in the US, so this is an autonomous mower that is available on Amazon in Europe.
It can cover an area of 1500 m2 (0.4 acres), so it almost covers that half acre lawn. It is very similar in most ways to the Landroid L which we featured here, the only differences being in terms of coverage, because it barely misses the 1/2 acre mark, in terms of cut height because it was designed to cut your grass shorter from 1.2″ to 2.4″ (3 to 6 cm) and in terms of noise level because the european model is a bit noisier, but it is only a 4 Db difference.
Included in the box you'll find: 1 x WR153E Robotic Mower, 1 x battery pack – 20V 4.0 Ah Lithium, 1 x charger power supply, 1 x charging base, 8 x nails to secure charging station, 9 blades and screws 270m Boundary wire, 2 x wire repair connectors 200 x pegs, 1 x Allen/hex key, 2 x measurement gauge and an Instruction manual.
Best robotic lawn mower for 1/4 acres (Quarter acre)
If your lawn is not as big, then you should go for a robot mower with a smaller coverage and the same features because you'll just save money in the process.
If you live in North America then these are your best options


Worx WR140 Landroid M – This is basically just like the Landroid L, only with a lower coverage of up to 0.25 Acres. Same smartphone app, interface and sensors.


Husqvarna Automower 310 – This is a powerful robot mower that can easily cover a quarter acre (1/4 acres), has the same features that you'll find on the 115H and has had great reviews by people who used it.


If you live in either the UK, Ireland or in Europe then this is your best option


Worx WR147E Landroid L1000 – Identical to the L1500, but with a quarter acre coverage (1/4 acres), slightly longer charging time of 90 minutes and just 180 meters of boundary wire included.