If you have a large lawn, or maybe run a company with large fields of grass that need to be mowed, then you should probably look for a professional robot lawn mower that you will save you the time of having to cut your own lawn, or the money to hire a professional lawn mower

We selected 3 models for you to choose from in our review and comparison table, each with their unique features and strengths: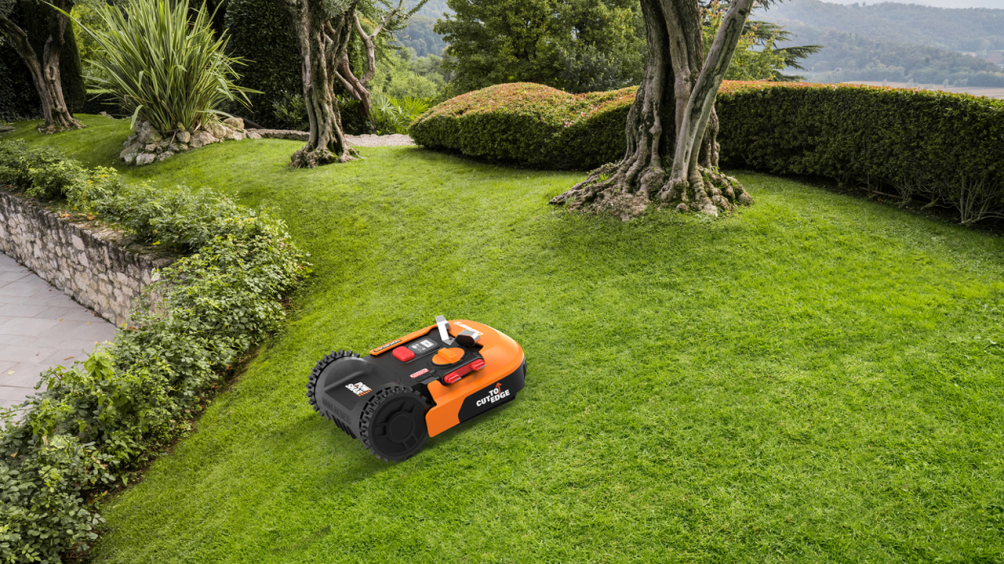 Let's have a look at each product in particular.
Husqvarna Automower 450XH
The first professional robot lawn mower it the Husqvarna Automower 450XH. This is the benchmark model in the automatic mower market with the highest coverage of up to 1.25 Acres (5000 sq. m2). No other similar device can get even close to covering this area.
You can adjust the cutting height directly from the Automower Connect app from 2″ to 3.5″ (5 to 9 cm) and its cutting disc has a 9.45″ (24 cm) cut width, the largest you can find. Another aspect that puts it up there as a professional mower is the fact that it can climb a slope of 24 degrees (45%) because it does have the most powerful engine you'll find.
It will spent about 60 minutes in the charging station to fully charge its battery but that will give you more than 270 minutes of run time, 180 minutes more than even the most competitive Worx model.
Another feature that sets it apart as a pro-grade robotic mower is the fact that it uses GPS not only for tracking but also to improve its navigation. In the Automower Connect app you can find out where the mower is at any given time, start it and stop it just like you would with a remote control, set the schedule for mowing and update its firmware.
The app is also tightly integrated with smart home devices such as the Amazon Echo and Google Home. It doesn't use a rain sensor, instead it connects to the Cloud and grabs the weather update from online services to find out if it is raining outside.
The Husqvarna is also silent with just a 60 Db noise level and for comparison, it is 10 Decibels lower than a vacuum cleaner, so twice as silent.
In terms of safety, it offers everything you would want from from GPS tracking to an alarm system and a programmable PIN Code. Then there are the safety features which include a tilt sensor and lift sensor for when you are interacting with the device and an ultrasonic sensor to avoid collision with other objects.
The manufacturer offers a 5-year warranty on this expert robot mower and in the package you'll find the following items: Mower Base Station, Power Supply, Extra Blades (9), User Manual.
Worx WR153 Landroid L GPS
The second professional robotic lawn mower we'll be looking at in our review is the Worx WR153 Landroid L GPS. It can cover a lawn size of up to 1/2 Acres (2000 sq. m2).
This battery powered smart lawn mower has a running time of 90 minutes and it takes just the same to charge it. You need to know that both this and the 450XH go back to their station to recharge and when they are done, they head back out to mow grass. So that is why battery life and and charging time are important but not critical factors.
The main advantage of this pro mower is that it has the cutting disc mounted on the side so that it is cutting grass always right up to the edge, so you don't need to use the trimmer very often.
It is programmable much in the same way as the previous device, with a few differences: First of all the app has a different layout and features, but mostly the same functionality. The cut height can be adjusted manually from a knob that sits on the top of this autonomous lawn mower. It also has a better User interface and it is more simple to use.
It has mostly the same security features, an alarm and a PIN Code for anti-theft with a GPS tracking module included called "Find my Landroid" and safety features such as quick stopping blades, a lift and tilt sensor. The collision sensor is optional too. There is a rain sensor and when it detects rain, it goes back to the charging station and waits.
Its warranty is shorter because Worx only offers 3 years of warranty on their automatic lawn mowers.
Here is what you get in the package when you buy this semiprofessional lawn mower: (1) – Landroid L Robotic Lawn Mower (1) Landroid L Charging Base and Charging Cable (1) – Hex Key (9) – Cutting Blades (9) – Screws (2) – Landroid Plugs (1) – Power Adapter (1) – Boundary Wire Distance Gauge (1) – 850ft Perimeter Wire Bundle (8) – Base Ground Screws (270) – Wire Ground Pins (2) – Measuring Tools (1) – Find My Landroid Cellular GPS Module (1) – 20V MaxLithium 4.0Ah Battery
Worx WR153E Landroid L1500
The reason we included the Worx WR153E Landroid L1500 as a professional robot lawn mower is because it is one of the best models you can buy in Europe and the UK. The company produces different models for Europe and North America.
It was designed to do lawn care on a yard with a surface of up to 1500 m2 (0.4 acres). You can adjust the cut height from 1.2″ to 2.4″ (3 to 6 cm), so it can cut the grass a bit shorter than the US models and its disc with 3-pivoting razor blades has a cut width of 7″ (18 cm).
It is a bit noisier than the US models at 67 Db compared to 64 Db, but still more silent than a vacuum cleaner. The rest remains mostly the same.
In the package you'll find the following: 1 x WR153E Robotic Mower 1 x battery pack – 20V 4.0 Ah Lithium 1 x charger power supply 1 x charging base 8 x nails to secure charging station 9 blades and screws 270m Boundary wire 2 x wire repair connectors 200 x pegs 1 x Allen/hex key 2 x measurement gauge Instruction manual.
Which professional robot lawn mower to buy?
For extra large lawns, the Husqvarna Automower 450XH is the best pro robotic mower to buy. If you have a smaller lawn, then the Worx WR153 Landroid L GPS is a great option.

If you live in Europe, then your best options are either the Husqvarna or the Worx WR153E Landroid L1500.