By this point you are probably looking for a robot lawn mower, but it is hard to understand which one is right for you, given it is a new technology

We selected the 4 top rated robotic lawn mowers, rated by people who actually bought them, used them and then shared their opinion and experience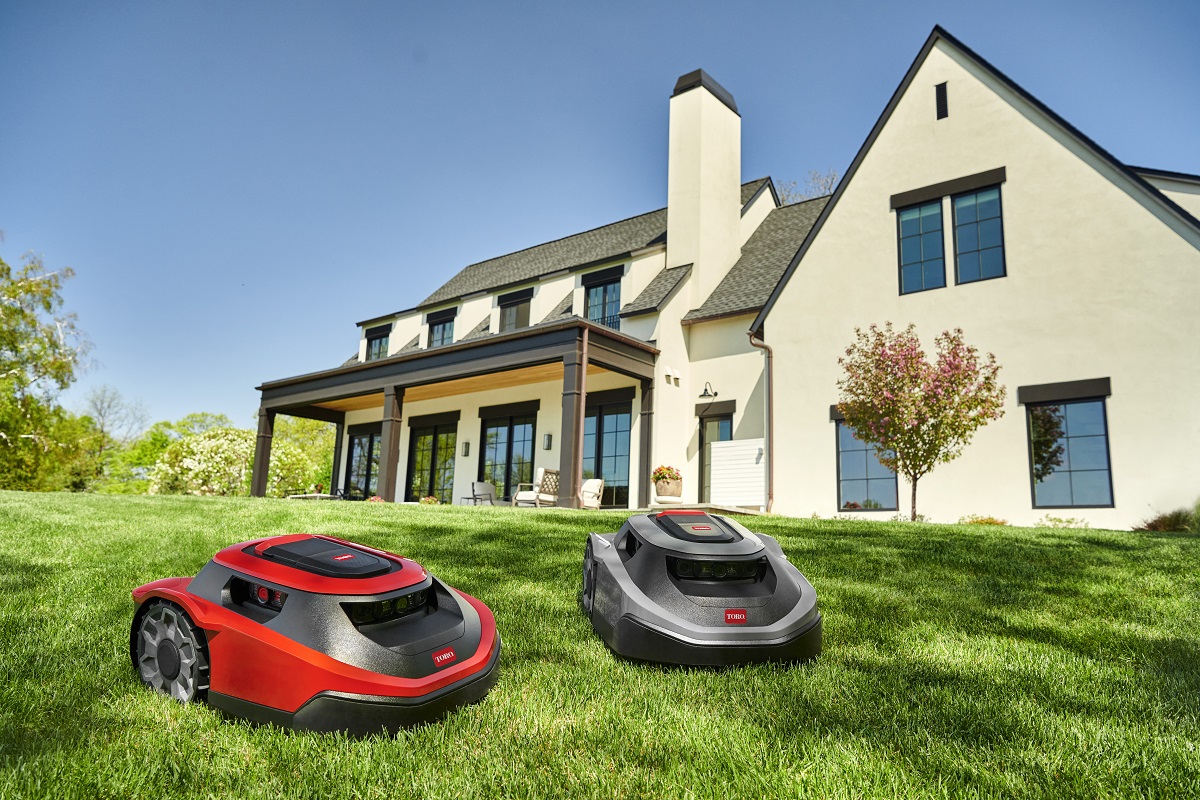 Let's have a look at each product in particular.
Worx WR150 Landroid L
One of the top rated robot lawn mowers on the market is the Worx WR150 Landroid L. Now the Worx product family has received a 4.1 out of 5 rating on Amazon from customers which for this field is very high indeed. Expectations are usually very high and since the technology is new, it does have mishaps.
This particular model will cover a lawn size of up to 1/2 Acres (2000 sq. m2). It is equipped with a tool battery that provides a run time of 90 minutes to cover that entire area and when it runs out, it just heads back to the charging station, no intervention required. It also takes 90 minutes to charge itself.
This model can be controlled via the Worx Landroid smartphone app which is available on the Play Store and App store. On the Play Store it has a 2.9 rating from about 2600+ reviews, so there is some work to be done, but the others don't fare much better either. The app lets you set the size of your lawn, the type of grass and soil and it allows you to set custom mowing schedules. It is also fully compatible with Amazon Echo (Alexa) and Google Home and might be compatible with other smart home devices.
In terms of technology, it comes with a lift sensor and a tilt sensor as safety features and the device has a rain sensor which stops it from mowing when it is pouring outside so as not to damage the grass. There are 2 extra optionals which you might be interested in: "Find My Landroid" which puts a GPS tracking device on the mower and the Collision Sensor. In terms of safety features, it has an alarm, a lock system and a PIN Code.
You can adjust the cutting height from 1.9″ to 3.5″ (4.8 to 8.9 cm) and its cutting width is fixed at 9″ (22 cm). Luckily the cutting disc is mounted on the side for better trimming of edges. It's not perfect but certainly much better than what the other models with a central cutting disc can achieve.
Here is what you get in the package: (1) – Landroid L Robotic Lawn Mower (1) Landroid L Charging Base and Charging Cable (1) – Hex Key (9) – Cutting Blades (9) – Screws (2) – Landroid Plugs (1) – Power Adapter (1) – Boundary Wire Distance Gauge (1) – 820ft Perimeter Wire Bundle (8) – Base Ground Screws (270) – Wire Ground Pins (2) – Measuring Tools (1) – 20V MaxLithium 4.0Ah Battery.
Husqvarna Automower 450XH
The Husqvarna Automower 450XH is our second top rated robot lawn mower. Now this is a much more expensive model, so not that many people can afford to purchase it, but from amongst the ones who could, it received great reviews because it has a 4.3 rating on Amazon which should comfortably put it in the top 5 best rated robotic lawn mowers of all time.
1.25 Acres (5000 sq. m2), that's how much coverage this robot mower is capable of. You can adjust the cutting height from 2″ to 3.5″ (5 to 9 cm) and its cut height is fixed at 9.45″ (24 cm). It was also designed to climb very steep slopes at up to 24 degrees (45 %).
This one uses a smartphone app as well, the Automower Connect app to be more specific. It has the best ratings out of all the smartphone apps for mowers with a 3.5 customer rating from 1800+ votes on the Play Store.
The battery life of the Husqvarna Automower 450XH is extremely long with a running time of up to 270 minutes and the charging time is just 60 minutes. It is also surprisingly silent for such a powerful robotic mower with a noise level of just 60 Db.
It also has many safety and security features like an Alarm system, a PIN Code, GPS Tracking so you can find your mower anywhere in the world, a tilt sensor, a lift sensor and an ultrasonic sensor to avoid collisions. It is worth pointing out that it is one of the few robotic mowers that use GPS not just for tracking but for navigation too.
This particular autonomous mower comes with 5 years of warranty.
Flymo Easilife 200
If you live in the UK, Ireland or in Europe, you'll notice that the Flymo Easilife 200 is one of the top rated robotic lawn mowers that you can buy. These models are only available on the european continent. The Easilife 200 has the best reviews of any mower here with a 4.5 rating from 743 reviews. Customer ratings don't make it the best in terms of specs but it does mean that it delivers on every promise.
Of course, it is designed for a lower coverage of up to 200 m2 with a cut height between 0.7″ and 2″ (2 to 5 cm) and a fixed cut width of 6″ (16 cm). So it is not as powerful as the husqvarna but it can still climb a high slope of up to 20 degrees (35 %).
It is battery powered, just like the others and once it is fully charged after 60 minutes it can achieve an autonomy of 65 minutes. You can program it from your smartphone using the app that Flymo created. Its rating on Google Play is not really on par with the device's with just 2.6 / 5. Apparently not many people are using the app.
The Easilife 200 is also one of the most silent automatic lawn mowers ever made with a noise level of just 58 Decibels, much more silent than a vacuum cleaner.
There are also several intelligent features like PassageSense which helps the device navigate tight spaces and paths. It has something called FrostSense which is basically a feature that doesn't let it mow the lawn when it is too cold outside and LawnSense which adapts its schedule to the rate at which the grass in your garden or yard is growing.
In the package you get: Flymo EasiLife 200 Charging Station + Lawn screws, Waterproof Power Supply + Low Voltage Cable 100 Metres of Loop Wire, 150 Staples for the Loop Wire, Connectors for the Loop Wire and a User Manual.
It is also worth noting that this particular model has the shortest warranty here of only two years.
Worx WR130E Landroid S300
If we are looking for the top rated robot lawn mowers in the UK and Europe, then we also need to mention the Worx WR130E Landroid S300. It is basically the european version of the US model with a lower coverage of up to 300 m2, a lower adjustable cutting height from 0.7″ to 2″ (2 to 5 cm) and a lower battery life of just 60 minutes.
But apart from that, the smartphone app is the same, the sensors remain the same and the entire navigation system is identical.
Which top rated robotic lawn mower to buy?
If you need the best robot lawn mower then the Husqvarna Automower 450XH is your choice. However, it is very expensive so depending on where you live and your lawn size, either of the top robotic lawn mowers that we listed here is going to perform the job brilliantly.