This is our selection of the 4 Best Tesla Model Y Home Chargers. We'll be reviewing every aspect from how fast they can each charge the Model Y's 75kWh battery pack to the features they have and what kind of outlets these non-tesla home chargers need.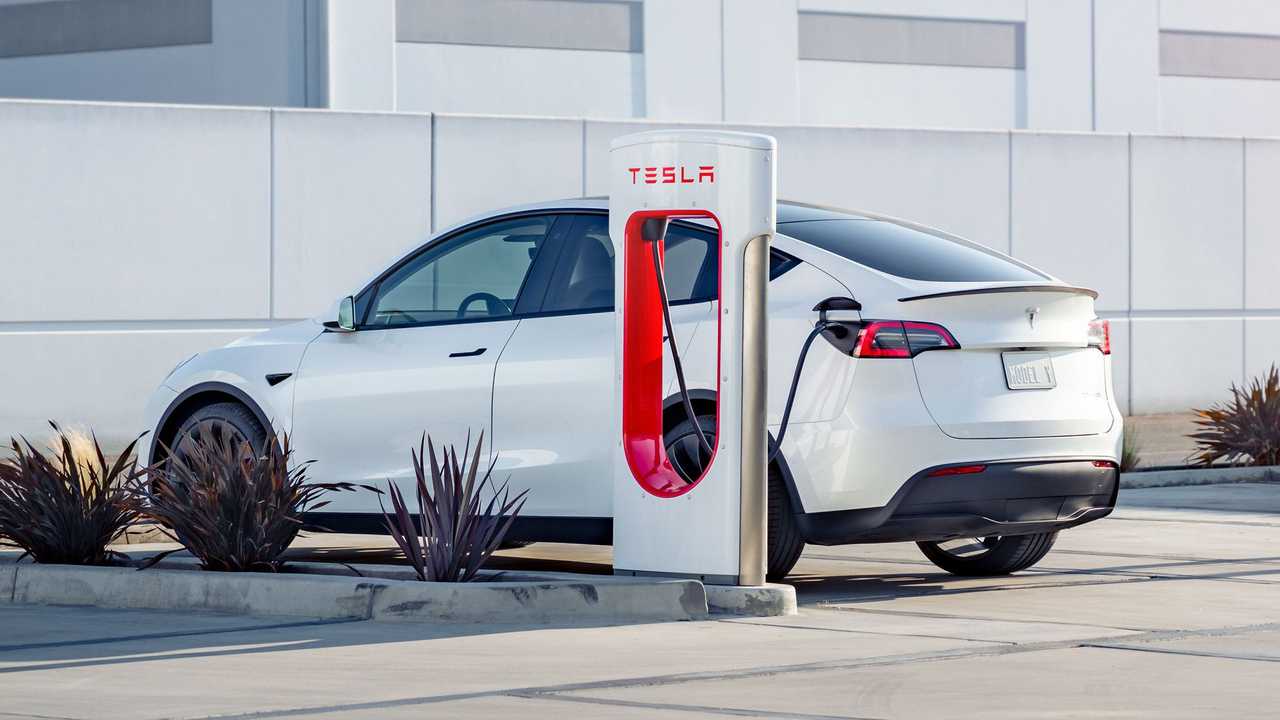 Let's have a look at each product in particular.
ChargePoint Home Flex – Level 2 EV Charging Station (16-50 Amp)
The first Tesla Model Y Home Charger and our main choice in general is the ChargePoint Home Flex EV Charger. Now one of the things that makes this specific Level 2 charger suitable for charging your Model Y is the fact that it can output up to 50 Amps of electrical current and up to 12 kW of power.
The Model Y has a large 75kWh battery pack and so you need a powerful charger in order to fully charge it overnight. Our estimations say that it should take 7 to 8 hours to get it from 1% to 100% and in fact the ChargePoint in terms of an AC charger can provide the most miles of range per hour of charge out of the devices that you would find on Amazon.
You can plug it into a 14-50 or a 6-50 outlet but if you want to take advantage of its maximum power and unlock that fast charging speed, you need to hardwire it to a 60 Amp circuit breaker. It comes with a 23 ft long cable which uses a J1772 connector to plug into your Tesla's charge port. Now even though the Model Y uses a proprietary charge port, it does come with a J1772 charging adapter when you purchase the electric vehicle.
This is a smart EV charger equipped with a wifi connection which means you can use your smartphone to connect to it. You just need to download the ChargePoint app which you might already have on your phone since it helps you find public charging stations from a network of over 170,000 spots around the world.
It offers real-time info on the charging process, it allows you set a custom schedule for each day of the week when you want the charger to start or stop but also offers voice control which allows you to ask more complex questions like "How much have I spent on charging my EV this month?". These kinds of features are not just gimmicks and actually put you in control of your expenses and the EV charging process.
It is NEMA 3R rated making it more suitable towards indoor installation rather than outdoor and ChargePoint will back it up with a 3-Year warranty.
ENEL X JuiceBox 40 – Level 2 EV Charging Station (40 Amp)
Our next Home EV Charger for the Tesla Model Y is the Enel X JuiceBox 40. This comes in 2 flavours, a 32-Amp version which can output 7.7 kW and a 40-Amp version which can output 10 kW. Both of them need to be plugged into a 14-50 outlet or can be hardwired. The Tesla Model Y has a 11kW on-board charger so both of these fit well within the power range that the charger can take. The JuiceBox comes with a 25 ft charging cable which uses a J1772 connector at the other end, so you'll be connecting it to your Tesla using the included adapter that comes with all Tesla cars.
Now let's look at some estimations of charging times: The 32-Amp is estimated to take about 11 hours to charge a 75 kWh Tesla Model Y while the 40-Amp should take about 9 hours so rest assured that both will charge your Model Y's entire battery pack overnight. If you get home at 8, plug in and then leave at 8 the next morning, it will be fully charged.
You'll also find plenty of smart features on this one because it is a wifi enabled charger. By using the Juicenet smartphone app, you'll be able to connect to it and then get live data on the charging rate and charging status together with the ability to set customized charging schedules and also look at all your past charging sessions. There's even a cool metric that tells you the amount of CO2 that you've saved since you started using this home charging station.
The charger is also capable of power sharing, so if you connect two of these to the same circuit, they will distribute power amongst them so that the circuit doesn't get overloaded. It is also NEMA 4X rated which you can think of as an IP66 equivalent making the charger suitable for the indoors and outdoors. and the charger itself comes with a 3-Year warranty.
Wallbox Pulsar Plus – Level 2 EV Charging Station (48 Amp, 11 kW)
Then we have the Wallbox Pulsar Plus, another great option as a Home Charging Station for Tesla Model Y. This unit comes in 2 versions, a 40-Amp charger which can output 9.6 kW of power and this 48-amp unit which can output up to 11.5 kW. Now both will do very well with the charging process on your Tesla Model Y because it should take about 9 hours for the 40-Amp unit and 7 to 8 hours for the 48-Amp unit to charge your Tesla. As a Tesla owner, you should know that the 48-Amp version basically provides as much power as the Tesla Wall Connector.
One of the things that make the Wallbox stand out besides its ability to do power sharing just like the Juicebox is its solar excess feature. The idea is that if you have a Tesla Model Y and a solar roof, you can basically tell the charger to only charge the EV when the roof is producing excess solar energy. It also allows you to set a ratio between the two, giving you control over how much power you want from the grid and how much from solar.
Of course, it comes with a WiFi and a Bluetooth connection, there's the Wallbox smartphone app that lets you check on the charger's status, find out how much energy your EV is using on a daily basis and set charging schedules. There is voice control through Alexa and Google Assistant, so you pretty much get anything that you could wish for from a Tesla vehicle charger.
The Wallbox is also suited for outdoor installation since it is IP54 rated and comes with a 3-Year warranty. The cable length for this electric car charger is about the same as the others, 25 feet.
Mustart – Level 2 Portable EV Charger (40 Amp)
The Mustart Level 2 Portable is our last choice for the best Tesla Model Y Home Charger and that is because it is portable, so you don't need to have the EV charger installed by a licensed electrician like you would with an electric vehicle charging station, you just plug it in and charge, plus you can take it with you anywhere you want because it only weighs 6.3 kg.
The charger is composed of a control box which is IP65 rated and a 25-foot charge cord with a J1772 connector. It can output up to 40 Amps of electrical current at a 9.6 kW rate so it is on par with the 40-Amp Wallbox which can fully charge the Tesla Model Y in about 9 hours. The Mustart comes with a 2-Year warranty.
These are our 4 chargers for the Tesla Model Y. The idea behind this list was no matter which one you choose, you'd get a great product. Check out our other articles for more EV Charging guides.