We selected 4 EV Chargers that will be perfect for when your Ford F150 Lightning arrives. We wanted to find chargers that are fast, tough but also offer smart features.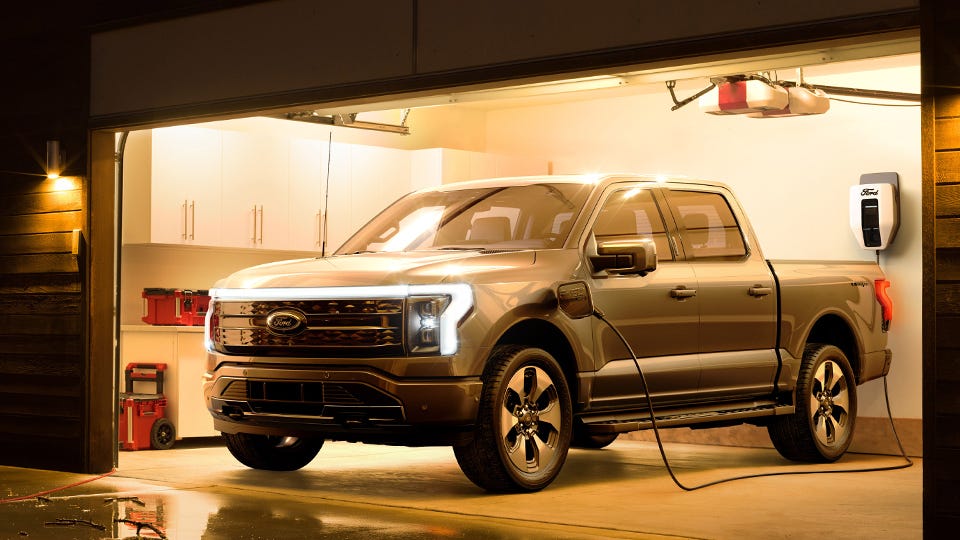 Let's have a look at each product in particular.
ChargePoint Home Flex – Level 2 EV Charging Station (16-50 Amp)
Let's look at the first Ford F150 Home EV Charger which is the ChargePoint Home Flex. If the Ford F150 is the best-selling pick-up truck in the world, then its match would the this charger.
The ChargePoint can output up to 50 Amps of electrical current and 12 kW of power. You can plug it into a NEMA 14-50 or a NEMA 6-50 outlet. Now it is important to know that the standard range F-150 has an 11.3 kWh on-board charger which means that it will max out at this value, so if you drive the standard-range battery version there is no point in getting a faster charger than this one. The extended-range battery F-150 is has a 19.2 kWh on-board charger which means that it can take larger amounts of power.
Either way, let's assume you'll be using the ChargePoint, how long will it take to charge the thing? The standard F-150 lightning electric comes with a 98 kWh battery pack. Now it would take this particular charger running at 48 Amps about 10 hours to fully charge it from 1% to 100% which means if you plug in when you go to sleep, by the time you go to work you'll have it fully charged.
But what about the extended-range? That one has a 131kW battery pack and should take about 13 hours to charge. So if you plug it in when you get home at about 8 in the evening, by the time you leave for work you'll have it fully charged. Regardless which version of the Ford Lightning you drive, this charger will do the job and get it fully prepped for you the next day.
This charger is fully compatible with the F-150's charge port because it uses a 23 ft long charging cable with a J1772 connector to charge the Ford F-150.
This is a smart wifi-enabled EV charger, so you can connect to it using the ChargePoint app on your smartphone and remote control it, start it or stop it whenever you want and even communicate to it by using your voice. You can ask it more complex questions like "How much have I spent on charging my EV this month?". Not only that but you can detailed reports of all the times you charged your F-150 and how much you spent and the time it took.
The Chargepoint app is also the same one that you can use to access their public charging network with an estimated 170,000 public charge stations.
The ChargePoint is only NEMA 3R rated so it is fair to say it doesn't match the f-150 lightning's toughness and this is why this charger is better suited for indoor installation. It does come with a 3-Year warranty which is also backed up by 24/7 customer support.
Wallbox Pulsar Plus – Level 2 EV Charging Station (48 Amp, 11 kW)
The next Ford F-150 Lightning Home Charger we'll be looking at is the Wallbox Pulsar Plus. This particular home charging station comes in 2 versions, a 40-Amp and a 48-Amp but we'll be focusing on the 48-Amp here because it can match the Ford's on-board charging power.
It can output 48 Amps of electrical current and up to 11.5 kW. It doesn't come with a NEMA wall connector, instead you can only hardwire it, which makes perfect sense since on a 14-50 outlet it can only reach 40 Amps because of the 20% rule. So in order to take advantage of its full power, it is best you hook it to a 60-Amp circuit breaker.
The charging times for this model are virtually the same as the ChargePoint because they can output an almost identical amount of power, so regardless of which one you decide to buy, you can be sure that both will get your electric pickup truck charged overnight.
The Wallbox has 2 special features, the first one being the ability to do power sharing which means if you have 2 of these hooked to the same circuit, then they'll communicate with each other and split the available power amongst them so they don't overload it. The other feature works if you have solar panels mounted on your roof because you can tell it to only charge your electric F-150 when there is excess power being produced by them or set a ratio of grid-to-solar energy that fits your preference.
There's also the Wallbox smartphone app which is similar to the one you get on the ChargePoint with the same kind of functionality, real-time data and past charging logs to show you how much you're spending on your electric car plus voice control.
Now the Wallbox is much better suited for outdoor installation than the ChargePoint because it is IP54-rated, meaning that it is waterproof. It too comes with a 3-Year warranty. The charge cord is 25 ft long and it uses a J1772 connector.
Grizzl-E Classic Charger – Level 2 EV Charging Station (16-40 Amp)
The Grizzl-E is the next Ford F-150 EV Home charger which we'll be looking at and if there is one charger that can best represent the F-150's toughness, resilience and ease of use it is this one.
This is a no fuss, no smart features charger which focuses on a key aspect: toughness and durability. This device is IP67 rated meaning it is waterproof to the extent that you can immerse it in water and it will still continue to work perfectly after that. So if you have to install your charger outside in the freezing winter or rainy march then this is your charger.
It is a 40-Amp charger which will output up to 9.6 kW and can be plugged into a NEMA 14-50 or 6-50 outlet or just hardwired directly to the circuit. This means it's not as powerful as the other ones, however it will charge the standard version in about 11.5 hours and the extended-range in about 15 hours. So you just need to plug in when you get home and in the morning you will have more than enough miles of range to get where you want to go.
There are multiple versions of this ford F-150 lightning charging station. The one we presented here is the Classic edition which has no smart features. There's also the Grizzl-E Duo which is perfectly suited for when you want to charge two of these electric trucks since it comes with two charging cables attached to it.
Then there is the Grizzl-E smart which does have smart features like Wifi connectivity. On one hand it comes with a really poorly designed smartphone app which needs to be updated but on the other hand it is OCPP-compliant which other chargers are not. This means you can basically use it with any app that uses this specific protocol. This is highly encouraged since it can lead to a better user experience overall. All of these editions come with a 3-Year warranty.
Mustart – Level 2 Portable EV Charger (40 Amp)
The final F-150 charger we'll be looking at is the Mustart Level 2 Portable. The reason we chose this is because while the previous charging stations have to be installed, you only need to plug this one into a 240V 14-50 or 6-50 outlet and you're done. You can take it wherever you need to go with you, it only weighs 6.3kg.
It can deliver 40 Amps of current and 9.60 kW of power, so you will essentially get the same charging speed as with the Grizzl-E. And just like it, there are no smart features, just an LCD showing you the charging status and some basic info together with a button to cycle through the Amps and one to set a charging timer delay.
The control box is IP65 rated, the cable is about 25 feet long and it comes with a 2-Year warranty.