We selected what we would consider to be the best Home EV Chargers that you can buy in Canada. These are all available not only on Amazon but on other online stores and are fully compatible with the J1772 plugs which are used in North America.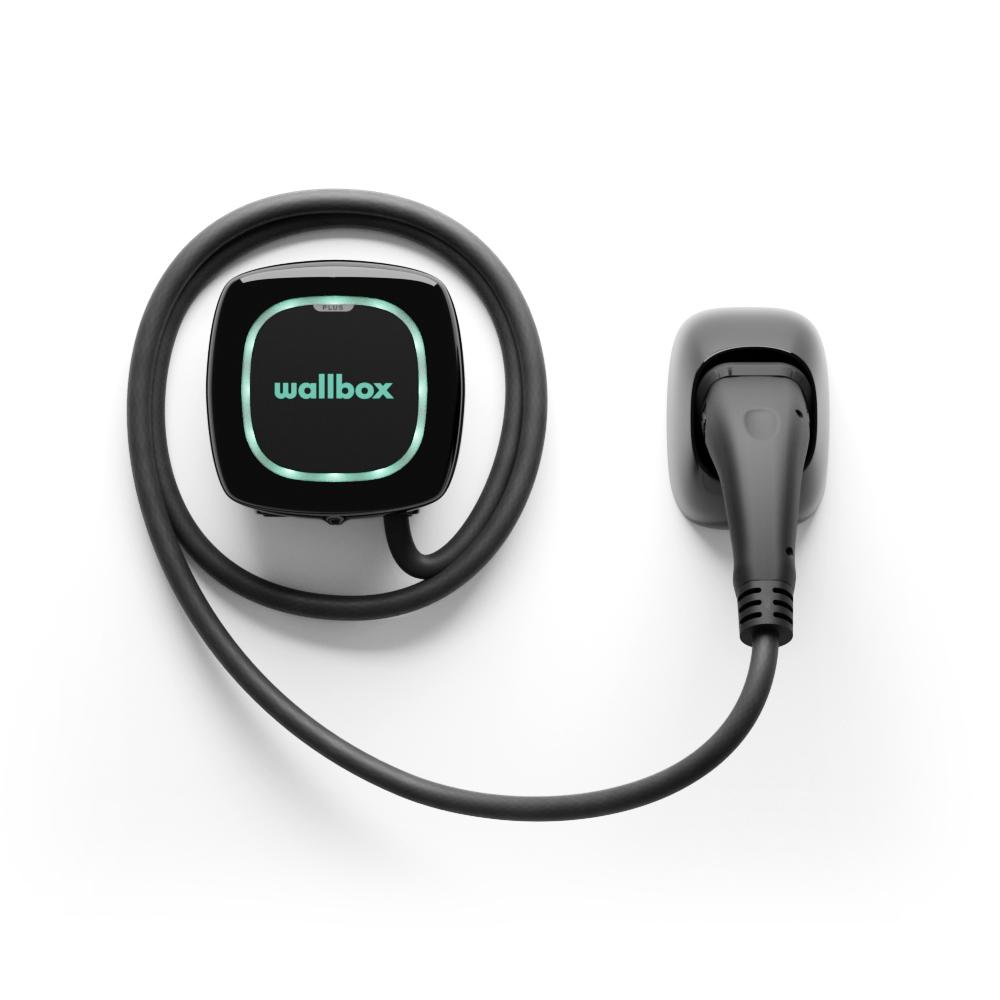 Let's have a look at each product in particular.
ChargePoint Home Flex – Level 2 EV Charging Station (16-50 Amp)
The first and in our humble opinion probably Best Home EV Charger available in Canada is the ChargePoint Home Flex. You'll find this charger on Amazon Canada To be honest, this is not just specific to Canada but the entire US because the ChargePoint is the best selling one on the market.
And there are good reasons for this because it is a 50 Amp Level 2 EV Charger that can output up to 12 kW. This is the fastest any AC home charger will get and so if you're looking to maximize the amount of miles of range per hour of charge, then this is your device.
You can plug this wall charger into a 14-50 or 6-50 household outlet but that will only get it working at 40 Amps. If you want the full 50 Amps, you need to ditch the wall connector and hardwire it directly to a 60-Amp circuit breaker (This is because of the 20% rule).
There's a 23 ft. charge cord which should be enough to fit most situations and the built-in cable has an SAE J1772 connector at the other end so you can be sure it charges any EV that is sold in Canada. The J1772 standard is adopted by both the United States and Canada. The only EVs that don't use it are Tesla vehicles but they just come with a J1772 adapter so you won't have any problems.
This is a wifi connected charger so you can sync it with the ChargePoint app which you might already be familiar with since you can use it to find one of the more than 174,000 public charge stations that it has in its network, not just in Canada but the entire world. Now in Canada, they have great coverage in all provinces and territories.
The app allows you to remotely start or stop your charger, set a charging schedule for each day so that you only use energy when it is cheap (off-peak hours). Not only that but it does have voice integration and you can apart from the start / stop gimmick you can ask it logical questions like "How much have I spent this month on charging my EV?".
The Chargepoint home flex ev charger is only NEMA 3R rated and so given the canadian weather we would recommend indoor installation, but it is backed up by a 3-year warranty and 24/7 customer support.
Grizzl-E Classic Charger – Level 2 EV Charging Station (16-40 Amp)
Now if you live in the cities of Canada where it rains a lot like Vancouver or Halifax, then you're going to want the Grizzl-E Classic Charger, one that was made for any weather extremes that Canada can throw at it.
One of the reasons that this is a perfect Home EV Charger to get if you live in Canada is because it is IP67 rated, which means it will withstand infinite amounts of rain, snow and extreme cold. Nothing can disturb its charging process. The enclosure is built so that it can be immersed in water for up to 30 minutes and it will still continue to function afterwards. So if you are going to be charging your car outside, the Grizzl-E is a solid choice.
You can plug this home EV charger into a 14-50 or 6-50 outlet or just hardwire it directly. It can output between 16 and 40 Amps of electrical current and up to 9.6 kW of power which should be more than enough to charge any EV with an 80 kWh battery pack overnight, so as an EV owner you don't get range anxiety. The cable is long enough too because it stretches out to be 24 feet long.
There are 3 versions of this charger, the Classic which we're reviewing today, the Grizzl-E Duo which is basically the same but has 2 charging cables so that you can plug in more than one EV and a Smart version which is a wifi enabled charger and is OCPP-compliant, meaning that you can connect to it using any smartphone app built on that protocol.
This provides many potential opportunities in contrast to the ChargePoint and the Wallbox which are limited to their proprietary app, however the one on the Grizzl-E provided with the charger is greatly inferior in terms of functionality to what you get with the others. The Grizzl-E comes with a 3-Year warranty.
Wallbox Pulsar Plus – Level 2 EV Charging Station (48 Amp, 11 kW)
Another one of the best Home EV Chargers that you can buy in Canada is the Wallbox Pulsar Plus. It too has a high IP Rating, though certainly not as high as the Grizzl-E because this is IP54. But even if you live in the rainiest or snowiest of regions in Canada, you'll be happy to know that it can withstand both rain and snow.
The Wallbox comes in 2 distinct versions, one which can output 40 Amps and 9.6 kW of power and can be plugged into a 14-50 outlet. There is also this one which can output 48 Amps of current and up to 11.5 kW of power. Now regardless of which one you choose you're most certainly going to charge your EV overnight even if it is equipped with a larger 80 kW battery pack. It comes with a 25-foot cable which uses a J1772 connector making it fully compatible with all EVs sold in Canada.
There are 2 special features on this smart EV Charger and the first one is power sharing, the one which allows for two of these devices which are connected to the same circuit not to overload it and distribute power accordingly. This is important because if they didn't the fuse would blow each time you started them. The second is the solar excess usage which allows the charger to only use your home electricity when there is an excess of solar energy being produced by the solar panels on your roof.
In addition to these, this home electric vehicle charging station is equipped with Wifi and Bluetooth connectivity which allows you to connect to it via the Wallbox smartphone app and get real-time data on charging, set charging schedules and also read detailed reports on each charging session so you can better keep track of your home's energy bill. The Wallbox comes with a 3-Year warranty.
Morec – Level 2 Portable EV Charger (40 Amp)
The Morec Level 2 Portable is one of the best-selling Home EV Chargers in Canada and thus it made our list. This is a portable charger which doesn't need to be installed, you just plug it into a 14-50 outlet, hook it up to your car and you're good to go. It can output 40 Amps of current and up to 8.8 kW of power, more than enough juice to charge your EV overnight.
Even though you don't need to have the device permanently installed like the previous home EV charging solutions, you still have to get a 240V outlet and have a 50 Amp fuse installed on your electrical panel.
The cable length is 26 feet (7.9 meters) and the cord itself is equipped with a J1772 connector. You won't find any smart features on this one because none of the portable chargers have that, but you do get an LCD display that shows you some basic charging info like Amperage, voltage, the charging status or a charging timer.
The control box is IP66 rated which should easily allow you to charge your electric car in the raing and the device is backed up by a 1-Year warranty.