The Blink HQ 200 represents a major improvement over the older Blink HQ 150 in almost every way. It provides fast charging speeds, a cable that is long enough and now it also provides smart features.

PROS: Fast charging speeds, Smartphone app, Long Cable.

CONS: Short warranty, Low weatherproof rating.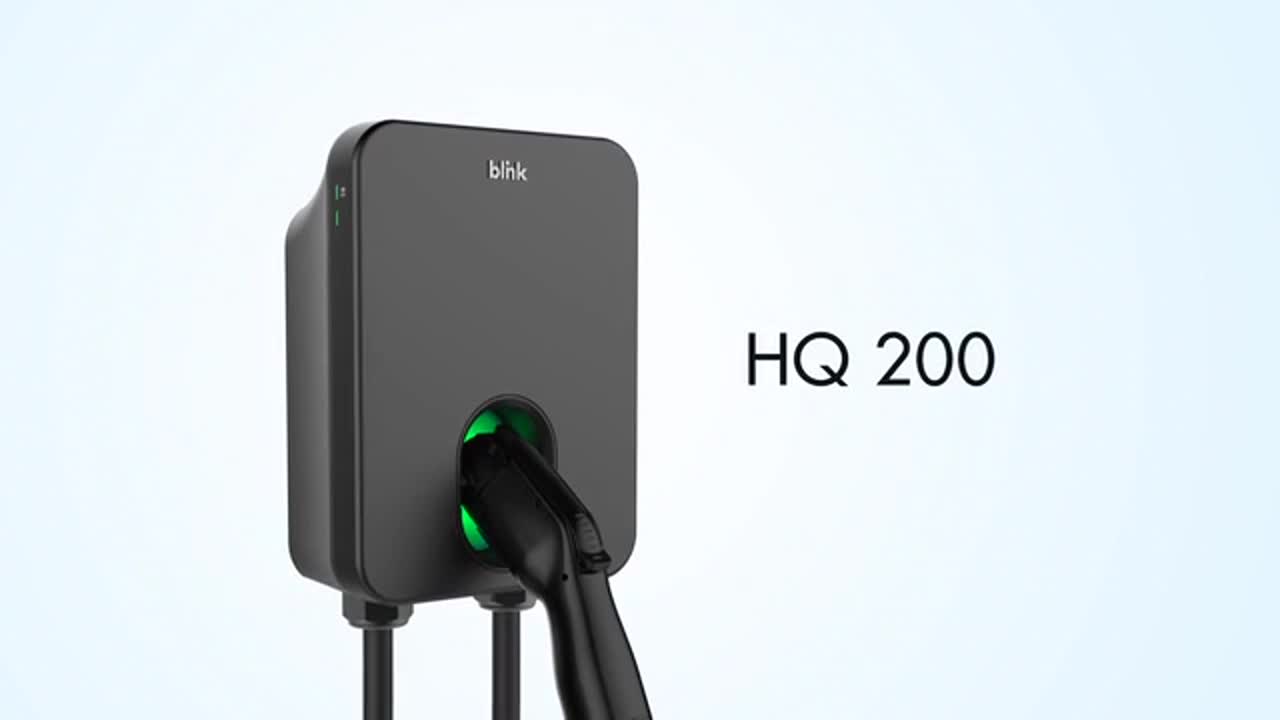 Blink HQ200 – EV Charging Station Specifications
| | |
| --- | --- |
| Amp rating | 50 Amp |
| Level | Level 2 |
| Type | EV Charging Station |
| Cable Length | 23 feet |
| Nema | NEMA 14-50P |
| Power | 12 kW |
| Voltage | 240V |
| Connector | Type 1 (J1772) |
| Connectivity | Yes (Wifi 802.11 b/g/n/ac 2.4 Ghz / 5 Ghz) |
| IP Rating | NEMA 3R (IP14 equivalent) |
| Display | LED indicator light |
| Warranty | 1-Year |
| Features | |
| What's in the box | |
| Weight | 20.94 lbs (Just the Charging Station) |
Blink HQ200 – EV Charging Station Charging specifications
In 2022, Blink decided that they would update their highly popular EV charger and came up with the Bling HQ 200. The idea would be to address certain weaknesses that the old model had and create a new product which can compete with the likes of ChargePoint and Wallbox on the same level.
First of all it has a new charging module which is capable of outputting anywhere from 12 to 50 Amps of current. The old model could only go up to 32 Amps. this means a power rating of up to 12 kW, more than enough to charge any electric vehicle overnight, including longer range models.
Blink HQ200 – EV Charging Station Cable types and connectors
This home charging station comes with a 23-foot long cable, more than enough to cover any situation. Even if the charger is mounted inside your garage and your vehicle is in front of it, you'll still be able to easily stretch it out. Now one thing one could complain about is the fact that the holster is on the front of the device and not the side because most of these will be installed inside a garage and usually garages are a tight space so you really don't want to be wasting any of it by having the charging connector stick out.
Now when it comes to connecting the device to your home circuit, here you have two options: The first one is to use the NEMA 14-50P connector that it comes with, but that will limit you to 40 Amps, however if you hardwire it and use a 60-Amp fuse for that circuit, you can max out its power. It's not hard to install it, you just have to take the cover off to get to the mounting plate, drill a few holes into the wall, screw in the mounting plate and hang the device onto it.
The end of the charge cable which plugs into your EV uses an SAE J1772 connector, the universal standard for electric cars produced in North America. The Blink HQ200 smart charger is also tethered, so the cable is fixed to it and you can't replace it with a shorter or longer one, the only thing you can do is buy an extension cable if you want to make it longer.
Blink HQ200 – EV Charging Station Features
Now the old model was a simple charger with no smart features. This one isn't anymore, it's a full-on smart EV charger with the Blink Charging Mobile App, one which you can use on your Android device or iPhone. It allows you to schedule charging times to avoid peak electricity rates but you can also get notifications and reminders. These apps that connect to smart chargers really do improve the charging experience.
What's also cool is that this electric vehicle charging station can integrate with all three big virtual assistants: Amazon Alexa, Google Home and Apple's Siri. So this means that you can remotely control the charger just by using your voice. The unit itself has no LCD display on it or buttons, it just uses one simple LED indicator to signal the charging status.
Now we need to look at the IP rating and here things don't look that good. The device only has a NEMA 3R rating which means that it is weatherproof, so in theory you can install it outside, however one would certainly be more comfortable installing a charger outside with a slightly higher waterproof rating. This home EV Charging Station is energy star certified certified and UL Listed which means that in some states in the US it might be eligible for a rebate.
It is also worth noting at this point that the device is backed up only by a 1-Year warranty, far lower than the average 3 years which you would expect from an EV charger in this price class. However, there is also 24/7 customer support available.