The GODIAG EV101 is a portable EV Charger which can be connected to any standard home outlet. It comes with an LCD Display and strong IP65 rating however its charging cable is quite short.

PROS: Works with most household outlets.

CONS: Short cable.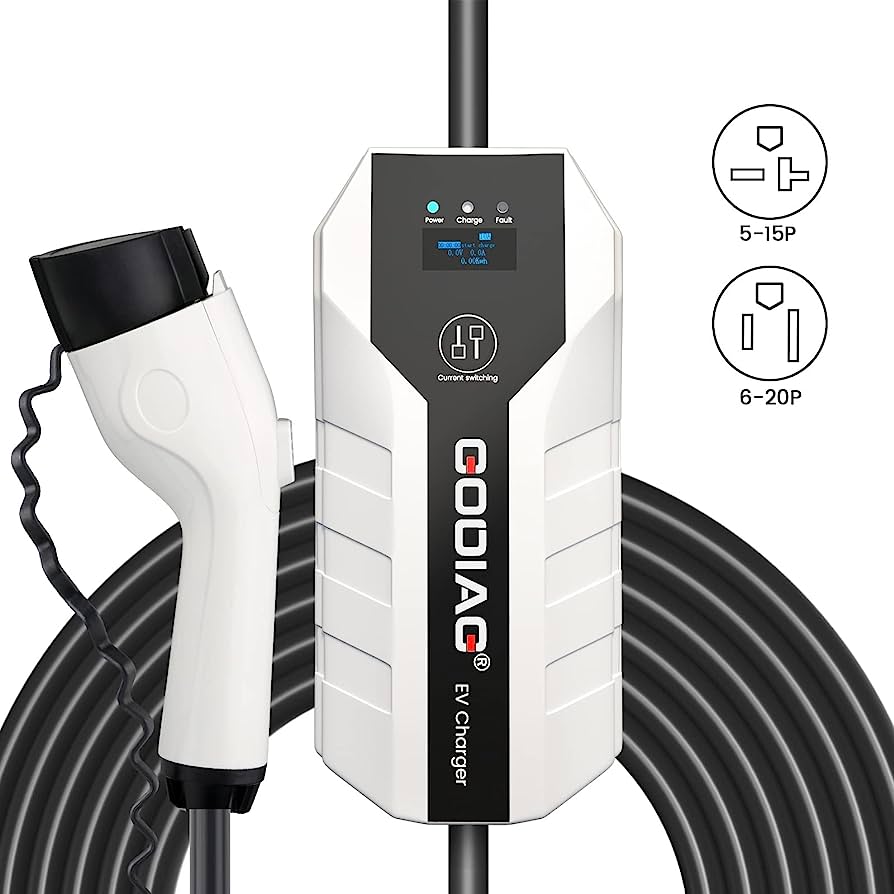 GODIAG EV101 – Portable EV Charger (16 Amp) Specifications
| | |
| --- | --- |
| Amp rating | 16 Amp |
| Level | Level 1 & 2 |
| Type | Portable EV Charger |
| Cable Length | 16 feet |
| Nema | NEMA 5-15 & NEMA 6-20 |
| Power | 3.86 kW |
| Voltage | 110V / 240V |
| Connector | Type 1 (J1772) |
| Connectivity | No |
| IP Rating | IP65 |
| Display | LCD Display & 3 LED lights |
| Warranty | 1-Year |
| Features | |
| What's in the box | |
| Weight | 6.82 lbs |
GODIAG EV101 – Portable EV Charger (16 Amp) Charging specifications
The GODIAG EV101 is a fully adjustable and portable EV Charger. It can be adjusted to deliver either 8, 10, 13 or 16 Amps to your electric vehicle and it can work as a Level 1 or Level 2 charger.
The maximum amount of power it can deliver is 3.86 kW and that's when it's plugged into a more powerful outlet.
GODIAG EV101 – Portable EV Charger (16 Amp) Cable types and connectors
Now the first thing to notice about the charging cable is that it is very short. It only measures 16 feet, way less than what you would expect from a portable EV Charger which is the standard 25 feet. In the case of this charger you'll be more likely to have to buy an extension cable but luckily you can find plenty of those on the internet. Sure, they are most certainly not as cheap as an extension cord but they are usually weatherproof and have to survive in tougher conditions. If you're asking yourself whether you can just replace the cable instead of buying an extension cord, the answer is no because this is a tethered charger. Untethered chargers can do that, but they are mostly present in the EU and other parts of the world.
Then we need to talk about the outlet situation and here things are simple: You can connect it to the standard 5-15 outlet that you'll find in every home but you need to know that it will only work as a Level 1 charger and the power will be capped at under 2kW. If however you connect it to a NEMA 6-20 outlet then it will be running at full power at 3.86 kW.
The plug that connects to the car is a Type 1 SAE J1772 connector which will work with any electric vehicle produced or distributed in North America and that includes Tesla vehicles because although these use a proprietary port, they now come with J1772 adapters included.
GODIAG EV101 – Portable EV Charger (16 Amp) Features
The GODIAG EV101 doesn't have any kind of connectivity or smart features, instead it is meant to be this simple-to-use charger. It does feature an LCD display which can tell you the charging status, the actual charging power, amperage and voltage along with other key info.
One thing which is pretty useful in smart chargers is scheduled charging which helps you avoid using electricity during peak hours and only use it when you want to, usually when it is at its cheapest.
The manufacturer claims that the wire used for the charging process is pure copper and thus provides more stability when charging.
Now the device is said to have an IP65 rating which is quite a big claim. Whether it is truly as weatherproof as they say, we can't know however it is guaranteed to work in the rain and snow.