If you just want to find the best electric charger, then go for the ChargePoint Home Flex. It is the best EV Charger that you will find.

PROS: Ultra-fast 50 AMP Charging Speeds, WiFi connectivity, Smartphone App, Alexa integration, cable that is long, flexible and durable.

CONS: IP Rating could be better.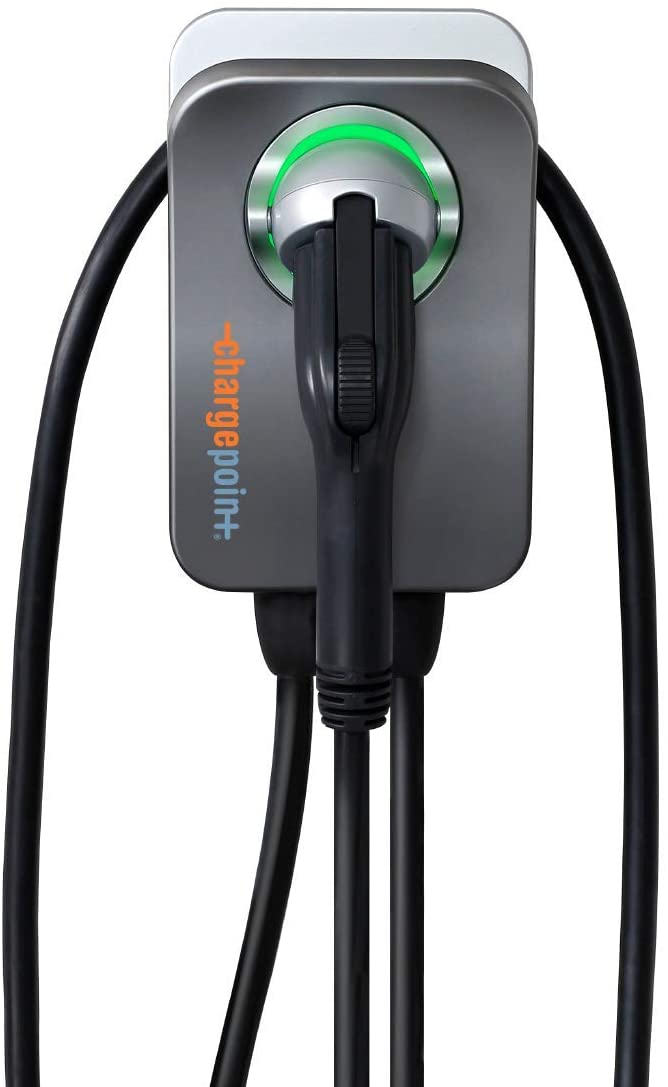 ChargePoint Home Flex – Level 2 EV Charging Station (16-50 Amp) Specifications
| | |
| --- | --- |
| Amp rating | 16 – 50 Amp |
| Level | Level 2 |
| Type | EV Charging Station |
| Cable Length | 23 Feet (7 M) |
| Nema | NEMA 14-50 & NEMA 6-50 |
| Power | 12 kW |
| Voltage | 240V |
| Connector | J1772 |
| Connectivity | WiFi (With Smartphone App) |
| IP Rating | NEMA 3R |
| Display | None |
| Warranty | 3-Year |
| Features | Adjustable power, Compatible with most EVs, Smartphone app, Charge Scheduling, Alexa compatible, 24/7 Customer Support |
| What's in the box | EV Charger, Cable, Quick start guide |
| Weight | 13.8 lbs (6.2 Kg) |
| Features | Tethered, Alexa & Google Home, Charge Scheduling |
ChargePoint Home Flex – Level 2 EV Charging Station (16-50 Amp) Charging specifications
This is it. The most popular and most successful Home EV Charger in the world.
Let's look at the AMP rating first, because this is a very flexible charger that can deliver 16, 24, 32, 40, 48 or 50 Amps to your electric vehicle. The simple way to do the maths on this is to assume that your charger needs to be 80% of the circuit's AMP rating so that it doesn't overload it. You don't need to set the amperage because it will automatically detect the maximum amount that it can use without overloading.
This smart charger only works at a 240V Voltage and has a charging rate of 12 kW. This kind of power just destroys its competition at this price point because most of those chargers will average at a 7.7 kW which is not bad but it certainly doesn't match the speed with which this charger can add miles of range per hour of charge to your car. ChargePoint claim it charges any EV up to 9x times faster than a wall outlet (One can assume they were referring to a Level 1 charger).
Now let's look at the fast charging times that this 50 Amp 240V Level 2 charger can provide. ChargePoint claims that their device will charge your car if it is a Tesla Model 3 up to 100% charging level in just 6 hours while the Tesla Model Y would take 12 hours. For the Hyundai Kona and the Kia Niro, they say 10 hours. The Porsche Taycan will also charge in 12 hours.
Cars with small battery packs like the BMW i3, the Chevy Bolt EV, Nissan LEAF or Toyota Prius Prime should be a breeze for this charger.
ChargePoint Home Flex – Level 2 EV Charging Station (16-50 Amp) Cable types and connectors
Even though its predecessor had different cable options from which you could choose, this newer model comes with a 23 feet long cable (About 7 meters). Longer is always better and here we can definitely agree, although at this price point there are chargers that come with a cable up to 30 feet long. Still, 23 feet should be enough even if your car is parked in front of your garage and not inside. If it isn't long enough, you can find one of these extension cables, but always buy as short as you need because the longer it is the more time it will need to charge.
The Chargepoint Home Flex uses a J1772 connector which is the standard charge port that you'll find on any electric car sold in North America with the exception of Tesla EV models which also provide an adapter for that.
The cable is tethered to the electric vehicle charger but in a very simple way, it is quite easy for an EV owner with very little experience to take out the EV charging cable, there's just three wires that need to be disconnected. The handle feels rubberized somehow, very easy to grip and handle. We also like the fact that the holster is backlit so you can easily find it even if it is dark in your garage.
Here's a quick guide through all of the colors:
White: If it's constantly on, then it doesn't have a wifi connection, if it is blinking then you haven't paired it so you need to install the app.
Green: If it's blinking then it is scheduled, if it is solid then it is ready to charge
Blue: If it's blinking then it is delivering power to the electric vehicle or plug-in hybrid. If solid, then it's plugged in but it's not charging.
Red: Houston, we have a fault.
In terms of which wall connector you can plug the ChargePoint Flex into, you have two choices: A
NEMA 14-50 connector like this one
or a
NEMA 6-50 connector like this one
. If you don't have these wall outlets, you can ask a licensed electrician to install them when you have the EV home charger installed, but of course you can also hardwire the charger directly because the plug is easily removed for hardwired installation.
Why would you want to do that, by the way? This is because if you hardwire it to a 60-Amp circuit breaker you can charge your Tesla at a rate of 48 Amps, but remember that not all cars accept this kind of power though. You also get stickers which you can mount on the fuse panel next to the fuse that the charger is using.
ChargePoint Home Flex – Level 2 EV Charging Station (16-50 Amp) Features
This is what we would call a proper Smart Charger. It can connect to your smartphone via its built-in WiFi connection. What is interesting and clever is that you can do this from the ChargePoint app, the one which you also use to find public chargers that are closest to you. The app connects to your charger seamlessly and you can set up 1 Home Flex Charger per account.
Of course one of the most important charging features of any EV Charger app is to allow you to do scheduled charging times in order to use off-peak electricity rates. This is essential to have either in your charger or in your car. Each day you save a bit more on the charging cost and that can add up in the end and cut down on your electric energy bill.
Another cool smart charging feature that this electric car charger has that you'll only find on smart chargers is that it can remind you to plug in the car at a certain time in the evening, just in case you haven't done so. Owning an EV is like owning an iPhone, it's good practice to always plug it in at night.
And the good doesn't stop here, because this home electric vehicle charging station also integrates with Amazon Echo, so you can basically tell Alexa to start charging your Tesla. Now this function is most certainly a bit of a gimmick since you're basically going to plug in your car and it will start charging when it is scheduled.
However, using voice control you can also ask her about more complex information like how many miles of range did the charger manage to put in in this session and another one which I do find interesting is "how much power have I used in the last month on charging my EV?". The app can also set reminders to plug in if you forgot to do so in the evening. We believe that wifi enabled electric car chargers are more than a gimmick and can actually bring meaningful features to the table.
The charger is NEMA 3R rated which is the equivalent of IP14, so you need to make sure it doesn't take splashes of water and install it indoors. At the moment with the current enclosure it is just not suitable for outdoor installation.
ChagePoint will offer you a 3-Year warranty and 24/7 customer support, so you should be more than covered on that part. It is UL listed for electrical safety and Energy Star certified for efficiency.
Now in terms of weight, this EV charging station weighs 13.8 pounds which puts it just inline with other charging stations, not more not less.
This charger should normally be compared to the Tesla Wall Connector rather than other manufacturers because it is at that level.
If you want to read more reviews on other types of wall chargers or portable electric vehicle chargers have a look on our homepage.