We selected 4 great Tesla Model X Home Chargers, each different from the Tesla Wall Connector in its own way. You'll see that there are other great home charging options for your Model X and some which are faster chargers.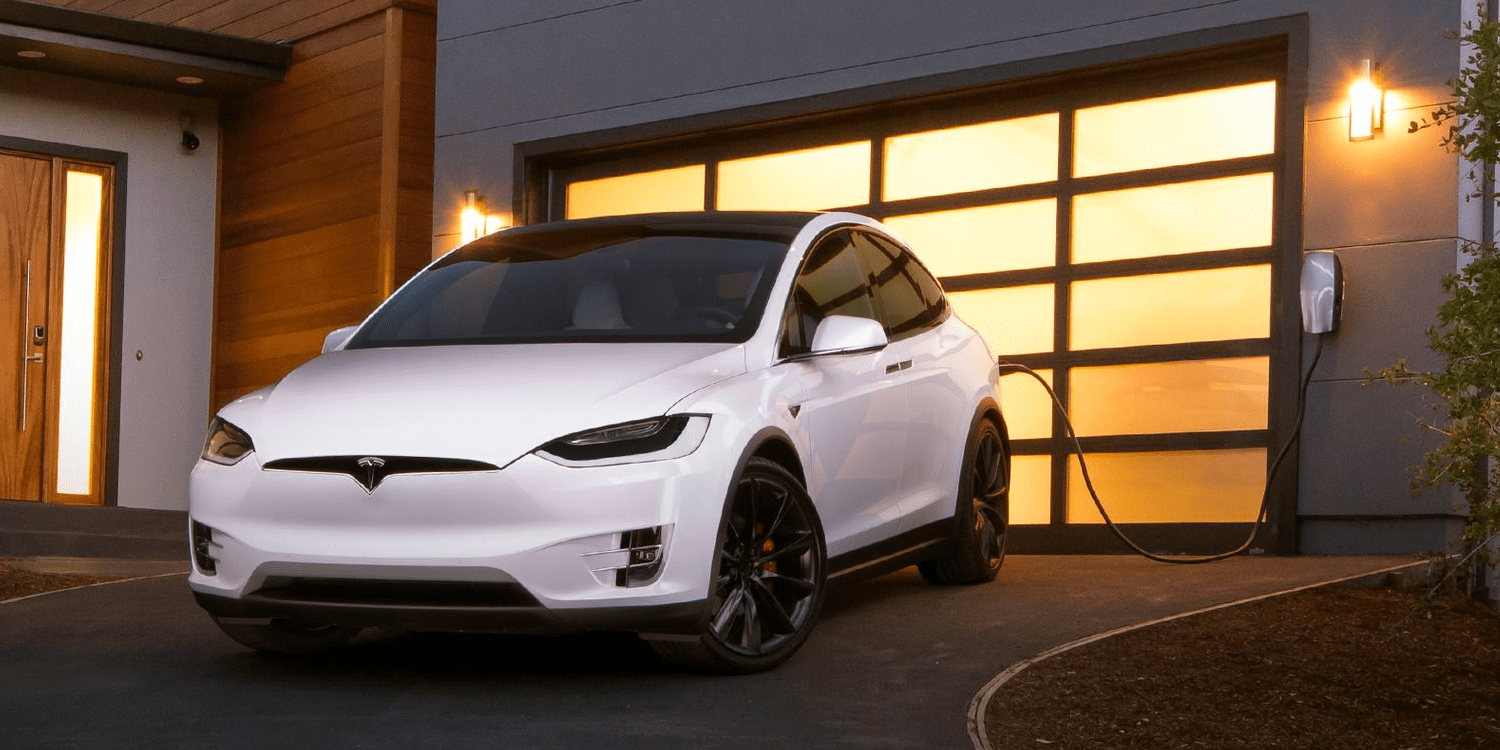 Let's have a look at each product in particular.
ChargePoint Home Flex – Level 2 EV Charging Station (16-50 Amp)
Let's look at the first Tesla Model X home charger which is the ChargePoint Home Flex. This is a 50-Amp Level 2 charger which can output up to 12 kW of pure power. It is actually 0.5 kW more powerful than the Tesla Wall Connector and 4.3 kW more than what the Tesla Mobile Connector offers.
Now let's find out how this charging rate translates into actual charging times. At the moment, the Model X comes in 2 versions: A Dual-Motor All-Wheel-Drive and the Tri-Motor All-Wheel-Drive. Both of them come with a 100 kWh battery pack with the big difference consisting in speed rather than range.
Now if you get home with just 20% juice left in your battery pack, then it should take just about 8 hours to fully charge the Model X up to 100%. Now of course this doesn't take into account any kind of software throttling as that can skew things a bit.
This EV Charging Station can be either connected to a 240V outlet through a 14-50 or 6-50 NEMA connector but that will just get you 40 Amps out of it. If you want it to reach its maximum charging speeds then you'll need to hardwire it to a 60-Amp circuit breaker.
It uses a 23 ft. long charging cable with a J1772 connector at the end of it. You can use the included charging adapter that came with your Tesla to plug it into the proprietary outlet that your Model X uses.
The ChargePoint also has smart charging features like wifi and a smartphone app. From the app, you can look for public chargers but you can also remote control your home electric vehicle charging station, get detailed reports on each charging session and there's even voice integration which allows you to ask things like "How much have I paid for charging my EV this month?". One of the more useful features which you'll also usually find in smart electric vehicles is scheduled charging.
The only issue is that you have this wall charger installed indoor as its NEMA 3R enclosure doesn't really make it suitable for outdoor installation. This particular Tesla home charging station is backed up by a 3-Year warranty and 24/7 customer support.
ENEL X JuiceBox 40 – Level 2 EV Charging Station (40 Amp)
The second Tesla Model X Home Charger which we'll be looking at is the ENEL X JuiceBox 40. This one is not as powerful as the ChargePoint since it only delivers 40 Amps of electrical current but you'll find that this is very fast as well, it should only add about an hour or so of extra charge, bringing the total time to roughly 9 hours from 20% to 100%.
It too uses a 25 ft. long cord for charging your Tesla and if that's not enough, know that you can always buy an extension cord off Amazon for roughly 150$. It too uses a J1772 connector as all the EV Chargers do in North America. You can plug it into a NEMA 14-50 outlet or hardwire it and this time, because it only outputs 40 Amps, connecting it to the 240-Volt outlet will max out its AC power as well so you can have it either way.
There's also Wi-Fi connectivity and the Juicenet app to help you remote control it. In most ways the apps are similar in functionality but different in design. There's the charge scheduling, the remote control, real-time data and logging feature.
One unique feature is the CO2 metric that you'll find on the Juicenet app which tells you how much CO2 you've saved just by using your EV ever since you started using the charger.
One big advantage with this one Tesla home charger is that you can install it outdoor because it is NEMA 4X rated (IP66). This means it can withstand rain, snow, fire and dust. The enclosure is pretty much sealed. It also benefits from a 3-Year limited warranty.
Emporia Smart – Level 2 EV Charging Station (48 Amp)
Our next Tesla Model X Charger is the Emporia Smart EV Charger . It is made by a company which focuses on energy management, more specifically the process of reducing energy consumption in your house and business.
This is why this specific charger was fitted with the option to only deliver power to the car when your solar panels (Should you have any installed) are generating excess energy. We only found this kind of feature on this one and the Wallbox Pulsar.
There's also this Peak Demand Management feature which cuts power to the car whenever peak prices are in. All of these functions are made possible because it is wifi-enabled and there's the Emporia app to help you with that. We noticed that the app itself is geared more towards the energy management app in contrast to the ones on the ChargePoint and the Juicebox.
This electric vehicle charger can output 48 Amps of current and 11.5 kW of power, basically the same as the ChargePoint so you can expect to charge your Model X in the same 8 hours from 20% to 100%. The cable stretches out to be 24 ft. long and uses a J1772 connector. It too comes with an IP66 rated enclosure and a full 3-Year warranty.
ClipperCreek HCS-80 – Level 2 EV Charging Station (64 Amp)
And then we get to what could be best described as an actual Tesla supercharger for your home. This is the ClipperCreek HCS-80 and we'll just get to the point: It is capable of achieving very fast charging speeds. It can output 64 Amps of current and thus 15.4 kW of sheer power.
So how fast is that? Well first of all, it is important to know that not all cars can handle this rate of miles of range per hour charge because they are limited by their on-board charger. You won't charge a Nissan LEAF or a BMW i3 with this in record time because they can only take half of its power. But some Tesla cars can and the Model X is amongst those.
Your Model X could potentially be charged in just 6 hours from 20% to 100%. Given the 100 kWh battery size and the fact that this is an EV home charging station, that number is impressive.
This charging equipment uses a 25 ft. long cable with a J1772 connector and of course can only be hardwired because there's no outlet for this kind of power. It doesn't have any smart features but it does have the standard NEMA 4 enclosure which can withstand rain, snow and fire. ClipperCreek backs it up with a 3-Year warranty.