It is not just the Tesla Wall Connector out there. There are plenty of other great EV Chargers each with their unique combination of fast charging speed and smart features that can quickly charge your Tesla Model S

Here is our shortlist of the 4 best Tesla Model S Home Chargers.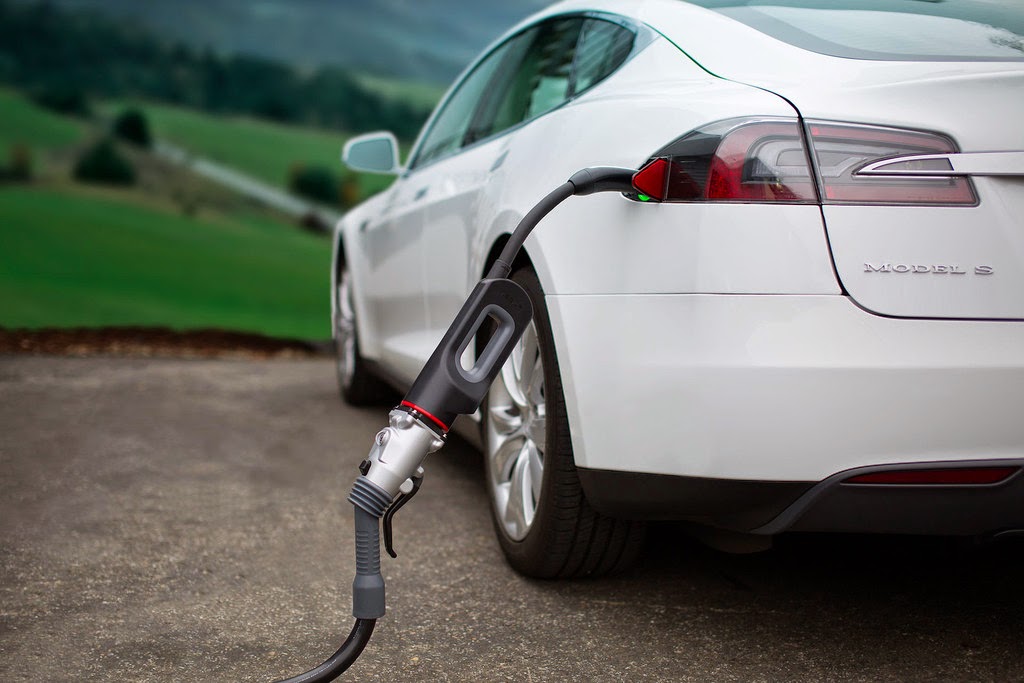 Let's have a look at each product in particular.
ChargePoint Home Flex – Level 2 EV Charging Station (16-50 Amp)
The first Tesla Model S home charger which we'll be reviewing is the ChargePoint Home Flex. This is one of our favorite EV Charging Stations because of its unique combination of fast charging speeds and smart features.
This home charging device can provide up to 50 Amps of electrical current and 12 kW of power to your Model S. Now it used to be the case with older versions of the Model S that the on-board charger was limited to 9.6 kW, less than this charger can provide however this isn't the case anymore as the line-up was trimmed down to 2 high-performance models, the Model S AWD Dual-Motor and the Model S Plaid version. Both of them can take more AC power than this charger can offer so you won't be limited.
So how fast will this EV home charging station get your Model S fully charged? Well if you plug in with only 20% juice left (A reasonable scenario) it should fully charge the Tesla's 100 kWh battery pack in about 8 hours. This applies to the Plaid version too since that has the same battery configuration.
The ChargePoint can be plugged into a NEMA 14-50 or a NEMA 6-50 outlet but that will only get it up to 40 Amps. If you want the full 50 Amps that this home electric vehicle charging station can offer then you should connect it to a 50-Amp circuit breaker. It uses a 23 ft. long charging cable with a J1772 connector at the end. Even though the Model S uses the proprietary Tesla charging port, it does come with a J1772 charging adapter.
This Model S charging station also has a bunch of smart charging features like wifi connectivity and a smartphone app. You basically use ChargePoint's app which you'd normally use to find a public charging station for Teslas and that helps you manage your home charger. It allows you to remote control it even by using your voice, provides you with an extensive report of each charging session and how much your EV is costing you and gives you some unique features like the ability to just ask it through Alexa "How much have I spent on charging my EV this month?".
You should have this particular charger installed indoor not outdoor since it is only NEMA 3 rated. It comes with a 3-Year warranty and 24/7 customer support.
Wallbox Pulsar Plus – Level 2 EV Charging Station (48 Amp, 11 kW)
The next Tesla Model S Home Charger we'll be taking a look at is the Wallbox Pulsar Plus. This is another one of our favorites and comes in two versions: 40 Amps and 48 Amps. For this purpose, we selected the 48 Amp because of its faster charging speed.
Now you can expect charging times that are very similar to the ones from the ChargePoint since they are both almost evenly matched at their peak power. This one doesn't come with a NEMA connector, instead you need to hardwire it so here the ChargePoint has a slight advantage regarding that.
It uses a 25 ft. charging cable with a J1772 connector making it virtually compatible with all Tesla cars and EVs in North America. If by any reason you don't have or you lost yours, you can buy this
J1772 to Tesla adapter
from Lectron.
Just like the ChargePoint, this electric car charging station comes with smart features: You can set schedules, reminders to plug in, look at past charging sessions and get real-time data on the charging status. But it has 2 extra features which you won't get on the Home Flex.
The first feature is that it is capable of power sharing, so if you want to charge 2 Teslas simultaneously, you can install two of these and hook them up to the same circuit without overloading it because they communicate with eachother and distribute power accordingly.
The second feature is that it can also be integrated with the solar panels on your roof should you have any installed. The idea is that you can set the ratio of solar-to-grid power that's being used and potentially tell the charger not to use any grid power whatsoever, saving you good money in the process.
Another big advantage of the Wallbox is that it is IP54 rated so that makes it suitable for outdoor installation. This charging station for the Tesla model S is covered by a 3-Year warranty.
ClipperCreek HCS-80 – Level 2 EV Charging Station (64 Amp)
And then we get to the most powerful of all of these Home Chargers for the Model S and that is the ClipperCreek HCS-80. This is a 64 Amp charger which can deliver up to 15.4 kW. Thanks to the improvements that Tesla has made over the years on the on-board charger of the car and the fact that the single motor version is not available anymore it is now capable of using all of that AC power.
This Tesla Home Charging Station will charge all the 100 kWh of battery on your Model S from 20% to 100% in just about 6 hours. This is one of the most powerful home charging options you can find available on the market in terms of miles of range per hour of charge. It is the closest thing to a Tesla Supercharger in your own home.
It uses a 25 ft. charging cable with a J1772 connector at its end and needs to be hardwired to the home circuit, it doesn't come with any type of NEMA connector.
There are no smart features on the charger either, no wifi and no smartphone app. This was built to be fast and easy to use but especially tough because it has a sealed NEMA 4 enclosure (IP66) which will withstand any kind of weather from rain to snow, fire and heat. This and the charging speed are its strongest points. The ClipperCreek is also backed up by a 3-Year warranty.
Mustart – Level 2 Portable EV Charger (40 Amp)
Our last option for a Tesla Model S Home Charger is the Mustart 40 Amp Level 2 portable EV charger. The reason we chose this one is because it offers an alternative to a fixed charging station that has to be mounted on the wall for charging your Tesla and this will obviously incur some costs of installing.
It is the fastest portable charger you can find and even more powerful than the Tesla Mobile Connector. Using its 40 Amps of electrical current and 9.6 kW of power, it can charge your Tesla Model S from 20% to 100% in just about 10 hours.
This one can do the job of charging the Tesla at home and at work. You just need to plug it into a NEMA 14-50 or 6-50 outlet running at 240 volts and you're good to go.
It too comes with a 25 feet charging cable which uses a J1772 connector and the control box is IP65 rated meaning you'll have no problems charging in the rain.
Now you won't find any smart features on portable chargers in general and this electric vehicle charger is no exception. You get a button to cycle between Amp settings and one to delay the charging process by increments of one hour. What is nice is that you do get an LCD display to tell you some critical real-time data on the charging process like amperage, voltage, battery level, etc.
You can get the Mustart with a 2-Year warranty provided by the manufacturer.