As robotic lawn mower technology advances, the price point is getting lower and now you can find cheap robotic lawn mowers that can do an excellent job in cutting your lawn without making a huge investment

We selected 4 cheap robot lawn mowers for you to take into consideration and we compare them on their cutting abilities, software features and how well they perform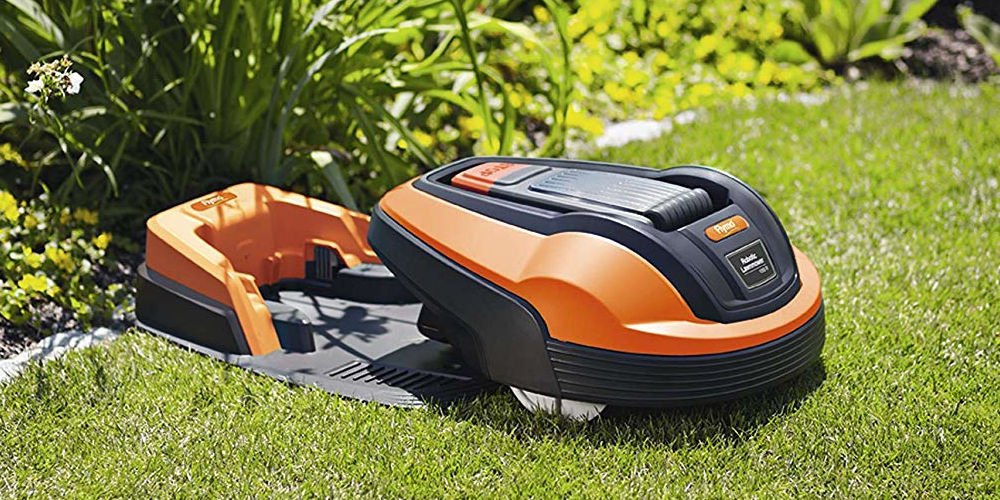 Let's have a look at each product in particular.
Worx WR140 Landroid M
The Worx Landroid M is one of the cheapest robotic lawn mowers that you can buy in 2021. It can cover an area of 1/4 Acres (1000 sq. m2).
The cutting height is easily adjustable by the knob on the top and you can set it to a cut height between 1.9″ and 3.5″ (4.8 and 8.9 cm). Its Spinning disc with three rotating cutting blades can cut a patch of grass that is 7″ (18 cm) wide.
The best thing about it is that the disc is located on the side of the device, something specific to Worx smart lawn mowers. It can go up a slope that is at a 20 degree angle (35%), so you can use it even if your house is built on a hill, or your garden is uneven.
The tyres are especially designed to have big cleats so that it doesn't hurt the lawn as it passes. It is equipped with a rain sensor but most people have found it to be too sensitive, so when it passes near a light sprinkle it can think it is raining.
After the 90 minute charging time has elapsed, it is ready to mow and the battery life is the same, about 90 minutes. Worx did a very clever thing with the battery on this device, it mounted a tool battery in it so that you can swap it with the battery from any Worx tool that you might have. The automatic mower is fully programmable via the smartphone app and it can integrate with smart home devices like Alexa and Google Home.
This particular model, because it has the lowest price, doesn't come with the Find My Landroid GPS navigation option or Collision Sensor, you'll have to pay extra for that and it is not cheap by any means. But it does have security features built in, like a PIN Code and an alarm system. As for safety, you get quick stop blades, a tilt sensor and a lift sensor. When you lift the device, it stops instantly to prevent you from getting hurt.
Even though it is a low-priced model, you still get 3 years of warranty for it.
Husqvarna 115H
| Product | Area covered | Cut height | Cut width | Max. Slope | Navigation Mode | Price |
| --- | --- | --- | --- | --- | --- | --- |
| Husqvarna 115H | 0.4 Acres (1600 sq. m2) | 2″ to 3.6″ (5 to 9 cm) | 8.7″ (22 cm) | 17 (30 %) | Boundary wire | Click for more info |
The Husqvarna 115H is a great and low-cost robotic lawn mower. Now given that these automatic lawn mowers have only been around for a few years, what we consider to be low-budget may not be what you are expecting but in time these devices will become more and more of a commodity and the prices will certainly be lower.
That being said, the Husqvarna 115H is at this point considered an inexpensive lawn mower with a high coverage area of 0.4 Acres (1600 sq. m2).
It has 60-minute running time and also takes 60 minutes to fully charge. When this battery powered device runs out of power, it goes back to the charging station and charges itself without you doing anything.
You can use it with Husqvarna's automower app from which you can control most of its functions. The app is actually filled with features but has a higher learning curve for those that are using it for the first time and maybe are not as tech savvy. The app also features integration with Google Home and Amazon Echo so that you can just start your mower by using your voice.
Even though it is a cheaper model, it does come with a collision sensor and is very quiet for a mower, just 59 Decibels. That is more than twice as quiet as the Worx model. And just like the WR140 Landroid M, it uses a boundary wire to navigate your lawn and if you have objects that are inside it, you can create islands by continuously dragging the perimeter wire around them and back, because when 2 pieces of wire are very close to eachother, the devices ignores them.
Worx WR130E Landroid S300
Now, if you live in the UK or Europe, the cheaper robotic lawn mower from Worx which you can buy is the WR130 E. This is their affordable european model and in fact it is considerably cheaper than the US model with the lowest price, but there is a huge difference in the area that the robotic mower can cover.
The WR130E can cut the grass in your yard at an adjustable height from 0.7″ to 2″ (2 to 5 cm) and its 3 razor blades can cover a patch of grass of 7″ (18 cm). Similar to the US model, the cutting disc is mounted on the side for more precise edge cutting. It can climb a slope of 20 degrees (35 %).
The weird thing about this model is that it takes a very long time to charge, almost 4 hours and that only provides you with 60 minutes of run time. It is good to know that the device does all of this by itself, it charges and heads back out so you don't have to manage the process of cutting grass at all.
You can control it either via the control panel mounted on the top and also via the smartphone app with Alexa and Google Home integration. There is a rain sensor built in so it knows that it needs to return to its charging station when it is wet outside so as not to damage the lawn, however note that the rain sensors on the Worx robot mowers tend to be more sensitive.
This device is very similar to the WR140 except for the charging time and the area coverage.
Flymo Easilife 200
The Flymo Easilife is also a cheap and probably one of the cheapest robotic lawn mowers that you can buy in UK, Ireland and Europe. It can only cover an area of 200 m2 but at its price point it is a bargain. It may not have the fancy Google Home and Echo integration but it does have quite a few things up its sleeve.
First of all, let's look at its grass cutting abilities: You can set it to a cut height from 0.7″ to 2″ (2 to 5 cm) and it has a standard cut width of 6″ (16 cm). On the cutting disc there are 3 pivoting razor blades that are extremely silent because this autonomous lawn mower has a sound level of 58 DB, making it one of the most silent models in the world.
It takes 65 minutes to fully charge and that will give you an autonomy of 60 minutes more or less, but of course, like the other models it can recharge by itself, you don't need to do anything.
Now even though it is a low cost mower, it does have several intelligent features like FrostSense, which tells the robot mower not to cut any grass if it is too cold outside, PassageSense which helps it navigate through very narrow areas of your garden and the LawnSense function which will automatically adapt the cutting schedule to the grass growth rate.
As for safety features, there is a PIN Code which you need to enter every 30 days and an alarm system.
Which low-cost robotic lawn mower to buy?


If you live in the US, the most attractive models in terms of a low price are the Worx WR140 Landroid M and the Husqvarna 115H.

If however, you live in the UK, Ireland or Europe, then our choice would be either the Worx WR130E or the Flymo Easilife 200.