Robot Lawn Mowers are here to stay, however some users have really big lawns that require a heavy-duty robotic lawn mower to cover them

That is why we selected 4 strong models that can handle a large workload and we compare them on their cutting abilities, sensors, security and software features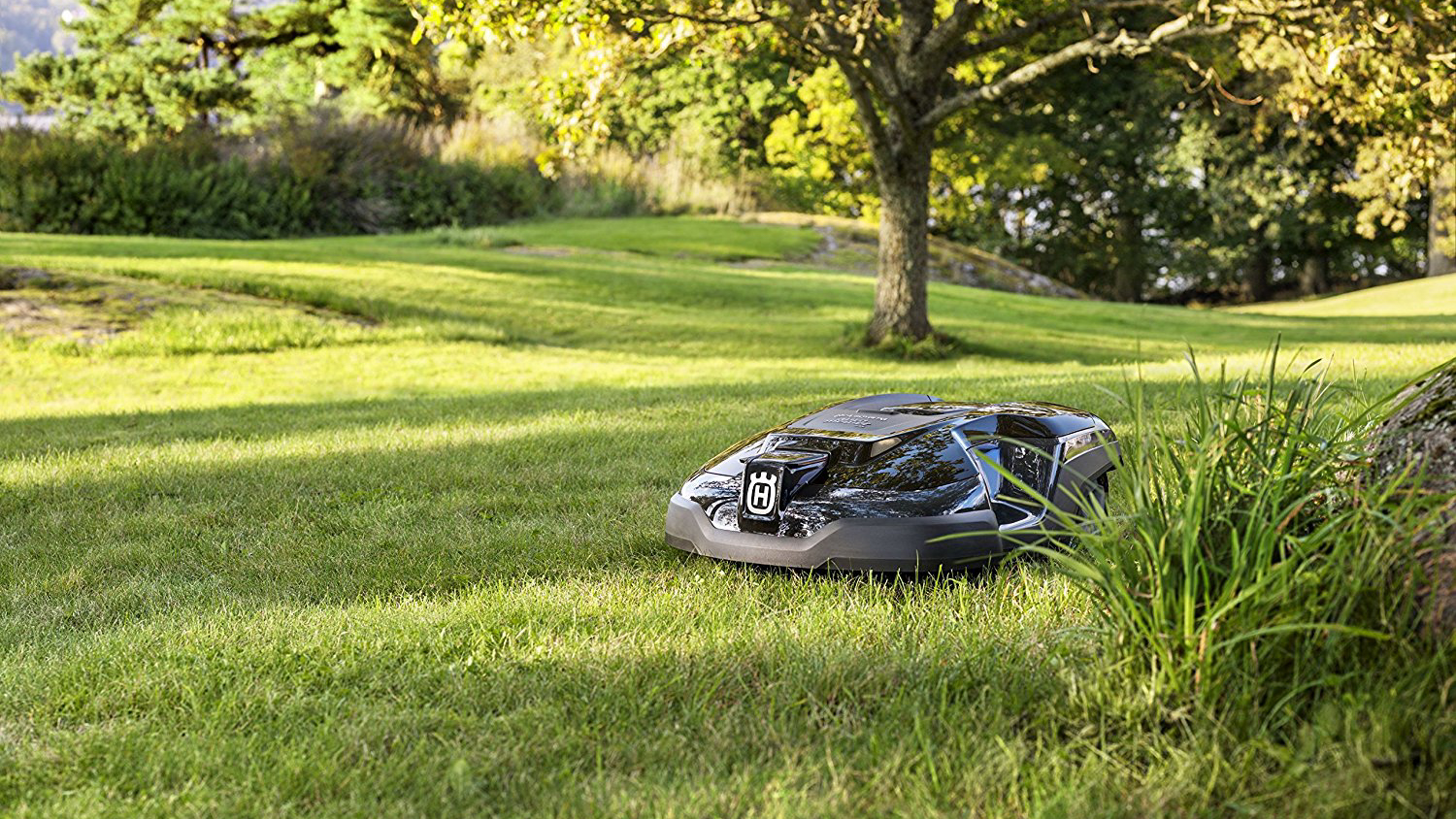 Let's have a look at each product in particular.
Husqvarna Automower 450XH
The Husqvarna Automower 450XH is the ultimate heavy duty robotic lawn mower. Not only is it made with solid materials, but it can take plenty of mowing. You can cover a large garden with a lawn size of up to 1.25 Acres (5000 sq. m2) with this device and it offers the option for multi zones.
It uses a tough cutting disc with 3 pivoting razor blades that are designed to be robust and durable, because this robot lawn mower will get through huge amounts of grass in a day. You can set it for a cutting height from 2″ to 3.5″ (5 to 9 cm), so this model is ideal for taller grass and it has a fixed and large cutting width of 9.45″ (24 cm). It can also handle extreme slopes at an incline of 24 degrees (45 %).
It takes 60 minutes to charge it, but after it is fully charged it offers 270 minutes of battery life and this kind of endurance, you will not find on any other model. This is how it manages to cover such a large area all on its own and even when the battery is low, it can still go and charge itself.
Of course, it is fully programmable via the Automower app where you can set its cutting schedule and adjust many other factors. Some have even said that the app has a steeper learning curve and it is true that it offers more adjustments however after using it, I don't believe that it is too complicated for the average user.
In order for it to detect rain, it actually uses the weather data for its specific location which is an interesting approach. You can integrate it with your smart home devices such as Google Home or Amazon Echo, too.
For all its endurance and large cut width, this robot mower is a very silent model which only reaches a 60 Decibels noise level. It uses the boundary wire to navigate but it also makes use of its GPS system to help it. The GPS is also part of the safety features along with the alarm and the PIN Code.
Worx WR150 Landroid L
The Worx WR150 Landroid L may not have the extreme specs of the 450 XH, however it is still a heavy-duty robot lawn mower with an area coverage of 1/2 Acres (2000 sq. m2).
This robotic mower is also built with sturdy and reliable materials so that it can handle collisions, rain and other dangers that can come at it. The cutting system uses a spinning disc with three rotating cutting blades which can be adjusted to a cut height between 1.9″ and 3.5″ (4.8 and 8.9 cm) and that specific disc has a 9″ (22 cm) cutting width.
Although it doesn't have GPS navigation as standard, you can buy it with the optional Find my Landroid module and like all the other smart lawn mowers on the market today, it needs a perimeter wire to be set up in order to function and find its way around your yard or garden.
Now in terms of autonomy, after it completes its 90 minute charging time it will have a run time of 90 minutes which is what we would expect from a heavy-duty robot mower.
It is considerably louder than the Husqvarna 450XH though, because it is rated at a noise level of 63 DB, more than twice as loud but you need to know that on a bigger scale, it is a silent device because a vacuum cleaner is rated above 70 Db.
All of its lawn care parameters can be programmed through the Worx Landroid app where you can adjust all the parameters and it works with Alexa and Google Home. When it rains, this battery powered automatic mower goes back to the charging station and waits for the right moment for cutting grass. You need to know that it has a very sensitive rain sensor, so it might go back to its station if it gets near a sprinkler.
Worx will cover you with a 3 year warranty on this specific mower.
Husqvarna 115H
| Product | Area covered | Cut height | Cut width | Max. Slope | Navigation Mode | Price |
| --- | --- | --- | --- | --- | --- | --- |
| Husqvarna 115H | 0.4 Acres (1600 sq. m2) | 2″ to 3.6″ (5 to 9 cm) | 8.7″ (22 cm) | 17 (30 %) | Boundary wire | Click for more info |
The Husqvarna 115H is another great heavy-duty robot lawn mower that you can buy. It was designed to cover a large garden with a surface of up to 0.4 Acres (1600 sq. m2). Now this is less than the 450XH but it is also considerably cheaper and still has a rugged design and capable cutting system with pivoting blades.
It is probably the most silent model in this article with a 59 Db noise rating. As for its grass cutting capabilities, you can set it up for a cut height from 2″ to 3.6″ (5 to 9 cm) and it has a fixed cutting width of 8.7″ (22 cm).
Its rechargeable battery lasts for 60 minutes and it takes another 60 minutes to charge it but this is done automatically by the autonomous mower.
The 115H has several security features like the PIN code and an anti-theft alarm system together with some very basic safety features like the tilt and lift sensors, no GPS tracking module.
Worx WR153E Landroid L1500
The Worx WR153E is the heavy-duty robotic lawn mower for you if you live in the UK or in Europe, because Worx has a different product line there.
Because the lawns are so much smaller in Europe, it is designed for a coverage of 1500 m2 (0.4 acres) and that is the equivalent of the european heavy-duty.
Using the knob on the top of the device, you can adjust its cut height from 1.2″ to 2.4″ (3 to 6 cm). The 3-pivoting razor blades which are cleverly mounted on the side of the devices for edge-to-edge cutting can handle a patch of grass with a width of 7″ (18 cm).
Its high endurance shows through its 90 minute battery life which is more than most european automatic lawn mowers will offer you, but the battery life isn't that important in the whole equation because it charges itself and it only takes 70 minutes to do it, you won't even be aware of the process if you are not at home.
You can control it through the same smartphone app that you use for the WR150, so you get all the fancy smart home integrations. Bear in mind that it is a considerably noisier model than the 450 XH because it is rated at 67 Db.
Which heavy duty robotic lawn mower to buy?

If you live in the US or Canada, the best models to buy are the Husqvarna 450XH and the Worx WR150 Landroid L, depending on your lawn size.

If you live in Europe, your best option for a heavy duty robot lawn mower is the Worx WR153E.