We compare the 4 best Worx robot lawn mowers that are available in the UK and on the European market. In this review we'll be looking at their coverage, how short they can cut your grass, the way their cutting disc is mounted, the software features, what's included in the package and how long the battery life is

This is our review and comparison table for the Worx Landroid WR130E S300 vs WR142E M700 vs WR147E L1000 vs WR153E L1500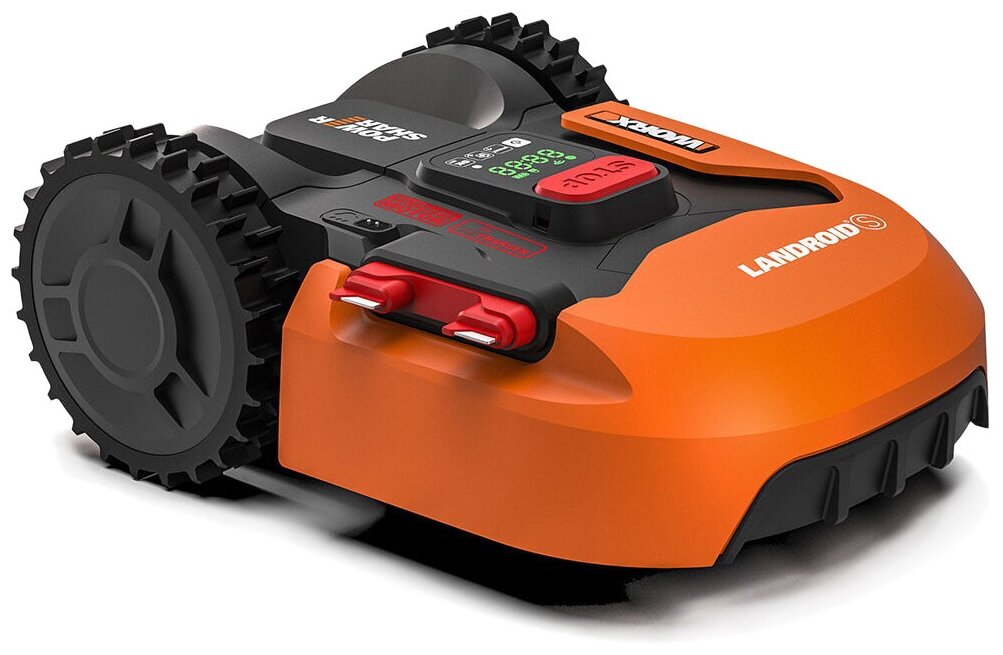 Let's have a look at each product in particular.
Worx WR130E Landroid S300
The base model here is the Worx WR130E Landroid S300. Most of what we write here is applicable to all models with certain exceptions which we will be mentioning.
This particular robotic lawn mower can cover an area of up to 300 m2. You can adjust its cut height by turning the knob mounted on the top from 0.7″ to 2″ (2 to 5 cm) and its cutting disc is cleverly mounted on the side and this applies to all the models listed here. The reason it is there is so that it can cut right up to the edge of your yard or garden, without you having to manually trim the edges. The width of the cutting disc with the 3-pivoting razor blades is 7″ (18 cm). This means that it cuts 7 inches of grass on every pass.
It can also climb slopes and hills provided that the angle is no more than 20 degrees (35 %). In terms of battery life, it has a 60 minute run time, but the charging time is what lets it down because it takes over 4 hours to charge itself. Now it is important at this point to be aware of the fact that it won't be that much of a problem to you as a user because when it runs low on battery, it heads back to the charging station by following the boundary wire.
Like all the other Worx models, you can fully control it by using the Worx Landroid app from which you can tell it special info like the type of grass that you have, the type of soil, nutrition and how big your lawn is. You can set lawn mowing schedules but there is also an auto schedule function. We like the "Save the hedgehogs" feature which prevents the device from working during hours in which hedgehogs are active. You can integrate it with your smart home devices like Google Home and Amazon Echo's Alexa, so the device becomes programmable via voice commands.
Every robot mower that is made by Worx comes with a rain sensor which sometimes can be a bit too sensitive, for example, users have reported that it thinks it is raining when it passes close to an active sprinkler.
There are several anti-theft security features like a PIN Code and an alarm system, but the GPS tracking unit is optional. It is called "Find my Landroid" and it costs about 280 pounds on Amazon UK. Then in terms of safety features, you get quick stop blades with low inertia that instantly stop once you lift the device and of course a tilt sensor together with a lift sensor. For an extra 180 pounds you can also buy the Collision Sensor.
So how loud is this automatic lawn mower? It is measured to produce a noise of up to 62 Db. That is much more silent than a vacuum cleaner, rated at 70 Db.
Worx WR142E Landroid M700
So what is different about the Worx WR130E Landroid S300 vs Worx WR142E Landroid M700?
The big difference is in coverage, which is the lawn size that your autonomous lawn mower can cover. The Landroid S300 is designed for smaller gardens of up to 300 m2 while this one can handle lawn care on an area up to 700 m2.
This also translates into different package contents. The S300 comes with 100 meters of perimeter wire while this one comes with 150 meters of it. Of course you also get more wire pegs, 210 of them.
The rest of the features and specs are the same, same cutting height and cutting width, navigation mode and autonomy. It is worth noting that every Worx mower is battery powered and uses a tool battery. So if you need a spare one and you have any other Worx tool, you'll be happy to know they are interchangeable.
Here are all the contents of the package: 1 x WR142E M700 Robotic Mower, 1 x Power supply/charger, 1 x Charging base, 8 x Charger base securing nails, 1 x 20V 2.0Ah Lithium battery, 9 x Blades and screws, 150m Boundary wire, 210 x pegs/staples, 1 x hex key, 2 x measurement gauge and Basic instructions
Worx WR147E Landroid L1000
The Worx WR147E Landroid L1000 is a more expensive automatic mower and so it is reasonable to ask the question: What exactly am I paying the extra money for?
Worx WR130E Landroid S300 vs Worx WR147E Landroid L1000
The Landroid L1000 has a much higher coverage of up to 1000 m2 (1/4 acres), more than 3 times the area that the S300 can cover.
There is also a difference in battery life here because this smart lawn mower can last 90 minutes on a charge while the S300 can only last 60. The charging time is significantly shorter on the L1000 because it only takes 90 minutes to fully charge it, compared to the 240 on the S300.
There is of course a difference in the contents of the package because with the L1000 you get 180 meters of guide wire compared to just 100 meters on the S300 and an extra 120 wire pegs.
They both have the same 3-year warranty.
Worx WR142E Landroid M700 vs Worx WR147E Landroid L1000
The L1000 has a higher coverage of 1000 m2, which accounts to 300 m2 more than the M700 can cover. The battery life is much better on the L1000 with a running time of 90 minutes compared to just 60 and the charging time is 4 times shorter down from 240 minutes to 60.
In the package of the L1000 you also get 30 meters of extra loop wire to account for the extra coverage together with 40 extra wire pegs. The L1000 is slightly louder with 2 extra decibels of noise added to its output.
Worx WR153E Landroid L1500
The last autonomous mower that we'll be covering here is the top-of-the line model: The Worx WR153E Landroid L1500.
Worx WR130E Landroid S300 vs Worx WR153E Landroid L1500
The difference between these two robotic mowers couldn't be bigger. The S300 can cover 300m2 of lawn while the L1500 can cover 5 times more at 1500 m2. The L1500 has a 90 minute battery life compared to just 60 minutes on the S300 and the charging time is significantly lower, 70 minutes compared to 240. You get 170 meters of extra boundary wire in the package together with 70 extra wire pegs.
Worx WR142E Landroid M700 vs Worx WR153E Landroid L1500
The M700 has a lower surface coverage because it can only mow a 700 m2 garden compared to the 1500 m2 that the L1500 can cover. There is a difference in the autonomy because the L1500 can run for 90 minutes on a full charge while the M700 only lasts for 60 minutes and the L1500 has a much shorter charging time of 70 minutes compared to 240. 270 meters of perimeter wire and 200 pegs are provided with the WR153E while the L1500 has 270 meters included in the box. The L1500 is rated to be 5 decibels louder, so there is a considerable difference in noise.
Worx WR153E Landroid L1500 vs Worx WR147E Landroid L1000
The WR153E Landroid L1500 has a shorter charging time of 70 minutes, but the battery life is the same. The L1500 comes with 90 extra minutes of boundary wire in the package, but it is also reported to be 3 Db louder than the L1000.