We researched every cheap thermal camera and our list came down to 4 models. We will take an in-depth look at each one of them and compare them in terms of their specs, software features, image quality and how easy they are to use

At the end of this article, we'll also point out which is the best thermal camera for the money.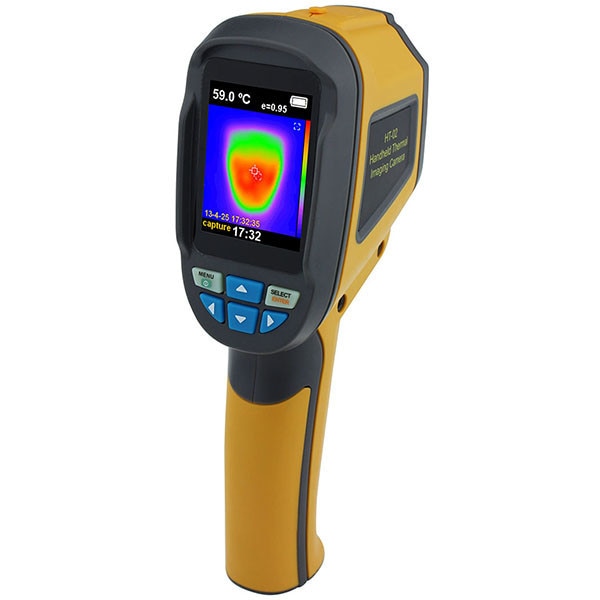 Let's have a look at each product in particular.
FLIR ONE Gen 3
| Product | Type | Resolution | Battery capacity | Waterproof | LCD screen | Price |
| --- | --- | --- | --- | --- | --- | --- |
| FLIR ONE Gen 3 | Smartphone (2 different versions – Android & iOS) | 80 x 60 | 45 minutes | No | No | Click for more info |
The Flir One Gen 3 is Flir's cheapest thermal camera in their line-up, but it also provides great value. This is a smartphone thermal imager and thus it only has an infrared sensor, a visual camera and a tiny battery. The module itself is really small and light and you just plug it into your phone's USB-C, micro USB or Lightning port.
That is why it its price is more attractive, because it doesn't have a display screen, internal storage or firmware since those are already in your phone. That is why in general, a thermal imaging camera for smartphones is going to be much cheaper than the handheld infrared thermal imaging cameras. And it makes sense in some ways because for example, the color screen on your phone is much better than what you're going to get on any IR thermal imager.
The thermal sensor has an 80 x 60 IR resolution which adds up to 4800 pixels in total. Along with that, the app on the smartphone also uses MSX image enhancement technology which overlays the thermal image and the visual image using what can probably be considered the best thermal overlay algorithm on the market. The thermal sensor has a +/-3° C accuracy and a 0.15 ° C sensitivity and another big advantage of this camera is that it stores all the radiometric thermal data inside the JPG images.
The biggest drawback of this inexpensive infrared camera is the short battery life, but otherwise this is a true bargain. Its bigger brother, the Flir One Pro thermal imager camera sells for double the price, but if you take into consideration its higher resolution and extended app features, it still classifies as a low-budget camera, but with great specs.
Seek Thermal Compact
The Seek Thermal Compact is the second low-cost thermal camera for Android and iPhone which we'll be reviewing and this one may be considered an even better bargain and here's why: The thermal sensor on this device can output an IR resolution of 206 x 156, totaling 32,126 thermal pixels, more than 6 times what the Flir offers.
Its thermal scope extends from -40 to 626 °F (-40 to 330° C) with a thermal sensitivity of 0.07 °C and a much higher detection distance of up to 1000 feet. So how does this camera manage to have much higher specs, comparable to the more expensive Seek Reveal for the same price as the Flir camera? The answer is simple: All you get is a thermal sensor, no battery and no visual camera. The Seek Thermal app uses your phone's visible light camera and as you would expect, because the two will be quite far apart, you often find yourself having to realign them.
The app offers multiple color palettes and custom adjustments like emissivity and reflected temperature, there is plenty of customizability for even the more advanced users. But it is worth it because it is impossible this is the lowest price you will find for this number of pixels.
Flir TG165-X
Now we will move on to cheap handheld thermal cameras like the Flir TG165-X. This is a camera that is meant to be used by HVAC inspectors, plumbing technicians or electricians. It is built inside a tough enclosure which is IP54 rated for being waterproof and dustproof.
It can measure objects in a temperature range from -13°F to 572°F (-25°C to 300°C) with a 0.07 thermal sensitivty and a very high +/- 1.5 °C accuracy, making it the most accurate out of all the cheap thermal imaging cameras we listed here. The sensor provides a thermal resolution of 80 x 60 with 4800 thermal pixels in total and a 9Hz refresh rate.
The battery life is great too, because it offers 5 hours of continous thermal imaging and there are 4GB of storage space on the fixed internal memory, because Flir removed the SD card option that the previous TG165 had.
If you are a professional but you don't want to invest too much money, then this is a great first thermal camera to use for temperature measurement.
PerfectPrime IR0001
The Perfect Prime IR0001 is the last cheap thermal camera which we'll be reviewing here. It costs about 30% less than the TG165-X but the specs are also trimmed down. Its infrared sensor only provides a 32 x 32 IR Resolution with a +/- 2°C accuracy and a 0.15°C thermal sensitivity.
There is an SD Card slot to store your photos, but no USB port to transfer them to your computer. The LCD screen is generous in size with a screen size of 2.4″. It doesn't have a rechargeable battery and instead, it uses 4 AA batteries which should give you 6 hours of thermal imaging. So you can tell that they built this particular infrared camera to be as low-cost as possible.
If you have some extra money to spare and you can increase your budget, the same manufacturer also builds the PerfectPrime IR0005 which has a much higher resolution.
Which is the best cheap thermal camera?
Out of the cheaper smartphone thermal imagers, the Seek Compact offers the best value but it's a tight race there. Amongst the handheld cameras, the Flir TG165-X is our favorite budget thermal camera and there is no doubt there.


How much do thermal cameras generally cost?
To get a better idea of the market and how much you should expect to pay, consumer infrared cameras start at 200$ all the way up to 3000$. A pro-grade infrared camera will generally set you back more than 1000$ while a smartphone thermal camera generally costs between 200 and 400$.


Why are thermal cameras so expensive?
The main reason is the thermal sensor. These infrared sensor are still expensive to manufacture but in the last few years, cheaper models have been produced with even higher image resolution. Along with the sensor, there is the chip that processes the infrared signal and basically drives the entire camera system, the complex software that it uses and which is most of the time custom-built, an LCD display and the entire enclosure. All of these components are expected to be more affordable in the future and provide better thermal image quality.


Which is the best thermal camera for the money?
As to which thermal camera provides the best value for money, if you are planning to buy a smartphone imager, then the Seek Thermal Compact offers the best value in terms of image resolution and features for the small price tag. The Flir One Gen 3 is a close second.


Other Low-Cost Infrared Cameras worth mentioning
What we did not cover in this article are low-priced pocket infrared cameras and that is because most of them are not cheap. A brand new Flir C5 costs upwards of 700$, more than 3 times what the One Pro costs. Up until now, if you wanted a bargain, you could buy either a used Flir C2 or Flir C3 however now, there is a new model that sells for under 500$ called the Flir C3-X and if you need a cheap thermal camera that fits in your pocket, our research showed that this offers the best value.